The Way That We Watch Golf Has Changed Dramatically
---
THE way that we watch golf on TV has changed, just as the game itself has been transformed forever with the launch of LIV Golf.
Gone are the days when we would settle down to watch coverage of the majors and the BMW PGA Championship on the BBC. If you are lucky you will now get highlights screened at a time when most of us are tucked up in bed.
In the UK, Sky has a monopoly on the PGA Tour and DP World Tour, providing comprehensive weekly coverage. It is possible to park yourself in front of a television on a Thursday morning and watch wall-to-wall coverage until the wee small hours on a Sunday, when the winning putt is holed on the PGA Tour.
And our latest survey reveals that most of you who replied are Sky subscribers. In the main you gave the thumbs up to Sky's coverage.
But the launch of LIV Golf has changed things.
Let's face it, a Sky subscription is not cheap. But last year LIV gave golf fans the chance to follow their tournaments on YouTube.
The viewing figures for the 54-hole tournaments were not huge but it was early days, and it would be a surprise if the numbers watching do not increase in the year ahead, especially when you consider that the LIV Golf schedule is being expanded, with 14 tournaments being staged around the world.
If golf wants to reach a younger audience then it seems pretty obvious that streaming services hold the key. LIV Golf itself has launched its own bespoke streaming website and app for those outside the United States in 2023.
The DP World Tour now regularly posts reels and shorts online in a concerted effort to attract a new following, and the PGA Tour is following suit.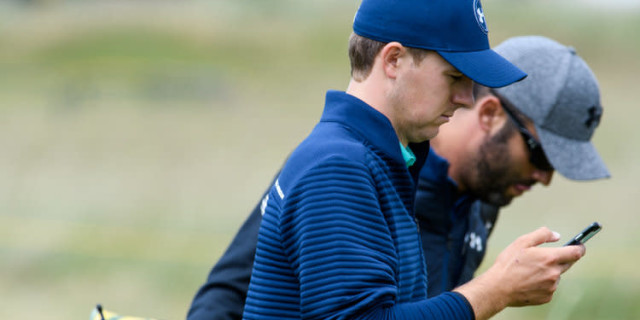 (Image Credit: Kevin Diss Photography)
So what can be done to grow golf coverage viewing figures?
Here are some of your opinions from our 2022 Golfshake Survey...
Many of our respondents have no access to Sky.
"There is still no terrestrial free to air access to The Open for a good majority of the UK population. Behind a paywall the game becomes invisible to new viewers."
"More professional golf should be shown on terrestial TV to encourage people to play golf."
The problem here is that the BBC has decided that it no longer wants to spend the money or find the resources required to bring golf to our screens. To cover The Open properly requires huge numbers of staff - cameramen, production staff, commentators, etc.
"If it's not on free-to-air TV, I can't watch it. It's a shame for thousands of kids who will miss out on being inspired."
"It really needs to be on terrestrial television to maintain interest and popularity and draw young players into the game."
The reality is that "kids" rarely sit in front of a TV these days. If golf is to engage them, free-to-air golf coverage on mainstream TV is almost certainly not the answer.
"I'm concerned that the lack of golf being shown on free-to-air television will result in the number of active/reactivated/new generation falling. Although people will argue that there is no direct correlation between those who watch and those who then partake in this challenging, enjoyable yet frustrating game. I cannot help but wonder if the game would be better served if it was taken out from behind the TV paywall."
"I don't watch golf on TV so much as it only focuses on the leaders."
This is not accurate. One of Sky's strengths is their feature group coverage, which allows you to tune in before the main coverage begins and often offers a chance to see golfers who might not otherwise feature in the main coverage.
"I wish people would play more quickly. Slow golf is a curse bred by TV coverage. People see pros taking ages over a shot and think they need to also."
Ah yes, the curse of slow play. I am not sure how TV can possibly be blamed for PGA Tour and DP World Tour golfers taking an eternity to hit a golf shot. They all know that slow play is an issue within the game that turns people off - the problem is that they are playing for huge amounts of money and winning a golf tournament can be a life-changing event.
"LIV coverage online for free is fantastic. "
And there's the key - it is online and it is free!
---
Related Content
What Do Golf Fans REALLY Think About LIV Golf
Who Exactly is Watching LIV Golf
---

Be part of the action with a selection of unique golf tournament experiences, from playing in a pro-am with the stars to watching the action at golf's most illustrious events. Whether it's the Masters or The Open, The Ryder Cup or WM Phoenix Open, build your own bespoke package with the experts at Golfbreaks.com.
---
What do you think? leave your comments below (Comments)
---
Tags: PGA Tour LIV Golf FedEx Cup european tour dp world tour
---
comments powered by

Disqus