Who Exactly is Watching LIV Golf
---
AS PART of the 2022 Golfshake Survey, we wanted to find out more about who watched live golf and who attended tournaments. The survey was completed by 3,500 golfers and provided some fascinating insights.
LIV Golf has divided opinion but it seems certain that it will attract a growing audience in the months ahead. More of that later.
We discovered that 68% of you have attended golf tournaments, with 70% of that total above the age of 45, compared to just 58% of those under 45.
And it seems you just can't get enough of the game, with 45% of you saying that you watch golf on TV every week. Just 4% don't tune in.
The emergence of LIV Golf was the big story in 2022 and we wanted to find out how many of you watched it on YouTube. It emerged that 15% of our 3,500 respondents had watched LIV Golf.
And they were more likely to be younger, to have a lower golf handicap, were more likely to have attended a tournament and were more likely to watch golf on TV every week.
Breaking the data down further, specifically in relation to age, just 13% of respondents over the age of 45 had watched a LIV event compared to 33% for those who responded under the age of 45. Given the viewing options available during 2022, this is probably unsurprising due to the reach limited to an audience open to viewing across streaming platforms such as YouTube.
(Image Credit: Kevin Diss Photography)
Who Is Watching LIV?
Our survey indicated that those accessing LIV were likely to be younger. Older golf viewers are far more likely to want to sit down in front of a TV and tune in to Sky's golf coverage than fire up a laptop and go to YouTube.
While the sample sizes of the Golfshake data may not be indicative of the actual audience reach, we also reviewed the data from one of the popular online web stats services.
Looking at the data in terms of country, it showed a slight sway towards Asia:
European audience - 11.8%
UK audience having watched a LIV event - 13.7%
US & Canadian audience - 14.3%
Asian audience made up largely of Thailand - 20%
Nationalities of Golfers Playing in LIV Events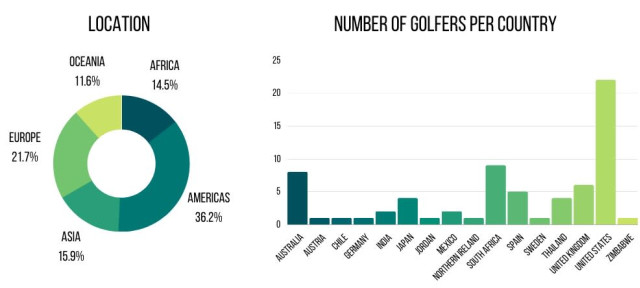 We also reviewed the data from one of the popular online web stats services comparing the reach and country break downs for the PGA Tour, DP World Tour, LPGA and LIV. The was done for the season-ending months in the autumn encompassing September and October:
PGA Tour: 6-7 million visits (US 60% 3-4 million, Canada 10%, UK 7% around 400k)
European Tour: 3-4 million visits (UK 20% around 700k, France 12%, Denmark 12%)
LPGA: 2 million visits (US 30% 600k, Thailand 20%, Canada 12%)
LIV Golf: 2 million visits (Thailand 35% 710k, US 21% 430k, UK 6% 120k, Mexico 6%)
It is interesting to see that LIV Golf had two million hits given that it had not even been up and running for a year. And as its tournament schedule and reach continues to grow it is reasonable to expect that the volume of hits it gets around the world will also increase - as will the volume of views it receives on YouTube and other social media platforms.
Extrapolating the data from those visiting the websites of the primary tours and the percentage visting the LIV Golf website it would appear to suggest that:
11% of US golfers who visit the PGA Tour website visit LIV
6% of Canadian golfers who visit the PGA Tour website visit LIV
21% of Swedish golfers who visit the DP World Tour website visit LIV
17% of UK golfers who visit the DP World Tour website visit LIV
14% of German golfers who visit the DP World Tour website visit LIV
11% of Irish golfers who visit the DP World Tour website visit LIV
1% of French golfers who visit the DP World Tour website visit LIV
Access to LIV events in 2022 was largely restricted to streaming via YouTube where their own channel reaches 248,000 subscribers. The final team championship event shows 455,000 views from the five-hour stream and the final round of the first event in London shows the highest streaming figure with 830,000 views.
To put this in some kind of perspective, more than 10 million US golfers tuned into the final round of the 2022 Masters when Tiger Woods was playing, with a further 850,000 watching in the UK. And that was a major he had absolutely no chance of winning.
With the Nexflix Full Swing docuseries released, there is likely to be further interest in LIV Golf. Although the series essentially follows a year in the life of the PGA Tour it obviously coincided with the launch of LIV and the likes of Ian Poulter and Dustin Johnson, who both defected, have plenty to say on the subject.
Finally, with the recent announcement of its expanded 2023 schedule, LIV is not going away anytime soon. While it is a divisive subject for some, many people simply just want golf to get on with it and let the fans watch the best golfers compete week in week out.
These survey comments sums things up pretty well:
"I would like to see the PGA and LIV come to some arrangement so that I can see ALL my favourite players play regularly."
"The petty PGA/LIV spat is a blight on the game's integrity at the minute. I agree with both sides, and massive hypocrisy on both sides. 99% of the audience just want to watch all the golf."
With legal battles pending, the chances of anybody putting their differences to one side seem pretty remote.
This is a topic we will return to but let us know what you think.
Do you watch LIV events? Have you attended an event? Are you looking forward to the season ahead for all the tours? Do you think the PGA Tour was right to suspend its LIV defectors?
---
Related Content
---

Be part of the action with a selection of unique golf tournament experiences, from playing in a pro-am with the stars to watching the action at golf's most illustrious events. Whether it's the Masters or The Open, The Ryder Cup or WM Phoenix Open, build your own bespoke package with the experts at Golfbreaks.com.
---
What do you think? leave your comments below (Comments)
---
Tags: Survey PGA Tour LIV Golf industry insider GOLFERS Golf FedEx Cup european tour dp world tour daily picks
---
comments powered by

Disqus