7 Reasons Why More People Should Start Playing Golf
---
Ready to try something new and exciting in 2023? Golf could be a great choice! It's a sport that can be enjoyed by people of all ages and abilities, is low-impact and can provide stress relief, while also improving your cognitive skills and providing a great way to get exercise and enjoy the outdoors. With so many benefits, why not give golf a try?
Here are seven reasons why you might consider starting to play golf in 2023:
The Great Outdoors
If your New Year's Resolution was to get outdoors more, and you're still struggling to do so, then golf is a great way to do so. There aren't many things better than hitting the course on a nice sunny day, breathing in the fresh air and taking in the surroundings. Admittedly, days like this aren't as common as us golfers would like and are usually non-existent between November and February. However, from March onwards the real golf season kicks in and with courses fully open and winter maintenance complete, it doesn't get much better.
There are many benefits to being outdoors such as, reduced anxiety, lower blood pressure and better sleep - even more reason to get off the couch.
Low Impact Sport
Golf is a sport popular with the older generations due to the lack of strain it puts on the body unlike sports like rugby and football. So if you're an older person who wants to take up a sport but struggles with everyday aches and pains, golf may be a good place to start. Walking the course can seem daunting and a long way, but you're constantly stopping to take shots and there's always the option of hiring a buggy if you don't feel up for the walk.
You can also take all the time you need, as long as you're kind enough to let groups play through and don't hold up play - meaning there's no rush. Finally, swing with ease and your round will be a breeze - excuse the rhyme.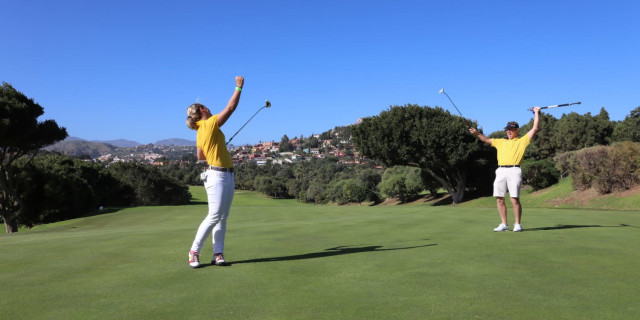 Social Life
Becoming a member of a golf club can be a great way of meeting new people and playing with friends. You find people of all ages and walks of life on the course which can make for great discussions. As much as it's an individual sport, you can be out on the course for three to four hours, so conversation is a good part of casual golf. There's not many sports where this is possible. Even when it gets competitive and you start playing in club competitions, the social side of the game is still great - especially in team events.
When the round is over, the clubhouse and a nice, cold pint awaits - where you and your friends can laugh about all of the missed putts!
Golf is For Everyone
Golf has come a long way in the last few decades and is now a more inclusive sport than ever before. It is also a lifelong sport and is becoming particularly more welcoming to younger players. Most golf clubs have a tier system for membership fees, with most offering reduced fees for players up to around 25-years-old - making the game more affordable for everyone.
One thing to know for beginners is that courses use multiple tees/tee markers which make holes shorter/longer depending on which ones you play off. This makes playing a course less daunting in many cases. If you want to add a little bit of competition to your round, the standard handicap index system allows you to compete with players who are better than you, or older or younger - it really doesn't matter.
Stress Relief
To some, seeing stress relief on a list about reasons to get into golf would seem odd. It is one of the hardest and most frustrating sports out there, but it can be helpful for stress. In golf, it's you versus the course and you can take that as seriously as you want to.
It's a great way to occupy your mind as the game requires focus so you can't be distracted by the outside world. Hitting the ball can help release any built up tension and stress.
Whether it be playing with friends and having a laugh or playing by yourself while improving your game - golf can be more relaxing and therapeutic than you think.
Exercise
Golf is great for your health. Not only are you up on your feet for three to four hours, you're constantly on the move and your heart rate is raised. This improves cardiovascular health and stamina without being too strenuous and pushing the body too hard which makes it very appealing to the older generation and anyone with any health conditions.
Most courses will have you walking over four miles per round and burning 1,200 to a staggering 2,000 calories. You'll have no problems hitting your daily 10,000 step goal!
Rewarding Sport
Golf is one of the most difficult sports you'll ever try your hand at. There's a lot of failure before success and it's a grind. Even after countless hours at the range practicing, you can turn up to the course and forget everything you tried. But when it goes right, the practice pays off and you successfully play a shot exactly how you wanted to play it, that feeling never gets old and is exactly why people become almost addicted to the sport.
From making a birdie, to chipping in, to just splitting a fairway with your driver - the good feeling in golf never fades.
In conclusion, golf is an excellent choice for those looking for a new and exciting activity in 2023. It offers a variety of benefits, from physical exercise to mental focus to social interaction, and it's suitable for people of all ages. If you're ready to try something new and different, golf could be a great option.
---
Related Content
How to Choose The Best Golf Club to Join
The Biggest Misconceptions About Golf - And Why They Are Wrong
---
What do you think? leave your comments below (Comments)
---
Tags: GOLFERS Golf daily picks
---
comments powered by

Disqus