When is The Right Time to Buy New Golf Clubs
By: Golfshake Editor | Fri 28 Oct 2022 |
Comments
---
When is the right time to buy new golf clubs? It's a very valid question, as a change of equipment at the wrong time could have catastrophic consequences for your chances of finally getting your name on the honours board if things don't go to plan! Away from the more serious competitions, you don't want to be spending the first few days of your annual golfing trip trying to get used to your new bats … it's hard enough trying to play your way around a new course!
Join us as we take a look at some of the most popular times throughout the year to buy your new clubs for every type of player. However, don't let this stop you from updating your bag at any other point in the calendar too - and be sure to read to the end for a second-hand club-buying hack!
The Deal Seeker
When: October - December
Why: As manufacturers bring out their new clubs, there is understandably a need to shift any remaining equipment from the inventory of shops up and down the country. This can create some fantastic deals, particularly around the end of the year, ahead of the big launch season in January / February.
Despite the marketing, most manufacturers understand that golfers aren't going to upgrade their full sets each year, and so there often isn't a huge leap in technology between models. As a result, you're likely to see almost as much of an improvement from the model which was released a few months back, as the one coming to shelves in the near future - and so if you're looking for a great deal, this pre-Christmas period can be your friend!
The Latest and Greatest
When: Early Spring
Why: OK, but what if you do want the next big thing? The chances are, you're probably best saving your pennies until sometime around February. Traditionally, most manufacturers used the annual PGA Show in January as the launch-pad for their new equipment, and despite this gathering becoming somewhat less intrinsic to the selling of clubs, it's still a good indicator for when new equipment is likely to come to market. In the UK, TaylorMade, Callaway, and Cobra all traditionally have on-sale dates between the end of January and the start of March, and so if you want to start the new season with the latest gear, we'd suggest holding off on any purchases until you've seen what's coming.
The Winter Grinder
When: Late Autumn
Why: However, not all manufacturers have stuck to the early part of the year to release their gear. Titleist and PING have both recently brought new products to the market towards the back end of the season (September - November), with their view being that some golfers prefer to get accustomed to their clubs throughout the winter months. This logic certainly holds a lot of merit, as this is exactly what the world's best players will be doing - practicing with sometimes unreleased clubs, so that they're up to speed by the time the products are available to the wider market.
Our only watch-out for this type of golfer is that conditions can change drastically from Winter to Summer, and so you may not want to focus too much attention on things like your carry distances, or how the clubs interact with the muddy fairways - unless of course you have access to a good indoor facility!
The Miracle Seeker
When: Any Time During The Season
Why: So you've been a good boy or girl, and didn't rush to the shops to buy the latest kit when it was released. However, you've had a couple of bad rounds now, and it's nothing to do with your lack of practice - it simply must be the driver that you got last year.
This feeling can come to all of us at any point of the year, with our only real solution being to make sure you've been properly custom fit for your clubs. The peace of mind that comes with this is almost guaranteed to keep a club in your bag for at least another six months!
But if you really need to make a change, try and hold on until at least a few months into the season - that way, you may be able to snag the current model on the second hand market, after one of your fellow club tinkerers has decided that this particular club isn't for them.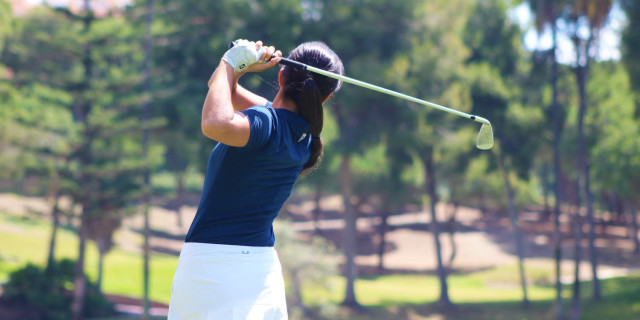 The Gift Receiver
When: Christmas (& Birthdays!)
Why: Spending your own money is always rubbish. Getting a gift is much better. Also, buying presents is hard. Why not help out your friends and family this year by suggesting they get you a golf club or two for Christmas. Let's face it, even if they all have to chip in for the same present, you'd much rather receive that than ten new pairs of socks and a Lynx Africa Bodywash set (again). Essentially, you're being very selfless and helpful towards your loved ones.
This kind gesture is also recommended for birthdays, and if you're lucky enough to have yours towards the start of the year, it can be a great way of trying out the hot new thing without having to part with any of your own cash!
The Online Second-Hand Shopper
When: Sunday Nights / Monday Mornings
Why: There's a lot of people like our 'miracle seeker' friend above who just can't believe that they can be at fault for their latest 28-point Stableford. As a result, eBay (and other online second-hand sites) see plenty of action on a Sunday night from disgruntled golfers. This can be a fantastic time to pick up a bargain which might help you with your own game.
Generally online auctions will run for a week, so logic dictates that this Sunday will have a load of auctions finishing from golfers who were looking to get rid last week. However, sometimes the last thing you want to do is spend your time photographing and uploading your clubs after a bad round, and as a result, Monday morning can be littered with bargains too! Why not log on with your morning coffee, search 'Golf Clubs' and filter by 'Ending Soonest' you never know, you might get lucky! One man's trash…
---
Related Content
How to Find The Right Wedges For Your Golf Game
How to Fill The Top End of Your Golf Bag
---
What do you think? leave your comments below (Comments)
---
Tags: GOLFERS Golf daily picks
---
comments powered by

Disqus