What Makes Bamboo Golf Tees Ecologically Beneficial
---
Continuing his look at Sustainable Golf Week, Golfshake Ambassador Andy Picken caught up with Tim McManus, CEO of Green Swing, to gain a greater understanding of the ecological benefits offered by bamboo golf tees.
---
I have started looking more deeply into the bamboo tee market as this seems to be a major growth industry.
I was pleased at the chance to interview Tim McManus, CEO of Green Swing, a company that are specialists in this area.
Tim operates this venture establishing green credentials at all parts of the supply chain.
As I read back my questions it felt like I had transported myself to Dragons' Den. Every question was answered with aplomb and confidence and had clearly been given thought before I posed it.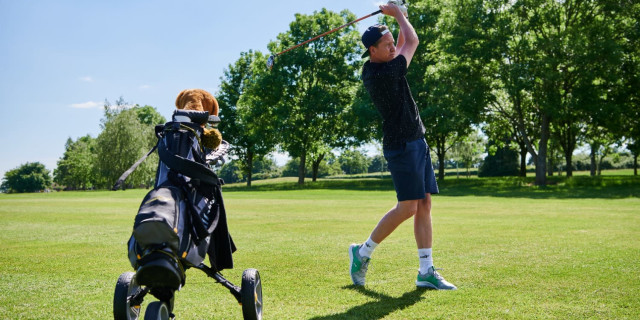 (Q&A With Green Swing CEO Tim McManus)
Can you confirm that the dyes used for colouration are also climate conscious and degrade safely?
"While we try to keep our tees as neutral as possible, we do add some paint for easy recognition of size and to add our signature branding.
"As a result, the paint we use on the tees to add the stripes is a water-based paint - you will also find any marks left on your club can be wiped off with a damp cloth!"
Do the bamboo tees react differently to the plastic if caught up in the blades of maintenance equipment?
"When plastic tees are caught in the blades of machinery, they are more likely to be broken into multiple pieces which then could be ingested by wildlife.
"When a bamboo tee is caught in the blades of machinery, whilst it is still likely to shatter, this will serve to expose more surface area of the bamboo to the elements, thereby speeding up the breakdown process.
"Bamboo tees degrade after three years, plastic takes 100 years.
"Additionally, we consider bamboo to be less damaging if it were to be ingested by wildlife.
"The Royal North Devon Golf Club is believed to be one of the first clubs to ban plastic tees, largely because of the damage plastic tees can cause if ingested by wildlife."
How does the longevity compare to plastic?
"We take pride in making good, fit for purpose products.
"As a grass, the tees have a degree of flex (more so than wood) so you can certainly get through a round using one tee. In fact we have had many customers contact us to say they have been using the same tee for several rounds!
"In terms of scale I would say that a plastic tee can last longer, then bamboo, then wood. As an alternative we believe the benefits far outweigh the negatives and you don't need a box of 100 to get you through. The odd tee will break from time to time but they will biodegrade as opposed to plastic. We also think a huge part of longevity depends on using the right tees. So we have created a large range to cover all the sizes typically available in plastic which makes it easier to switch without making any compromise."
Do you have any data I can quote on annual plastic tee sales?
"The golf industry estimates that over 5 billion tees are used each year.
"While it is difficult to place a percentage on plastic sales - the availability, price and offer presented by most retailers would indicate a high percentage towards plastic. One that we would like to change."
Rough comparison on costs versus longevity?
"Our tees are not indestructible but on average we would estimate 2-3 tees per round allowing for the occasional break or lost tee.
"With 30 in the box, one box of our tees could last you an average of 10-15 rounds of golf. A big part of that is having the right tee height - this is why we have curated and developed a wide range so that your tees will last longer as you are using the size that suits your game best."
Can you discuss how the packaging and dispatch process is also climate supportive?
"We are a direct to consumer business - we currently have a presence in 11 different countries that allows us to warehouse stock locally, while our business is based in the UK.
"From manufacture we ship directly to those central warehouses in each region (UK, Europe, USA) and then direct to the customer from there.
"Cutting out the carbon footprint created by supplying distributors, wholesale and retail outlets in a larger supply chain.
"All our tees are packed within a fully recyclable and biodegradable Kraft boxes (even the stickers are biodegradable), while all orders direct on our website are sent using biodegradable and compostable outer packaging."
---
We thank Tim for his time and the detail provided. For more information on Green Swing, please visit https://greenswing.golf/.
---
What do you think? leave your comments below (Comments)
---
---
PLAY MORE PLAY BETTER - LATEST TUITION TIPS
---
Leave your comments below
comments powered by

Disqus