Loyalty in Golf - What Does That Actually Mean?
---
THERE has been a great deal of talk about loyalty in recent weeks.
LIV Golf rebels Ian Poulter, Lee Westwood and Sergio Garcia have been quick to criticise the DP World Tour for fining and suspending them and have all talked about their years of loyal service to the tour.
Poulter, a 46-year-old veteran who has given sterling service to Europe in the Ryder Cup, took the tour to court and had his suspension from the Scottish Open lifted.
He said: "I feel that everything I have done for 24 years for my card, and everything I have committed over the years, 389 tournaments on the European Tour, holding two tour cards and staying committed to the European Tour [DP World Tour] like I have, I didn't not want to play. It was not a nice position to be in."
Let's take a closer look at Poulter's appearances on the DP World Tour over the past couple of years.
If you go to the DP World Tour website it will tell you that he took part in 12 events in the 2021 season but eight of those tournaments were either majors or WGC events. That means he actually played in four tournaments exclusively promoted by what was then the European Tour. In the same period he teed it up in 13 PGA Tour events. So where does it appear that his loyalty lay? Certainly not with the DP World Tour.
Sergio Garcia is another who has spoken of the sacrifices he has made for the DP World Tour.
In 2021 the DP World Tour credited him with 11 appearances. Yes, you've guessed it. A total of eight of those events were majors or WGC tournaments. And how many PGA Tour starts did he make? Just the 16!
And so it goes on.
Is it any wonder then that Rory McIlroy should say of Poulter and his fellow rebels: "I think at this stage, if you've gone over to play on another tour then go and play on that tour. You've basically left all your peers behind to make more money, which is fine. But just stay over there. Don't try to come back and play over here again.
"The whole cake-and-eat-it type of attitude is what the resentment stems from within the PGA Tour and DP World Tour membership. That's the tricky part."
BMW PGA champion Billy Horschel went further. He said: "They decided to go play on that tour and they should go play there. They shouldn't be coming back over to the DP World Tour or the PGA Tour. To say that they wanted to also support the DP World or PGA Tour going forward, while playing the LIV Tour, is completely asinine in my opinion.
"It's unfortunate that those guys made their bed and that's what they want to do. Leave us alone, honestly."
Poulter is not a stupid man but it appears that he may be naive. After winning his legal challenge to be able to take part in the Scottish Open he said that he hoped he would not be ostracised by his fellow players. But he has not enjoyed what he has seen on social media.
Graeme McDowell revealed he had received death threats for joining LIV Golf.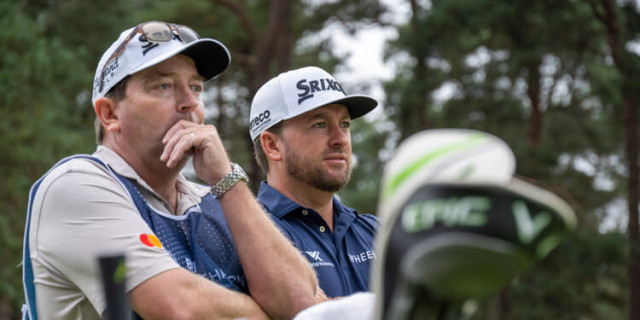 (Image Credit: Kevin Diss Photography)
Poulter said: "I am reading the same stuff on social media. Sometimes it is a dangerous forum to sit and read. It is quite distressing. People are entitled to their opinions. It has got extremely nasty, unfortunately.
"People don't know the full story, the background, the reasons for your decision and take it on themselves to give their thoughts. We followed the procedure laid down by the Tour for an appeal process. We have obviously won that appeal. I feel pretty good."
Asked if he was concerned about rows in the locker-room about his Saudi defection, he said: "The locker-room are people I play against week in week out and if they take objection to it that is up to those guys. I have not had a problem with any of the players. I have seen Rory and had a chat. We have a difference of opinion but we are still friends.
"When you have played golf with these players for a very long time it is strictly a business decision. It is not a personal decision that needs to get in the way of friendships and I class pretty much everyone here on Tour as a friend.
"I am not going to sit back when I think it is slightly unjust. I have always played the Scottish Open for I don't know how many years.
"The 150th Open at St Andrews next week is a fairly significant one for me. It was my first one in 2000. It will be my last one at St Andrews. I wanted some links golf prep before going in."
---

Be part of the action with a selection of unique golf tournament experiences, from playing in a pro-am with the stars to watching the action at golf's most illustrious events. Whether it's the Masters or The Open, The Ryder Cup or WM Phoenix Open, build your own bespoke package with the experts at Golfbreaks.com.
---
What do you think? leave your comments below (Comments)
---
Tags: LIV Golf european tour dp world tour
---
comments powered by

Disqus