Which Golf Format Should You Play More
---
GOLF is a game where you tee up the ball, hit it, go find it, hit it again, hopefully find the putting surface, take one or two putts and walk off the green with a par or a birdie and a smile on your face. Right?
Hmmmm…..well that's theory. The reality is usually very different. We all have dream days where the ball goes exactly where you want it to, where putts drop, where you hit it in the rough and find the ball sitting up, begging to be hit, where you find that greenside bunker and get up and down in two.
To the uninitiated, it is a pretty complicated game, with lots of silly rules. And when you consider the various formats that we all play, it is easy to understand why some people scratch their heads when you try to explain the game to them.
I decided that it was about time to take a detailed look at the various formats and I can tell you that, even as a season golfer, I found it all pretty mind boggling.
So here we go, and this is proof that golf has a language all of its own...
MATCHPLAY
The beauty of the handicap system is that a relative beginner can take on a decent golfer and give them a game. The beauty of matchplay is that it doesn't matter if you have the odd stinker. You can simply pick the ball up, concede the hole and move to the next tee.
STROKEPLAY
Most of us only play strokeplay golf when taking part in medal competitions, and it is the format we dread because every single shot counts. How many times have you found yourself moving along nicely and you start dreaming of perhaps recording your lowest ever score. And then it happens - the out of bounds on the right, the pond guarding the green, the knee-high rough to the left of the 14th fairway, the shank that comes from nowhere, the missed two-foot putt...
STABLEFORD
We all love Stableford because it's another format that allows you to have a couple of bad holes and still make a decent overall score. Points are awarded for your score on each hole on either a nett or handicap basis. It's one point for a bogey, two for a par, three for a birdie, four for an eagle and five for an albatross (in your dreams). Anything worse than a bogey and you can pick up your ball, start whistling nonchalantly and hope that nobody has noticed. A decent score is 36 points, but how many times have you walked off the course in a Stableford competition having scored 39 points, thinking you are going to be in the prizes and then discover that somebody has scored 50?
FOURBALL BETTERBALL
Teams of two play their own ball and count the 'better ball' or score on each hole. Played in matchplay, handicaps are 90% of the difference from the lowest handicapper.
FOURBALL AGGREGATE
Teams of two play their own ball and take the combined score for the team. Make sure your partner isn't the man or woman enduring the worst run of form of their lives!
FOURSOMES
Two players form a team and hit alternate shots at each hole until they hole out. One player tees off at the even holes and one on the odd holes. Played to strict rules of matchplay golf. The key to doing well in this format is to find a partner who hits the ball straight and will not lose your brand new Titlesit Pro V1. Make sure that if your partner is a good iron player that he hits the tee shots at as many of the par threes as possible.
GREENSOMES
Matchplay game for teams of two where both partners drive and choose the best drive and then play alternate shots for the rest of hole as in foursomes.
SKINS
Each hole is worth one 'skin' and whoever wins the hole gets the skin. If nobody wins the hole outright then the 'skin' is carried over so the next hole is worth two skins, and so on until someone wins a hole. You can have an absolute nightmare but if you choose the right hole to rediscover your touch then you can easily find yourself walking away with the money - and losing friends!
PINK/YELLOW BALL
In teams of three or four, each player plays their own ball and one plays the pink/yellow ball. The pink/yellow ball score plus the best of the other three counted for each hole. The lowest aggregate score and the lowest pink/yellow ball score take the money. Just don't be the player who loses the pink/yellow ball!
TEXAS SCRAMBLE
Players play in groups of three of four. All drive and then select the best shot and mark it. Everyone then hits the next shot from this point. Repeat procedure with each shot until you hole out.
ST ANDREWS FOURSOMES
Similar to an ordinary greensome, except that one player plays all the second shots on the odd numbered holes and the partner plays the second shots on the even numbered holes. They still both drive and elect the better drive for the appropriate player to play.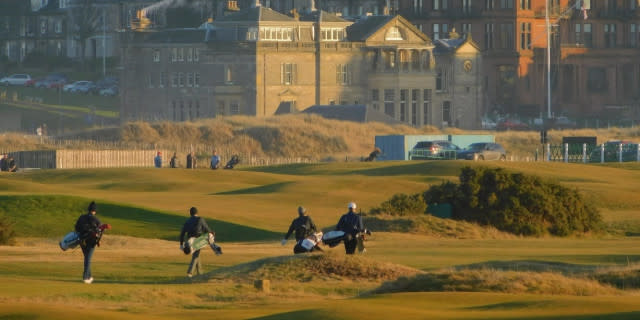 ---
And if you think that's the end of it, you couldn't be more mistaken. There are a whole range of one-offs…
MULLIGAN
Ever wanted to play a shot again? Give each person a mulligan and you disregard a bad shot and play it again. Before starting play, agree on a specific number of Mulligans - and use them wisely
THE SEVE
This is when a player scores par or better without hitting the fairway or green in regulation and having only one putt on the green. Named after Seve Ballesteros, who made a stellar career out of doing precisely that!
THE DUNCE
Whoever has the worst score on each hole has to wear a designated hat for the following hole. And the sillier the better.
THE GOTCHA
Each player has one opportunity to shout 'Gotcha' during an opponent's swing during a round. Just make sure that nobody in your group has a bad temper!
PORTUGUESE CADDIE
Each player in the group is allowed to move the ball without penalty by kicking it. Specify a number of Portuguese Caddies per round before teeing off.
METOO
A metoo is where you are allowed to swap your shot for someone else's in your group at any hole, be it a drive, iron shot or putt. You can move your ball to where the other shot finished and you both play the next shot from there.
So, there you have some formats to play, both serious and silly. Ultimately, there should be something there that keeps your group of friends engaged (and highly competitive) on the course!
---
Related Content
Why More Golfers Should Play Match Play
Great Formats to Play on a Golf Break
5 Different Golf Formats to Play With Your Mates
---
What do you think? leave your comments below (Comments)
---
Tags: GOLFERS Golf daily picks
---
PLAY MORE PLAY BETTER - LATEST TUITION TIPS
---
Leave your comments below
comments powered by

Disqus