Custom fit session at The Belfry
By: Adam Smith | Tue 13 Jul 2010 |
Comments
---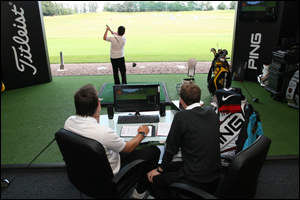 Overview
The PGA National golf academy located at The Belfry is home to The National Custom Fit Centre which offers a choice of five custom fitting suites, bringing together a range of the latest golf clubs from nine of the world's leading manufacturers in golf which are Callaway, Titleist¸ TaylorMade, Nike, Ping, Cobra, Wilson, Cleveland and Mizuno.
Each room is equipped with the latest launch monitors including Flightscope which has a radar tracking system and trained by the individual manufacturers, the Custom Fit specialist team will provide an unrivalled service for the success of your game.
The monitors measure your carry, club head speed, ball speed, impact, launch angle, height, flight-time, back spin and the class of the shot i.e. draw or fade or in some cases hook or slice.
The centre gets through 100,000 Nike range balls a year and the staff want you to go away with the perfect set of clubs to suit you and your game.
Equipment is a key component to developing a repeatable technique. The best players in the world rely on the Academy's renowned Custom Fitting specialists to ensure their equipment matches their unique launch conditions.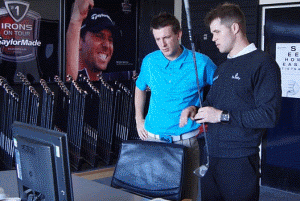 Our Experience
I had never really been fitted with specific clubs before so it was a great experience for me even to see all my details on a computer screen on how I hit a shot and how consistent I was.
It turned out that I needed my irons to be two degree's flatter on address and with a stiffer shaft as I have very quick swing speed throughout and on impact.
We were given the TaylorMade bay, not that it restricts you to what you can try, I you were going for a full session then you can try as many clubs as you like or as many that are recommended to you.
With the help of Liam Cregan, one of the many golf pro's they have working at the centre, I got some tips and recommendations that will hopefully improve my game.
Liam was brilliant, as he said they are not there to coach you, they are not there to change your swing (unless that's what you've paid for) but they are there to give the right irons to suit your game. We only got a chance to have an iron fitting, apart from Darren who had about 15 minutes on the ideal wedges he should have which included bounce and loft, but they do every club in the bag if you want it.
Phil Eadsforth, handicap of 16 also joined us as he was very interested in getting a new set of clubs. Standing at 6'5, Phil has to have custom fit clubs to suit his height as he did before, and he felt like an upgrade was needed, afterwards he was pleasantly surprised:
"The custom Fit was a very interesting process. The fitter was very skilled and explained everything is very understandable terms, highlighting all the data changes and results which affected my ultimate requirements from a golf club. I felt fairly informed regarding custom fitting prior to our visit but I was pleasantly surprised with the extra detail and understanding I learned. The proof of my confidence in the belfry's process has led me to now plan my next visit to be further fitted."


For me, I felt it did make a difference, I was getting recommended the Taylormade R9's with the KBS stiff shaft and I was getting much better ball flight and about 10 extra yards.
Phil was getting a good 15 yards more and with much better contact. And that was all down to the new shaft recommended to him:
"I tried the Ping i15's and the Titleist Ap2's. The Big change was the shaft. Better distance was a result of a switch to the rifle ProjectX (my clubs have TT S300s) which reduced by spin rate. Also the ProjectX shafts were a touch lighter than the S300 which enabled me to increase my club head speed."
The cost is charged at normal industry rate and that charge always comes off the price of your clubs if you were to buy some.
Book a Custom Fit session
I fully recommend to anyone that if you are struggling with your game and are in the market for a new set of clubs or just the odd one, then go and have a custom fit session.
In the long run it will benefit you more and you will have clubs in your bag that are specifically designed and modified for your game.
To book your own custom fit session call The Belfry sales team on 0300 500 0405
---
What do you think? leave your comments below (Comments)
---
Tags: custom fitting custom fit
---
PLAY MORE PLAY BETTER - LATEST TUITION TIPS
---
Leave your comments below
comments powered by

Disqus