On The Tee With Chloe Gallacher
---
Golfshake's Liam Moore meets presenter, social media influencer and golfer Chloe Gallacher.
---
Since the turn of the century, golf has thankfully parted ways with some of its archaic and traditional stances. Previously, women involved within the sport of golf were not always welcomed. Over time, through the battles of many influential figures, more and more women are not only welcomed in golf but are pioneering and innovating our wonderful sport. They have become role models for the next generation and continue to pave the way; I'd like you to meet Chloe Gallacher.
Chloe, like many in adolescence, didn't offer too much attention to the sport of golf. Similarly to myself, she found it a little later in life. "I first picked up a club in 2016 and quickly realised that I was going to enjoy golf," she tells me. "I took up an offer at American Golf for free lessons and I was hooked pretty much right away!"
A prominent figure in Chloe's golfing journey was her boyfriend, who has since become her fiancée. "Both me and my fiancée are still very much consumed with the game and we continue to play as much as we can." Couples who tee it up together, stay together.
Originally from Australia, her interest of golf quickly transitioned into obsession. Chloe has managed to carve a successful career from golf that involves presenting, interviewing major champions and becoming a brand ambassador. "Golf has given me many opportunities; five years ago I never blinked an eye at golf, it's amazing how something takes over your life so quickly and how passionate you can become about a sport."
I'm sure Chloe isn't the only one who has been struck by the golf bug and the boom of golf during the past two years would further strengthen this argument.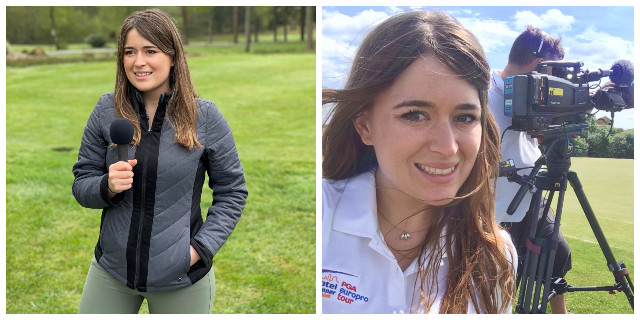 One role that Chloe desperately enjoys is becoming an ambassador for the women's game. She's happy with how it has progressed through contemporary times but demands more for further growth. "We need to see more coverage of women's golf on the TV - not just the red button!"
Of course, she is correct. Broadcasters continue to prioritise the male circuit and while the women's game has received extended coverage, more can still be done.
"We need more mixed events where men and women play for equal prize money; events like the ISPS Handa World Invitational Golf in Ireland are doing exactly that."
That tournament saw 144 men and 144 women compete on the same course and time. They are playing for the same kitty of $1.5 million and it is the first event within the northern hemisphere to do so. It is a tri-sanctioned event between the European Tour, LPGA Tour and the Ladies European Tour. It's excellent and hopefully, a sign that the game is trending in the correct direction. "How exciting is that?" It's evidently clear that this is a topic close to Chloe's heart and with all the time she commits to inspire and expose the female game, she's rapidly becoming a modern visionary for the women's circuit.
The presenter wants more women involved with golf and for anyone who may be enticed to try the sport, she has great advice for you. "If you're new to golf, I definitely recommend having lessons first. As soon as you know how to swing and connect well, it becomes so much better." Indeed, the first steps taken can be stressful. However, commitment and a willingness to improve will result in endless fun and a hobby you're likely never to depart from.
Moreover, Chloe has shared further insights in a bid to get more women involved within the sport. "Watch golf on TV as much as possible (especially the female circuit). I also think that a traditional 18-hole course can be quite daunting for a beginner, so I highly recommend playing a shorter par-3 course first - you'll be able to build up your confidence and get a feel for being out on the course."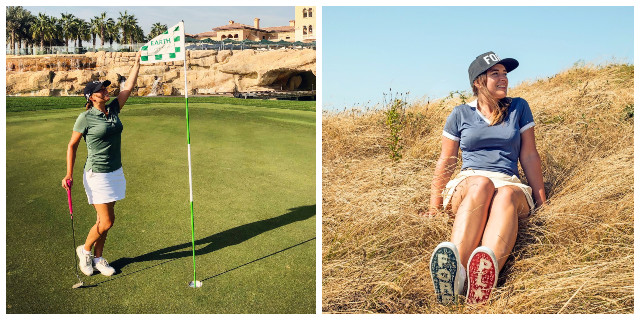 The challenge doesn't solely lie with introducing women to the sport either. No, it's maintaining and nurturing that initial curiosity before transitioning it into obsession.
Chloe believes that golf should be in the offering from childhood, during school years in particular. "Golf should be introduced at school; to get people into golf they need to be exposed to it early. Golf is probably not on the radar for most girls, so giving them the option at school with definitely encourage more girls to play."
While it's important to showcase the wonders of golf to a young audience, there are particular connotations that Chloe believes are unwelcoming for women. "Golf clubs and manufacturers should offer women more options in terms of equipment and apparel, too often I see one or two brands for women to choose from and it's not enough - women like to browse and have options."
There is no denying that male marketing is dominated through the top manufacturers. Seldom will you see true advertisement for women's equipment unless you are specifically seeking it. However, another controversial topic that Chloe believes is deterring further female inclusion is the insistent dress code in golf. "I also think a relaxed dress code will encourage more women to play the game; if they can wear similar clothing to gym apparel - i.e. leggings and a tank top - that will make things a lot easier." It's difficult to argue against, too. These women would still be in sports apparel and above all, surely further interest and growth is more important than our appearance?
Chloe, like most of us, is an amateur player. She plays off of 24 and is always looking to improve her game. One decision that seriously enhanced her development was to join a golf club. "I'm based at the London Golf Club; it's nice to have somewhere to call home, partake in lessons and become familiar with the course."
The social benefits of joining a golf club are glowing. You can meet like-minded people or build on previous relationships and with captain's day or even the annual club open, the golf course is much more than a sports facility: it's a social hub.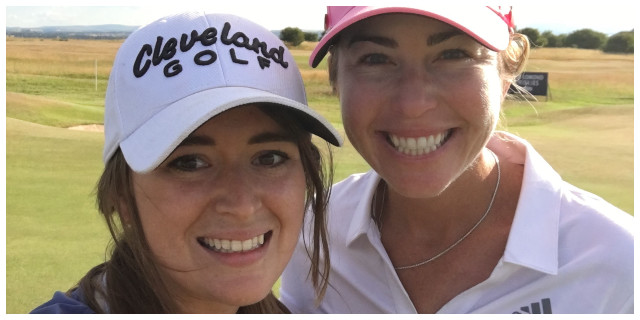 We all want to improve at golf. Away from the occasional bandit, the aim is to get our handicap as low as possible. Fortunately, through her successful media career, Chloe had the opportunity to tee it up with Paula Creamer - the 2010 U.S. Open champion.
"I played in a Pro-Am in Scotland alongside major winner Paula Creamer and she guided me through some holes. Playing alongside her and watching her pre-shot routine, reading greens and conversing with her caddie about her next decision was sublime."
That would have been some experience. Could you imagine not only meeting your sporting idol but going round with them? Phenomenal.
The age old question will always remain in golf: lessons or new equipment? We all know how alluring the new latest driver looks but if you're already slicing the ball, then a trip to the pro would be the better - and more affordable - option. Chloe has recently undergone lessons and she cannot recommend them enough. "Every time I have a lesson and go to play, I always have my best round - funny how that works!"
Isn't it just? While the new kit may help you look like an elite golfer, it won't correct that swing path. "It's so important to have lessons as they keep you on track and help drive your improvement. I recently started having sessions with Paul Stewart at the London Golf Club and within two weeks I shot +3 on a par-3 course - not bad for a 24 handicapper."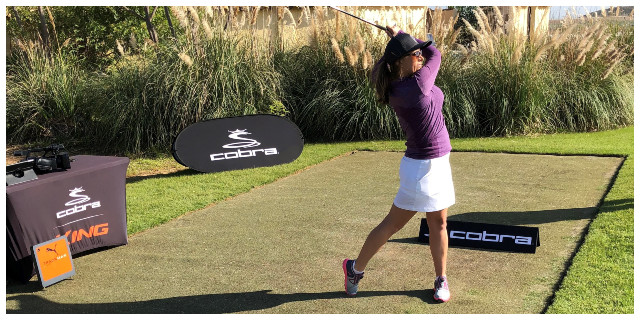 Through the reputation that she has carved through hard work, Chloe was rewarded with an offer of becoming an ambassador for Cobra/Puma. "It's so cool to be using the same technology as big-hitting Bryson DeChambeau," she tells me, excitedly. "Having input from Cobra fitting professionals and how to set up a perfect bag is so helpful. It's different from your traditional male bag - hello hybrids!"
With the work that she is putting into her game and career, it is little surprise to see Chloe become such a prominent figure in the world of golf.
Chloe prides herself on exposing the female game. Yes, she has done extensive work on the men's circuit but she continuously stresses that the same energy must be diverted to the women. Through presenting, public speaking and social media influence she has quickly established herself as one of the leading UK figures in the sport of golf. As long as women like Chloe Gallacher remain in the public eye, golf will continue its pursuit for inclusivity and equal chances - regardless of gender.
---
Connect with Chloe on Twitter, Facebook and Instagram, or visit her Official Website.
---
What do you think? leave your comments below (Comments)
---
Tags: Womens Golf lpga LET daily picks
---
PLAY MORE PLAY BETTER - LATEST TUITION TIPS
---
Leave your comments below
comments powered by

Disqus