Cobra NXTLVL Academy: Investing in the Stars of Tomorrow
---
Elite-level golf is nothing short of a fairy tale. Traversing the globe, competing for multi-million prize funds and above all, playing the sport of golf for a living is something that we can only dream of. While there are undoubtedly barriers and struggles along a professional golfer's journey, the final destination instantly justifies the decision.
While the likes of Rory McIlroy, Brooks Koepka, Dustin Johnson and Jordan Spieth dominate our television screens, their lifestyles become evidently clear too. Fast cars, expansive mansions and the stylish watches are the result of being the absolute best. The level below that, however, not so much.
Having attended a PGA EuroPro Tour event, I can certainly vouch for that. With over 150 players in the field, it's difficult to distinguish yourself from the rest. Of the 150-odd players, only the top 20 will break even - that's the cost of chasing the dream.
The EuroPro Tour is certainly an excellent entry point into the more established tours. Former alumni include: Tommy Fleetwood, Marcus Armitage, Louis Oosthuizen and Tyrrell Hatton. So, it's obvious that it holds the potential to unlock stardom.
Nevertheless, the problem is that the sport of golf is currently inundated with excellent players. When I say excellent, I truly mean it. At the Wright-Morgan Championship, the cut was -5. After 36 holes, anyone higher than -5 would have been removed. Just let that sink in.
The struggles of these players are often seldom discussed. Considering entry fees are roughly £300 per event, players will need to arrange accommodation and they'll need to travel to the events. Suddenly, that £300 figure can rise exponentially.
Cobra/Puma have always liked to do things differently. However, it is their investment into the stars of tomorrow that we are going to discuss today. As a reference tool, no other brands currently contract players on the EuroPro Tour – just Cobra/Puma.
The Cobra NXTLVL Academy
(James Frazer)
Joe Folker, Brand Experience Manager for Cobra/Puma launched the Cobra NXTLVL Academy in 2019. The vision was simple: sign players and maintain the relationship from the very start of their journey to ultimate prominence.
"It started in 2019. We signed a three-year deal to be the official equipment, footwear and clothing supplier to the EuroPro Tour," Joe disclosed to me. "We started off with a group of 12 guys who we hand selected to become 360-degree athletes. They would wear Puma from head-to-toe and use Cobra clubs through the bag."
As golfers, we are all aware just how costly golf clubs are. However, imagine you were competing for a potential place on the Challenge Tour, where you would certainly require the absolute best and modern technology if you were to vie against those who possess the same ability as yourself.
These players selected by Cobra would receive full clothing for events and the latest Radspeed model of clubs. Roughly, this estimates to a £5,000 saving across each season. Moreover, as aforementioned, to profit from these events, golfers are required to finish in the top 20.
However, Cobra have invented their own system of potential revenue, one that pits the players against one another in a competitive manner.
"We also have achievable bonuses for the guys, too. For example, we selected five rounds, and the first player to achieve 60 birdies would receive £5,000 and we also have a season-long bonus for a £10,000 bonus, for the first of our academy to achieve 15 eagles. Additionally, the first to shoot six consecutive rounds in the 60s will also receive £10,000.
"We have a few different incentives and for us, It's an opportunity to work with the guys because in all honesty, there is such a small difference between this level, Challenge Tour and even the European Tour. Our Order of Merit runs in association with Modest! Golf, and the winner will receive three 2022 Challenge Tour Starts."
(Conor O'Neil)
The impressive list of alumni would support Joe's argument. With magnificent talent breaking through the premium tours from the EuroPro, it all comes down to taking your opportunity when it's presented.
Joe is hoping that this endeavour will help their selected crop of players break through to the next level. As we know, it is eye-wateringly difficult to advance to the main tours - financial burden only dampens that dream.
However, with the help of Cobra, members of the Academy are not only issued equipment to use, but the incentive of additional funds further helps to improve performance. Away from the 12 contracted players and Cobra offer discounted prices on all its products for members of the EuroPro Tour.
"While we have our main guys who we look after, we do offer players of this tour the opportunity to purchase our products at a reduced fee. We appreciate, at this level, your entry fees are £300, you're staying away for a couple of nights and the prize money is relatively top-heavy."
"It's tough at the start of any journey, when you're aiming for the top, but from a talent and an ability point of view, you just have to grind it out and there are a few quality players here, certainly."
Indeed, tough it is. For those who are part of the NXTLVL Academy, it still remains difficult. Nevertheless, the financial and encouraging support available to them puts them at a slight advantage.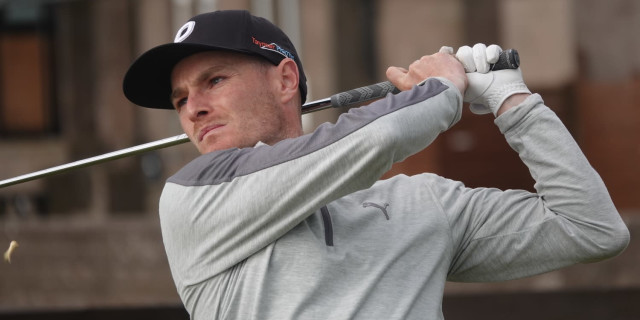 (Jack South)
Jack South is a 29-year-old professional golfer from Birmingham who was awarded a place within the academy. He knows all too well just how beneficial the efforts from Cobra are.
"Maybe it's psychological, but as you walk into an event, kitted out with all the latest tech, you feel confident. Prior to this contract, I was trying to save costs at all times and it could easily be a £500+ week. You'll end up shelling out £150 on shoes, clothing and all of the accessories.
"It is an absolute honour to represent Cobra/Puma as I do think they are the best and most up-and-coming brand. As a professional, when you turn up in a mixture of brands, you do question yourself: 'am I good enough?' That's now completely removed from the equation."
Preparing for the future is something that we all do. Whether it be personal or career decisions, it's vital you prepare for the future and that you have a cohesive plan of where you want to be. The difficulty professional golfers face is that it's improbable to plan for the future. Will injuries take over? Will they secure touring cards? Will they make enough money? The questions are endless.
Shaun Lloyd works alongside Joe and it is evidently clear that they both share the same passion of wanting these men to climb the ladder and gain access to premium tours. "People see golf as quite glamorous with all the money at the very top of the game. However, it just isn't the same at this level - they're fighting for their lives.
"This is why we want to work with them and further assist them. Ultimately, it's not a mirrored situation on the bigger tours. If we can help elevate them to that next level then we have accomplished our goal."
The players within the ranks share this enthusiasm and drive for further growth. While the support system in place is excellent, Cobra do expect these players to finish in the top 60 in the Order of Merit to secure their card for the following season.
However, players like Jack have bigger ambitions than just renewing their tour card - they want more. No, they need more. "100%, the European Tour is the ultimate goal," Jack told me. "That and top 50 in the world is my ten-year, long-term goal. The process involved is key and if you maintain your process then you will continue to get better.
"Scoring average is a big indicator for that. What was it last year? If it continues to improve, a shot or half a shot each season, that's a clear sign of improvement. The magical 69 scoring average should get you to where you need to be."
Ultimately, the EuroPro Tour is a stop-off. An avenue for you to test yourself and see how you cope in a professional and competitive environment. Through the help of Cobra, Jack is able to play in more competitions and commit more time to achieving his goals.
"The Academy allows me to be more open to play in events and I won't constantly be looking at my bank balance and thinking: 'oh no, I've got to buy new wedges or a putter'. For that reason alone, it definitely helps.
"It's an honour to represent this brand and when you see the likes of Bryson DeChambeau or Rickie Fowler, you do feel that you are a lot closer to them when you are wearing the same apparel and using the same equipment as them."
(Joe Brooks)
Cobra's vision to invest in the entry points of professional golf has failed to be emulated as of yet. Hopefully, the brand are trendsetting and more manufacturers will follow suit. Without sufficient support and investment given to the mini tours, the premium tours could be viewed as exclusive and closed off.
While it remains difficult to progress through the ranks, people like Joe and Shaun are helping to change that perception. They may not be able to go out and hit certain shots or make particular on-course decisions for the players, but the support of additional income and the fact that these men and the brand that they represent fully believe that the players hold the potential to mix with the best will only bolster confidence and belief going forward.
---
Related Content
The Journey to Stardom With EuroPro Golfer Jack South
Meet Ryan Campbell - Insights From a Rising Star on the EuroPro Tour
---

Be part of the action with a selection of unique golf tournament experiences, from playing in a pro-am with the stars to watching the action at golf's most illustrious events. Whether it's the Masters or The Open, The Ryder Cup or WM Phoenix Open, build your own bespoke package with the experts at Golfbreaks.com.
---
What do you think? leave your comments below (Comments)
---
Tags: puma daily picks Cobra Golf Cobra Golf
---
PLAY MORE PLAY BETTER - LATEST TUITION TIPS
---
Leave your comments below
comments powered by

Disqus