The Journey to Stardom With EuroPro Golfer Jack South
---
After first interviewing Ryan Campbell, Golfshake's Liam Moore meets another EuroPro Tour golfer, Jack South.
---
We all remember our first experience with golf. Whether that was trialling the sport at the driving range or jumping head first and attempting to play a traditional course. Either way, that experience must have been positive, as we continue to play today. While all of us play for enjoyment, there are a select few who possess the talent to earn money from the sport; who are driven to succeed in the industry they love; who are natural born winners. I'd like you to meet Jack South.
Jack plays on the EuroPro Tour and dreams of making it to the European Tour. Typically, those who endeavour to make it professionally start from early childhood. Not Jack however, he didn't find golf until the age of 14. "I always played sports growing up but at 14, the golf bug got me big time and I've dedicated myself to the sport then." Role models are naturally big influences. They encourage you to reach their level and inspire you. Like many of his age, there was one standout character who he wanted to emulate. "My biggest influence was witnessing the impact that Tiger Woods had on the sport." Join the club, Jack.
While golf is popular in England, it's worshipped in America. Across the pond, not only do they place a higher importance on golf, but the avenue to potential stardom is much clearer, too. While Jack may have found the sport a little later than your average professional, his desire to succeed led him to the land of dreams, being offered a golf scholarship to attend Mount Mercy University. "I had a great experience in America and met some fantastic friends throughout my four years there."
The excitement must have been uncontainable as he made his way stateside for four years. However, surprisingly, golf wasn't quite at the forefront of his adventure. "Gaining a degree was my first priority," he informs me. "At 18, I wasn't good enough to be in the England set-up." No, it would not be until his final year where he realised that a career in golf was not only the preferred path, but obtainable too. "My golf progressed well over the four years and three victories in the final year and MCC Conference Player of the Year made me consider golf as a profession."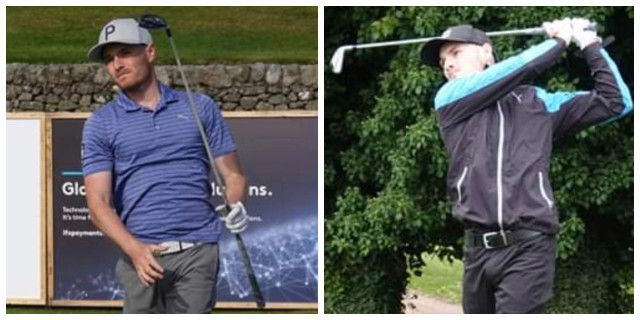 Having spent so long in America, carving his game to almost-perfection, graduation rolled around. Jack was left with an ultimatum: establish himself in America or head back to England. "I did consider staying over there once I graduated, but I didn't have a sponsor at the time and the entry fees are eye-wateringly expensive. Considering I also had to find a place to reside, I decided it wasn't financially viable." His journey in the U.S. may have taken a hiatus, but – driven more than ever after such a peerless senior year – he headed back to the Midlands with one aim in mind: gain a touring card.
Over the past few years, gaining access to the premium tours has become difficult. With so many talented players vying for limited spots, the competition is endless. "I've been on the EuroPro Tour for a few years now and I feel my game is improving." Jack unfortunately endured a few injuries over the recent years, which had hampered his playing time. "I had a couple injuries early on, which limited the events I could play in. This season is my third year with a full category and my scoring average continues to improve annually. I am confident, with the strides I have taken, that the next level is on the horizon."
While we all daydream of lifting the Claret Jug – or any trophy for that matter – we are sharply brought crashing back down to earth with our next round of golf; if we can't get up-and-down from the fringe, then the Open Championship will remain a distant fantasy. However, we are also unaware of the strains that a touring professional must endure to reach the pinnacle of the sport. Travelling, time away from family and generally being away from home are all negative connotations that go hand-in-hand with touring. "Being away from my family on a weekly basis is difficult."
From a performance perspective, missing cuts sting. Being chopped after playing well? That's just downright cruel. "This year, in the first event, I shot -4 and missed the cut by a single stroke at Harleyford Golf Club, which stung. I played respectable golf but driving home, with roughly £500 less in the back pocket, is a big blow." Naturally, disappointment or a lack of success encourages us to question if we're on the correct path - if we're good enough. Jack has a word of advice for anyone who entertains those thoughts. "You can't afford to dwell on these situations. It's vital to trust the process of improvement and keep doing what you're doing." Wise words, from a wise man.
Make no mistake, the EuroPro Tour is a competitive set-up that absolutely offers a potential path to the big-time. However, it's almost impossible to make a living from playing on this tour exclusively, as Jack discovered. "The expenses are so high – within the region of £8,000 for a 15-event season. It is extremely difficult to make a living from the EuroPro Tour. You would have to win multiple times a year to be financially comfortable but then you'd progress to the Challenge Tour and onwards." This is the situation for these promising golfers. While the EuroPro Tour undoubtedly provides a platform to launch upon, other avenues of income are needed until you qualify for the next stage.
For Jack, coaching and the occasional creation of YouTube content are viable routes for additional revenue. "Again, it's been a difficult year from a coaching perspective too," he confesses. "I love helping others, but 15+ hours a week mixed with a hectic golf schedule is sometimes not feasible. Enjoying quality hours at home with my fiancée Samantha and dog Jasper is the key to juggling it all and keeping my mind off golf." During the harrowing time of lockdown, Jack decided to start a YouTube account to keep himself occupied whilst also delivering tips to avid golf fans. "I enjoyed producing the content for that, along with some trick shots in the back garden!"
While we have such a skilled golfer, we must ask the question of how our audience can improve. For Jack, it's a tip that he picked up from a certain Padraig Harrington. "The easiest and most effective tip I've heard is something Padraig Harrington said on the Sky Zone: all amateurs should focus solely on holding their finish in every department of their game – full swings, wedge shots, chipping, putting. If they do that, bad days will be a lot more playable and they will continue to improve daily." When quizzed what is the most important aspect of the game to improve on, Jack offers two answers. "Find a somewhat repeatable shot shape – doesn't matter if it's a 30-yard slice, play with it. Secondly, become efficient at pace putting. Pace control is essential for an amateur to shave between 4-6 shots off their game." There you go, there's two tips from a professional that we should all look to incorporate into our game.
At the age of 29, Jack is looking to take his game to the next level. He's been tried and tested on the EuroPro Tour and he believes he's ready for the next stage. However, as previously discussed, escaping the EuroPro Tour is no easy task. Nevertheless, with the game that he possesses, the drive he so frequently displays and the unconditional love from Samantha and Jasper, the successive step could be a lot closer than he might think.
---

Be part of the action with a selection of unique golf tournament experiences, from playing in a pro-am with the stars to watching the action at golf's most illustrious events. Whether it's the Masters or The Open, The Ryder Cup or WM Phoenix Open, build your own bespoke package with the experts at Golfbreaks.com.
---
What do you think? leave your comments below (Comments)
---
Tags: Tournaments events Europro Tour daily picks
---
comments powered by

Disqus