Golfers Still Enjoy Unforgettable Experiences Despite Pandemic
By: Golfshake Editor | Fri 15 Jan 2021 |
Comments
---
It's been an unimaginably challenging period for everyone internationally, but for those of us in the UK, the date of 23 March 2020 will remain infamous, as it marked the beginning of a strict nationwide lockdown, immediately upending our lives in ways that most could never have imagined.
As we know, that announcement saw the immediate closure of golf courses.
However, despite that initial shutdown and the other recurring restrictions that have and continue to impact the sport across most of the British Isles, golfers have unquestionably had it much better than most, with play returning in May, an event that ushered in a staggering boom of interest, with tee sheets packed and bustling with enthusiasm.
Others haven't been so fortunate. There are notable sectors of the economy and activities that have essentially been locked down since last spring, but for golfers, we have generally had the freedom to continue to enjoy the numerous benefits offered by our ancient game.
In late December, we surveyed golfers to discover just what they've been doing throughout the pandemic, and we are thrilled to see that many of you have still been able to enjoy some unforgettable experiences.
The Best Experiences
Understandably, that first reopening after lockdown (Wednesday 13 May in England) was a magical moment for many. Who can forget OCEAN TEE founder Ed Sandison making a hole-in-one with his VERY FIRST shot!
But that return was special for everyone. One golfer responded to us by saying: "First round back at 9.15 am on first day after total lockdown. Such a privilege to be playing on that first day and appreciating the atmosphere back on the course. It made the hairs on back of my neck stand up to be back."
That was a repeated sentiment from many golfers - who were just grateful to be back out there.
"Being able to play, meet up with friends and get some outdoor exercise."
"Given the year we have had, despite memorable holes and shots I could list, the only answer to give is all the great games I had with my friends on the golf course. We were very lucky to be able to play and enjoy good health. Nothing beats that in my book."
"Everyone was giddy just to be out again!"
"Just being able to play with my friends during this horrific year."
Amen to that, but golfers also managed to enjoy some more specific moments, including several notable achievements!
The Best Achievements
Even in the worst of times, golf has been rewarding. Just ask these golfers!
"Managing to hit my lifetime goal of dropping into a single figure handicap after a summer of lockdown golf!"
"My first birdie, first sub-100 and completing a round with the same ball all in one day!"
"Shot 79 on Duxbury Park GC. First time I broke 80 on a course I've been playing since 1979!"
"For the first time ever, I parred the course and won the competition with 44 points. Handicap got cut 2.5 and now play off 6 having started the year off 9."
"Getting coaching lessons and being shown how to chip consistently. It was a revelation. Changing my game so I have a chance of getting up and down from almost anywhere!"
"Breaking 80 at Carnoustie off the championship tees!"
"Having a round of 15 pars and 3 bogeys - so close to that 'perfect' 18 pars!"
"Won club comp on The Old Course. Shot gross 78 playing off 11."
Great to see those accomplishments, but we especially liked this comment:
"Getting one of my best mates to join my golf club."
The Best Golf Courses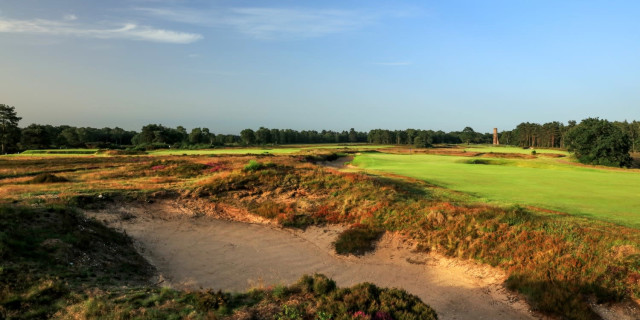 As showcased in Must Play Bucket List Golf Courses to Experience in 2021 - golfers played some fantastic courses last year!
Here are some highlights that they shared with us...
"Experiencing the splendor of Woodhall Spa and playing both courses in a day at the height of summer."
"Grabbing a twilight tee time at Saunton's East Course. Peak of the heatwave, amazing green fee rate. An oasis of a course."
"Playing The Old Course the day after I played Royal Dornoch."
"The whole day at The Grove, incredible hospitality from start to finish. Oh and the golf course is very good."
The Best Equipment
As reported across the industry, golfers have purchased a lot of equipment in the past year, including new clubs, which made a difference to the games of those who continued to play frequently.
"I bought a Scotty Cameron 8.5 Phantom X Putter and it is amazing!"
"I've tried many different golf balls. But trying Callaway Chrome Soft has definitely given me more confidence."
"Wilson Staff Model Irons, bought in July. Love them."
"My new set of irons, Callaway Rogue X. I'm hitting the ball so much more purely and finally getting the distances my pals get!"
But, despite the wonders of modern technology, sometimes the simple ways are the best, so we loved this comment:
"Rediscovering the benefits of my carry bag and only taking essentials on the course."
Better Days Ahead
While there are some frustrations around closures and restrictions this winter, it's clear that golfers have had much to be thankful for in the past year, pleasures and benefits that we can all look forward to again later in the season.
Better days will come - and golf will be there for us all.
---
Related Content
---
What do you think? leave your comments below (Comments)
---
Tags: GOLFERS Golf daily picks
---
PLAY MORE PLAY BETTER - LATEST TUITION TIPS
---
Leave your comments below
comments powered by

Disqus