What is Your Best Ever Start to a Round
---
Everyone dreams of getting off to a fast start on the golf course, standing on the first tee always with the best intentions in mind. However, it so often doesn't turn out that way. Whether it be the symptom of an absent warm-up or requiring that extra time to rediscover your feel, every golfer has faced that tantalising 'what if' situation of walking off the 18th having struck the ball wonderfully towards the end, but are left to rue that crushing 48 on the front-nine.
Getting off to a strong start can positively set the tone of your day, a foundation on which to build a terrific score. Mind you, not many of us can relate to the example of Ed Sandison, the founder of OCEAN TEE, who astonishingly made a hole-in-one on the 1st at Styal Golf Club in May 2020, his first shot struck following the coronavirus lockdown. That's the FASTEST start you can get!
At the 2020 Italian Open, Scott Jamieson set the world alight early, making an ace on the 2nd, before following that up with birdies on the 4th and 5th, and an eagle on the 6th. The Scot was six-under after his opening six holes of the tournament.
Back in August 2020 at the Northern Trust, world number one Dustin Johnson shot a remarkable 27 on the front-nine at TPC Boston, a score that comprised of five birdies, two eagles and two pars. Scalding hot start. His back-nine of 33 was considered a comparative disappointment. Nonetheless, he won the event and ultimately the FedEx Cup for that season.
However, that isn't a record on the PGA Tour, as former U.S. Open winner Corey Pavin shot 26 on the front-nine at Brown Deer Park GC during the 2006 U.S. Bank Championship in Milwaukee. The veteran American started with birdies on eight of the first nine holes on the par 34 first half.
At the Masters, no one has broken 30 on the first nine at Augusta National, but several players hold the distinction of shooting 30; Johnny Miller (1975), Greg Norman (1988), K.J. Choi (2004), Phil Mickelson (2009) and Gary Woodland (2014).
Those are extraordinary achievements recorded by some of the best players in the world, so the figures aren't necessarily relatable, but the sentiment certainly is. We all have our own personal stories of strong starts to tell. Several of the Golfshake Ambassadors have shared their moments of front-nine glory.
Mel Davies says:
"I've had two starts to rounds that stick in my head. One was about 20 years ago when I get the fairway with my first tee shot leaving about 220 over the hill to the green. I then hit what I thought was a great 7 wood and walked up to the green but my ball was nowhere to be seen. We checked through the green and it wasn't there. My playing partner said 'have you tried the hole?' I walked back more in hope than expectation and to my amazement there it was - an eagle two. My first ever eagle and I then went on to shoot a net 59 and a massive cut followed.
"The second one was just before lockdown, I decided I'd put in a 9-hole supplementary card as I'd been playing well and wanted to try and get cut. I proceeded to birdie the 1st and 3rd, bogeyed the 5th but parred my way in for a 1 under gross and a cut."
Kevin Paver even includes his Golfshake Round Report as evidence of his tale:
"I think that would have to be at Stockport Golf Club back in 2017. I played in a charity golf day, hosted by Andrew Murray, and actually had former Golfshake chap James Reeson playing with us as our professional.
"I distinctly remember playing out of my skin. It was just one of those days where everything just clicked. No swing thoughts, just stepping up and hitting the ball... and to my surprise, it going where I asked it! I started Par, Par, Birdie... and after 7 holes, was -2 gross. Fell apart a little after that and finished the front 9 +1 gross. A great score for me. Couldn't keep it going on the back 9 sadly... but we did scoop a second place as a team if I remember rightly!"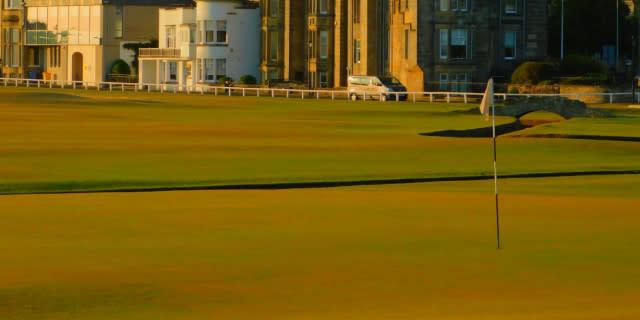 Kevin Heggie describes his satisfaction at successfully navigating one of the most iconic opening holes in the game.
"I'm generally ecstatic to be level par after a couple of holes, and I actually can't recall a birdie on the 1st, ever! However, I can claim to have held my nerves not once but twice on the 1st of the Old Course at St Andrews, getting a decent drive away and finding the green in regulation on both occasions, resulting in easy two putt pars. Whilst the SI is 16, the occasion certainly gets the better of a lot of golfers, many better than me, so this is my very minor claim to fame."
But the excitement of a fast start can lead to heightened pressure - as Rob Treanor discovered!
"I played Pyrford Lakes for the first time with a group of friends a few years ago. With a handicap of 18, I was astonished to par the first four holes in succession. It was exciting but I ultimately crumbled including a memorable 12 strokes on the water laden 18th hole. It was nice whilst it lasted and memorable all the same!"
So, now you have heard from the Ambassadors, what is the greatest, most memorable start to a round that you have had? Did you kick off with a series of birdies, make a succession of pars at a tough venue, or hit the best drive of your life under pressure off the 1st tee?
Have a think and let us know!
---
We have some amazing prizes up for grabs in the Early Birdie. The challenge will run from the Monday 21st September until Sunday 1st November 2020. Each net birdie recorded in the first six holes of a round will count as an entry into the Golfshake Early Birdie Challenge in Partnership With Golfbreaks.
---
What do you think? leave your comments below (Comments)
---
Tags: Score Tracker golfshake daily picks
---
PLAY MORE PLAY BETTER - LATEST TUITION TIPS
---
Leave your comments below
comments powered by

Disqus