Importance of Prostate Cancer Awareness - A Personal Story
---
By Golfshake Ambassador Andy Picken
---
I have embarked on many memorable adventures during my time working with Golfshake, and all of them have had a defined start and finish point. It usually begins with an airport and finishes in a lovely part of the world playing golf, such as Golf in Kent, Carnoustie Country and Northern Ireland's Causeway Coast. I love and appreciate having the enviable opportunity to take these journeys on your behalf to hopefully provide an insight behind some wonderful experiences in the game.
Recently, however, I have begun a fresh journey in which I do not know the final destination. It is probably one of the most important roads that I have found myself traveling on.
The story begins in the autumn of 2018 when I was invited to attend the Staysure Tour's Travis Perkins Masters at the beautiful Woburn Golf Club. The charity being supported during the course of the event was Prostate Cancer UK. They were running an awareness campaign providing Man of Men badges and a host of vital information to spectators and players. This is a brilliantly conceived and executed scheme. I simply am like most men and don't really think about health-related issues and need an extra nudge to do something about it.
I had seen these badges on Sky Sports, worn by the football punditry team, but didn't really know much about the disease. I am ashamed to say that I paid for my badge and the information booklet, popped them in my coat pocket and forgot all about it.
A couple of weeks later, Golfshake were approached to support a media awareness campaign that was being run by Prostate Cancer UK in an effort to help raise awareness to the golfing community. Given that the major golf demographic is also the demographic that Prostate Cancer UK are targeting.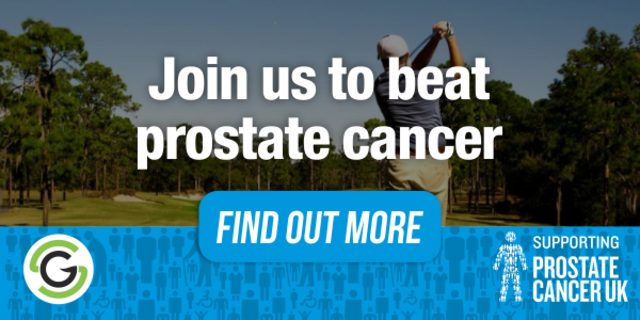 This time I reviewed that material with much more interest. The more I read and the more I subsequently understood about the disease, the more concerned I became.
I soon realised that I had been given the best "Mulligan" I have ever received because I had a second chance to do what I should have done weeks earlier.
I had originally thought that some of the symptoms like Nocturia (getting up in the night for a pee) were just down to me getting older. However, when I combined this with other symptoms that I was experiencing, it was the catalyst to make an appointment to see my GP.
This was the first step on what has become a magical mystery tour of epic proportions.
I was asked to provide samples of blood from which my PSA test was obtained, a screening method deployed to help detect the presence of prostate cancer. This produced a numerical figure compared against my age bracket and ethnicity. It was elevated above the normal level.
From then, I was asked to return in three months for another check and this too was slightly raised.
A further check discovered abnormalities to the rear of the prostate itself. This led to a referral to the local urology clinic being supported by the highly experienced consultants based within it. Additional examinations, including a full body MRI scan, revealed the presence of an ominous shadow requiring further investigation. This could only be undertaken by way of a mechanical biopsy. This biopsy was completed under a general anaesthetic during a procedure that is completed as an outpatient.
After a tense wait, my results revealed that there are signs of a cancer in the prostate, but I am a candidate for a protocol called "Active Surveillance" for the immediate future.
This early investigation has given me the best possible chance of a successful outcome. Fatalities can occur to the 1 in 8 men who are diagnosed when the cancer grows and progresses from the prostate itself into surrounding areas.
On that day 129 men in the UK received the same diagnosis as me.
Where will this journey take me? I'm not altogether sure, but what I do know for certain is that every professional to whom I have spoken has indicated that this early intervention has given me the best possible chance.
Had I not have taken account of the awareness campaign at the Staysure Seniors Open and on Golfshake, ignoring the symptoms, instead choosing to put off the visit to the GP for a couple years, the consequences could have been fatal.
As I reflect on that, I acknowledge that I have been very lucky.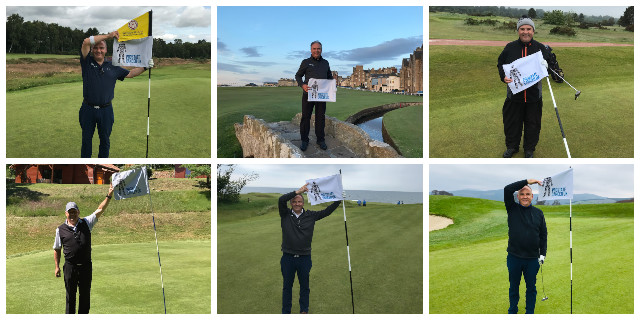 (Andy Flying the Flag for Prostate Cancer UK)
If you are a man aged over 40 – or are concerned for a father, husband, partner - please take the time to read the articles featured on the Golfshake website. It has made such a difference for me.
One man dies of Prostate Cancer every 45 minutes in the UK. This is the time it takes to play three holes of golf.
Let that sink in. There have been six deaths from the disease during YOUR last round of golf.
Prostate cancer is the most common form of cancer in men in the United Kingdom. The key to a successful outcome is early identification, recognition and treatment.
Simply by being made aware of the symptoms; identifying those that I was suffering ensured that I reached out and obtained professional advice at the earliest opportunity.
My mother died of breast cancer and this is a factor that increases risk. Having male relatives who have had prostate cancer also increases the risk substantially.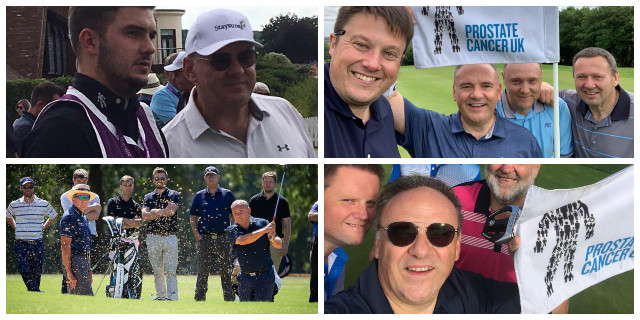 (Raising Awareness for PCUK)
PLEASE TALK ABOUT THE SUBJECT. I only found out recently that another family member has had the disease for several years, but I did not know.
One in eight men in the UK are at risk of developing Prostate Cancer. Please take a minute to look around your golf society, or golf club and work environment.
How many of your friends and colleagues could be impacted by this disease?
Please help me to encourage dialogue between those people so that they too can have the opportunity for an early intervention should they recognise any of the symptoms as I did.
The golfing community is a wonderful one. We look out for each other and that is why I have decided to tell this private story, publicly.
The Prostate Cancer UK website is a wonderful resource and is easy to follow and there are some fantastic golf related items to help raise awareness and for fundraising.
Check it out. If you have to follow me on this journey, the earlier you get on the bus the better.
---
What do you think? leave your comments below (Comments)
---
Tags: PCUK daily picks
---
PLAY MORE PLAY BETTER - LATEST TUITION TIPS
---
Leave your comments below
comments powered by

Disqus