Causeway Coast Trip Report
By: Andrew Picken | Mon 17 Dec 2018 |
Comments
---
Golfshake Ambassador Andrew Picken recently experienced the Causeway Tour in Northern Ireland, discovering many of the regional links that will be showcased when the Open Championship returns to Royal Portrush in 2019. Here is Andy's overall review and assessment of the trip.
---
"Cead Mile Failte" - Literally means a Hundred Thousand Welcomes.

I have never felt so welcomed on any of the trips and adventures I have been blessed to undertake. Everywhere we visited we were treated like friends and family. I was so impressed by the Causeway Coastal area that I intend to return early next year and make further explorations.

This area has become a global star in its own right since it features so heavily in the HBO Series "Game of Thrones". The film locations are now incredibly popular tourist stops that attract fans from around the globe.
Dark Hedges are an avenue of Beech trees planted to impress on the approach to Gracehill House. It has now become one of the most photographed phenomena in Northern Ireland. At dusk watch out for the ghost of the "grey lady".

I am a big fan of GOT and was easily swept into the trap of location spotting aided and abetted by our fantastic tour guides. There are organised bus trips but many taxi drivers are also fully trained tour guides such is the extent of the growth of this business. Check out the Games of Thrones filming locations Northern Ireland App for much more information.
20 Must Play Golf Courses in Northern Ireland

As we travelled between our own locations it was impossible not to be enthralled by the local scenery and dramatic backdrops to all our intended locations. This is a fantastic location without the golf. With it, it is sublime!
Travel
My trip started early at East Midlands airport with an easy and unhurried check in. The flight was on time and by the time we had taken off it felt like it was time to land. The journey as a whole took just over an hour. Add another hour road journey and we were unloading our gear ready to warm up at the beautiful Castlerock Golf Club.
Belfast
As we travelled to the club being introduced to local points of interest by our guide I made a mental note that Belfast would be an incredible venue for a non-golfing weekend away. It is a gastronomic centre of excellence. Its bar and clubs are second to none and it also has the Titanic Centre which is one of Europe's best attended tourist attractions.

It's difficult to describe an atmosphere within a city but this place has a welcome to visitors that is nothing short of superb. At every Irish golf venue we visited we were treated as members for the day. I would recommend a visit to this area in a heartbeat and will definitely return myself as there are so many other areas I wish to explore.
Golf
Ireland is blessed with 53 of 151 recognised Championship Links in the world and is a prime global destination. The 148th playing of The Open will take place at Royal Portrush this year. This event is a complete sell out with 197,000 tickets already taken and the exposure will attract can only add to its excellent reputation.

Having been too slow to secure Open tickets, I am seriously considering a trip to the area to play other venues during this week as I anticipate the atmosphere to be electric from a gol standpoint. Imagine playing at some of the other iconic venues at the same times as The Open and being able to enjoy the televised coverage in the clubhouse after.


The "craic" we enjoyed during this trip is hard to describe but wonderful to experience and enjoy. In every bar or clubhouse there was a friendly face and a welcome chat that made the overall experience an absolute joy from minute one. The art of telling a story and sharing a yarn is not gone. It has been enhanced to an Olympic standard by most locals and I cannot remember another trip when I laughed so hard and heartily throughout.
Accommodation
For the duration of our stay we stayed at The Bushmill's Inn.

Situated a smooth wedge from the world famous distillery this is a fantastic venue for the visiting golfer. They are well used to the specific needs of the travelling golfer and provide secure storage for clubs without the need to drag equipment up stairs and in lifts. The rooms are spacious, comfortable and very well appointed. Where this place really excels is the quality of the cuisine and friendliness and professionalism of the staff.

If you fancy a night by an open, roaring fire they have it. If you want a quiet, intimate dining experience, they have it. If you have a group of boisterous, joyous, golfers, high on life and the holiday of a lifetime. They can cope with it. They have live music in some of the bars. They even have a cinema room. The breakfasts are stupendous and I would find it very difficult to critique the service standards in any respects. This hotel is like a combination of my favourite real ale pubs, favourite restaurants and homely accommodation. I loved it!

This isn't just my opinion. This luxury hotel has been awarded multiple industry awards in the last three years. It is described as "Quietly Luxurious" on the website. I could not agree more. When I return to this area in the future I will look here first for availability. I can't make a stronger recommendation than that.
Attractions
We also got to enjoy a visit to the Giant Causeway Visitor Centre and again this is definitely worth a visit if you are in the area. It has been a popular tourist destination for many years and the centre is now a focal point for all those visitors from around the globe. We took a hike around the coastal area, up the 165 steps on the coastal walk which afforded us some incredible views across the bay.

This is a UNESCO World Heritage Site where local legend and history converge. The facilities and displays at the visitor centre are also memorable enabling all you are about to see to be put into perspective.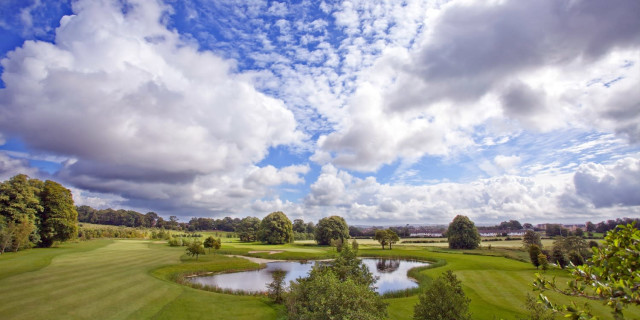 As a group we were taken to experience the hospitality that is offered at Galgorm Castle. Unfortunately we did not have the time to play the course as its reputation is rapidly growing and it has been used by the European Tour for events such as the Northern Ireland Open. We enjoyed a visit to the hotel and sampled a range of locally produced gins from the exceptional gin library. This is a stunning looking venue that I intend to revisit to review properly in the future.
Food & Drink
One of the eye opening aspects of this tour for me was the quality and organisation of the local gastronomy. Anyone who reads my reviews regularly will be aware of my interest (addiction) to great food and booze.

For more information about the amazing food movement that is being developed and promoted in this area, here is a great resource. The ingredients are top quality, locally sourced, prepared with love. They are direct from the farm and encourage a better knowledge of food provenance and preparation practices.

On a memorable evening on the tour we were treated to a visit to Tartine. It was nothing short of a magnificent, gastronomic experience. We were treated to a menu designed especially for our group to showcase all that was best of Causeway Coast gastronomy.

All locally produced and presented with aplomb by The Whiskey Lad. Each of the food courses was paired with a drink developed especially for the dish. Flavoured gins to whiskey and wine. All drinks matching perfectly the tone and flavours of the dish. This was a wonderful way to spend an evening with friends, new and old. 'craic agus ceol' (fun and music) was the main dish of the day.
Conclusion
Add to these wonderful travelling adventures golf of the highest global standards and you have a venue that has to be seen to be believed. I genuinely cannot wait to return. There is so much more for me to explore. What an amazing place to visit.

Belfast and the Causeway Coast has been awarded the Lonely Planet Best travel region award for 2018.

Andrew was a guest of Ireland Golf and Azalea PR and stayed at the multiple award-winning Bushmills Inn .

For more information, visit: https://www.ireland.com/en-gb/what-is-available/golf/ or https://www.ireland.com/en-gb/what-is-available/golf/destinations/northern-ireland/articles/the-open.
---
Related Content: travel Northern Ireland Ireland
What do you think? leave your comments below (Comments)
---
Leave your comments below
comments powered by

Disqus
Plan Your Next Round
Ardglass Golf Club
County Down
from £22.00
Save 50%
Castlerock Golf Club
County Londonderry
Galgorm Castle Golf Club
County Antrim
from £13.00
Save 23%
More Golf Course & Travel Features
Plan your next golf break with Golfbreaks.com