---
THERE is every possibility that lots of newcomers will be flocking to golf courses around the land when this infernal lockdown finally ends. For their benefit, and with tongue firmly in cheek, we present you with the idiot's guide to golf...
Etiquette:
Means different things to different people. In the real world, it is about knowing the rules, replacing divots, repairing pitchmarks, being polite to fellow golfers, knowing when to let them play through etc. For others, it is the polar opposite of what has just been described - they don't repair pitchmarks (ever) or replace divots (ever), they don't let anybody play through (ever) and they don't buy a round of drinks (ever!). And they know everything (always). The irony is that these people will almost always be able to quote the rule book to you - but will then go out and utterly ignore it!
Innovation:
When it comes to club and ball manufacturers, it is their watchword. How we all wish that we could say the same thing when it comes to the golf clubs to which we all belong.
Tee-times:
The ultimate prize!
Fourball:
A quaint tradition involving four men or women who ALWAYS play together, come rain, hail or shine. If one of them goes on holiday, it become a threeball - nobody else is allowed in.
Queues:
Something that used to happen at the first tee.
Forward-thinking club committee:
Something we all wished that we had. The reality may be something rather different.
"We've always done it that way":
The phrase you are more likely to hear around a golf club than any other.
Three wood:
A club that, rather confusingly, is not made of wood at a all.
Wedge:
No this is not a type of shoe. Not is it something you use to keep a door open. It is the club that Rory McIlroy waves like a magic wand. But it's not a wand. It's a wedge.
Sand wedge:
It's all in the pronunciation. This is not something you have to eat after a round of golf. It is a club you use to escape from something called a bunker or trap. Or not!
Locker room:
A place where you will find old, smelly socks, abandoned waterproofs and other items of indeterminate origin. It is also the place where you will find showers that only dispense cold water.
Greenkeeper:
For many, somebody to be verbally abused. "Hasn't a bloody clue what he is doing. Have you seen the state of those greens?" It's January - what do you expect? And then spring comes along and, hey presto, you are presented with stunning putting surfaces, perfectly-manicured fairways and bunkers. This is the time when you should hear: "He's amazing. I always said he knew what he was doing." So come on, have you ever heard anybody say that about a greenkeeper? Shame on us all.
Clubhouse food:
You have played 18 holes and have worked up a hunger. You order a sandwich. When it arrives, the bread is turned up at the edges, the so-called salad looks like something the greenkeeper has given the kitchen staff after cutting the fairways and the meat filling is tough and chewy...
Clubhouse beer:
It's a scorching hot summer's day. You stagger into the clubhouse. You are parched. You need to quench your thirst. You order a pint of bitter. It is plonked in front of you. It has no head. It is lukewarm...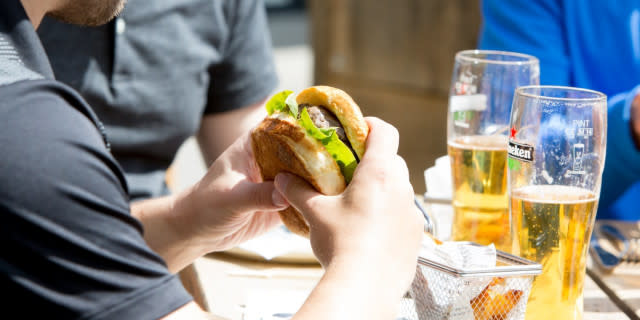 Pro's shop:
When the pro sees you walk in his spirits rise, especially when you start looking at all those shiny new golf clubs. But then you look at how much he is charging, you tut out loud and walk out. Or buy a fizzy drink and complain about the cost of that too. And his shoulders slump.
A golf lesson:
For some, it can be the moment when a light bulb comes on, when your teaching pro unlocks something, finds something in your swing and technique. Or a form of torture. You pay your money, he or she tells you what you are doing wrong, points you in the right direction - and then you promptly ignore him. Or you don't head to the range to hone the new techniques he has given you to work on. Instead, you wait until the first tee, try to remember what you were told, play like an idiot for a few holes and then decide to go back to what you know best.
Driving range:
A place where most club golfers go to pound golf balls endlessly, perfecting their faults in the process and then wondering why they never get any better.
Pre-shot routine:
Rory McIlroy, the most naturally gifted golfer on the planet, takes a practice swing, stands over the ball and hits it. And then there are the likes of Bryson DeChambeau, JB Holmes, Kevin Na and Keegan Bradley, who approach the ball, walk away, take a thousand swings, get back over the ball, then give the club to their caddie and start the whole process all over again. And then go back to the club they had in their hands in the first place.
Scorecard:
It is only a piece of card and when you don't have one in your hands or in your golf bag, you play like a god. But the moment you need to fill one in, your game falls to pieces. Every single time.
GPS devices:
In the hands of somebody who knows precisely how far they hit the golf ball, this is a useful piece of equipment. In the hands of the rest of us, it is a complete waste of time and money. You don't agree? How many 24-handicappers a) know how far they hit a seven iron, and b) have ever hit it the same distance on two consecutive shots?
Golf break:
This is when a group of men (or women) go away for a few days together with the aim of playing a few rounds of golf together. But then there are the nights - let loose from their partners, they drink too much, eat too much, maybe do a bit of Dad dancing and forget that they are no longer 21 years old. They get up the next morning, say 'never again', and go out that night and do the same thing all over again…
No return:
The club golfer's worst nightmare. It was all going so well. And then you came to the eighth hole, with the river and the trees. Or the 15th, with the pond and the three pot bunkers. Or the 18th, with the knee-high rough and that ditch you had never even noticed before.
Rain:
Something that never happens on a golf course (in our dreams)!
Wind:
Something that always blows on a links golf course.
Yips:
Something all bad putters claim to have. More often than not, they are actually just bad putters.
Shank:
Ssshhhh. Let's move swiftly on.
Sun:
Something that never shines on a UK golf course.
"Other":
We all want to mark down pars, birdies and perhaps even the odd eagle. But, oh dear, the dreaded "other" is the figure we don't want on our cards.
---
Do you have any suggestions to add for Derek?
---
What do you think? leave your comments below (Comments)
---
Tags: daily picks
---
PLAY MORE PLAY BETTER - LATEST TUITION TIPS
---
Leave your comments below
comments powered by

Disqus