What Tour Pros Are REALLY Doing to Fill the Void
---
SO IT turns out that, just like the rest of us, professional golfers are struggling to cope with being stuck at home - and are dealing with it in different ways.
Padraig Harrington tweeted that he was hitting a few wedge shots at home, but added: "Really struggling to be motivated in these difficult times. Preparing for the worst, hoping for the best", while Andrew "Beef" Johnston has a rather different take on things and tweeted: "The serious thing is have I got enough beer and snacks though." No surprise there.
And Phil Mickelson says he started off with the best of intentions. "After arriving home safely and with a month off, I could sense things were going to go one way or the other. I was either going to use this time to workout, get fit and stronger or I was going to lay in bed, watch shows and eat. After day 1, the latter is in the lead," he wrote.
Ian Poulter took to social media to ask people to post their favourite golf pictures, with the proviso that they did so without any accompanying words. And his picture? With his son at the Ryder Cup. He tweeted: "Hi guys I know it's difficult but if we all listen and distance ourself and not gather in groups we can stop the spread. I'm seeing so many videos of selfish, disrespectful people who think this is a joke. If you don't listen this will spiral out of control even more."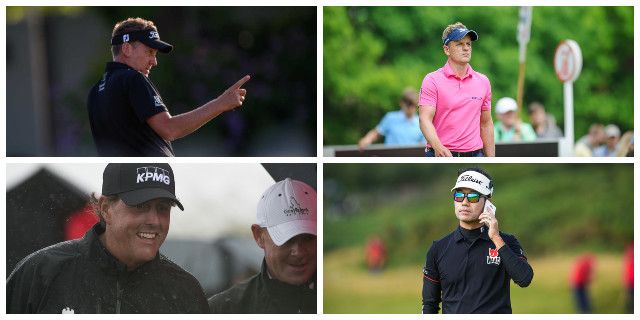 Tom Kite, who is known as being one of the most dedicated players in the game, said: "I'm waiting for light at end of tunnel before getting after it. I just miss golf. Not being able to hit balls, not being able to play golf with my buds, not having anything to prepare for and no tournaments on the horizon is really disheartening."
And former US Open champion Webb Simpson? "I am treating each week as a normal in-season off week so I'm trying to stay current with my workouts, mental preparations, and I'm playing as much as I would normally in an off week."
Stewart Cink has somewhat different priorities. "For the moment just being smart and protecting myself and my community feels like the right thing to do," Cink says. "My wife [Lisa] is in an almost four-year battle with cancer. She's doing great and has been in remission since late 2016 but is still in a higher risk group due to her ongoing treatments. So we are just mostly holed up here at the house like most others. Doing our part."
Peter Malnati believes the break will help his game. "I have a basement golf room with a simulator and some mirrors," he says. "I'll be swinging it like Adam Scott after this break!" And Kelly Kraft's short game could be razor sharp come any resumption in action as he spends hours chipping in his back garden. "It's mostly for fun to pass the time," he says. "I wouldn't say it's real practice. It's hard to simulate a real situation off the fake turf. I do have a putting mat that I use inside to keep my eyes sharp and seeing the line okay. For me, my aim is always the first thing to go so it's nice to keep that sharp."
Kevin Na says he is enjoying time at home with his family: "I'm trying to see this as an opportunity to rest and spend time at home with the kids. I've been a pro golfer for 19 years and never experienced time off like this. I always wanted more time at home so I'm trying to look at this as glass-half-full. [My daughter] Sophia sure likes it because daddy's home every day."
That is a view being echoed by Englishman Brian Davis. "One of the best things is having teenagers who think I am so uncool but now they're forced to be with me. Between shooting hoops, walking the dog, playing board games and blackjack, it's actually been great to have this time with them," he wrote. "Now ask me in two weeks time — we may need a break from each other!"
Luke Donald has taken a leaf out of Winston Churchill's book: "I'm trying to use the time wisely — as Churchill once said, 'Never waste a good crisis.'" He is cycling, meditating, cooking, and reading .
But, of course, they are missing being out there competing. "Other than sleeping and eating, all I want to do is compete," says Christina Kim. "I miss my friends on tour, I miss the travel, I miss the sense of calm and oblivion that being on tour provides me. I miss being able to see my fans, friends I've made over the years, getting to eat at my favourite restaurants, to see some of the amazing places this country has. The list goes on. But I miss competing so, so much."
Carlos Ortiz feels the same way: "I love being able to spend so much time with my girls but I would give anything to get back out there and compete. That competitive drive in us doesn't just quiet down because we can't play. I'm sure you've seen all the golf swing and action shot challenges circulating on social media … we're getting desperate!"
But perhaps big hitter Luke List sums it up best: "I feel very fortunate for all that we have and know there are so many others struggling. I'm hopeful for the return of our sport, our economy and general human wellness."
---
The Self Isolation Guide For Golfers
What Your Favourite Golfers Might Be Doing During Their Enforced Break
---

Be part of the action with a selection of unique golf tournament experiences, from playing in a pro-am with the stars to watching the action at golf's most illustrious events. Whether it's the Masters or The Open, The Ryder Cup or WM Phoenix Open, build your own bespoke package with the experts at Golfbreaks.com.
---
What do you think? leave your comments below (Comments)
---
Tags: PGA Tour lpga european tour daily picks
---
PLAY MORE PLAY BETTER - LATEST TUITION TIPS
---
Leave your comments below
comments powered by

Disqus