FootJoy Pro SL & Pro SL Carbon Review
REVIEW: FootJoy Pro SL & Pro SL Carbon

---
Review by Golfshake's Kevin Paver
---
FootJoy's Pro|SL has been their bestseller for some time now, and for good reason. So, you might think they'd stick with it and not bother changing. Remember the old 'if it ain't broke, don't fix it' saying?
But, rather than be satisfied with what they had in an already very impressive shoe, FootJoy spent 18 months working on developing a NEW Pro|SL, ready for the 2020 season.
Richard Fryer, FootJoy's Director of Product Management, said: "As the industry leader, we didn't tweak or adjust the new Pro|SL, we innovated and advanced and received Tour approval,"
"As a result, we've developed a product that delivers more stability, more traction, more comfort and more choice, setting the standard in performance footwear, again."
Having been a big fan of FootJoy for many years, especially the Pro|SL, I was excited to head onto the course to test the new Pro|SL & Pro|SL Carbon, and see how they performed in a range of conditions during winter in the UK, as well as a much sunnier Dubai.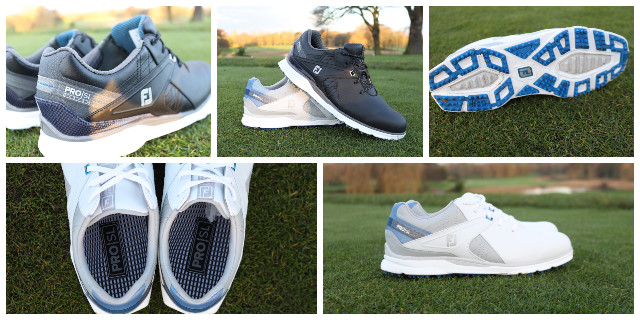 Looks
FootJoy haven't made any big changes to the look of the Pro|SL shoe. It's still very much the same casual styling that we've seen previously, with a few minor tweaks. Whilst the new Chromoskin upper doesn't look drastically different, you will notice the new 'Powerharness', which is there not for design aesthetics, but for performance. Either way, I think it's a nice edition.
I tested the white/grey/royal Pro SL and the black ProSL Carbon. Whilst these were probably my favourite colours within the range, there are plenty of other options availble too.
Feel
So, let's get onto the important stuff. These shoes are OH SO Comfortable!
The Pro|SL uses two densities of FJ proprietary FineTuned Foam around the perimeter of the shoe and a softer version under the foot. I also think the new super-soft waterproof chromoskin leather is also much improved on the previous model.
Now onto the Pro|SL Carbon, which offers even more comfort and stability than its older brother. What really sets the Pro|SL Carbon apart is the full-length carbon fibre they have added to the midsole, which essentially flexes with each step to stop your feet feeling tired. Clever stuff. The Carbon also has the OrthoLite Impressions FitBed, that we saw in last year's Fury and this year's Tour X, which coupled with the 3d moulded collar delivers comfort in abundance.
Now, whilst the Pro|SL is a very comfortable shoe, I do think FootJoy have taken it to the next level with the Carbon version.
Performance
Ok, let's talk performance.
This is where FootJoy have really excelled over the past few years with the Pro|Sl, and the 2020 versions are no exception.
The new Pro|SL shoes give super stability and traction, which is even more impressive given this is essentially a spikeless shoe. The all-new Infinity Outsole has 189 points of traction, which is helped by the wider heel, giving you the very best foundation to make your golf swing.
Again, you can feel the difference between the Pro|SL and Pro|SL Carbon. The lightweight, carbon insert that sits in the midsole really does enhance the stability and motion control throughout the golf swing, allowing movement exactly where and when your foot requires it.
I tested both these in a multitude of conditions over several rounds of golf. Here in the wet UK winter, and out in the sunshine in Dubai, both performed amazingly well in both scenarios. I wouldn't normally consider a spikeless shoe in winter, but given the performance of the Pro|SL, you don't need to wait for the summer.
Pros
A tour level, spikeless golf shoe that delivers more performance and more comfort to what was already a damn good golf shoe.
Cons
The Pro|SL Carbon is a little pricey at £179 (RRP UK), but you are getting a seriously good golf shoe. I do wonder if this makes the Pro|SL a little redundant at just £30 cheaper?
The Bottom Line
Both new models in the Pro|SL line are fantastic golf shoes. It was already a good golf shoe, but the 2020 versions really do take it to the next level in performance. For me, the Carbon would be the more likely option as it delivered significantly more in comfort and stability, which is exactly what FootJoy set out to deliver.
2010 Open Champion, Louis Oosthuizen said: "I'm someone who loves to be comfortable, and the new Pro|SL is the most comfortable golf shoe I've ever put on my feet" … he might just be onto something.
Rating - 9/10
Styles:
Pro|SL
White/Royal/Grey Laced
White/Grey Laced
Navy/Royal/Grey Laced
Black/Charcoal/Lime Laced
White/Grey/Charcoal BOA
SRP £149.99 / £169.99 BOA
Pro|SL Carbon
Black/Charcoal/Grey Laced
White/Charcoal/Grey Laced
SRP £179.99
For more information, visit https://www.footjoy.co.uk/.
---
What do you think? leave your comments below (Comments)
---
Tags: shoes review golf shoes Footjoy
---
comments powered by

Disqus