How SuperSpeed Golf Can Help You to Gain More Distance
---
Golfshake Ambassdor Matt Holbrook tested out the SuperSpeed Golf over the 2019/2020 winter to see if it could help to get him swinging faster and ultimately gain more distance from the tee.
---
By now, most of us would have either seen or heard of SuperSpeed Golf. The speed enhancing training aid that is being used on tour by Phil Mickelson, Ian Poulter, Martin Kaymer, Jon Rahm, Bryson DeChambeau and a whole host of others as well as a long list of LPGA Tour players. Some of the most renowned coaches in the world are also using SuperSpeed Golf – that list includes Butch Harmon, Sean Foley and David Leadbetter. In fact, the SuperSpeed family of users is also prominent of the Champions Tour as well as the Long Drivers circuit.
So when my friend and professional golfer, Sam Forgan, suggested I give the SuperSpeed Golf a try over winter to build up some swing speed I was slightly sceptical as I assumed this is something that would only benefit tour players. I had spoken to Sam – who is now based at Felixstowe Golf Club in Suffolk – before winter kicked in to discuss what I really wanted to achieve moving into the 2020 season. I had highlighted to him that I didn't think I hit my driver as far as I should, given the above average distance I hit my irons.
---
Becoming A Single Figure Golfer
---
After a quick examination of the swing – and more importantly the swing speed – we agreed that over the winter building the driver swing speed up should be the main focus and #Project250 was born.
#Project250 was essentially the task of getting my swing speed to a level where I was consistently carrying my driver 250 yards and SuperSpeed Golf was going to play a vital part in this.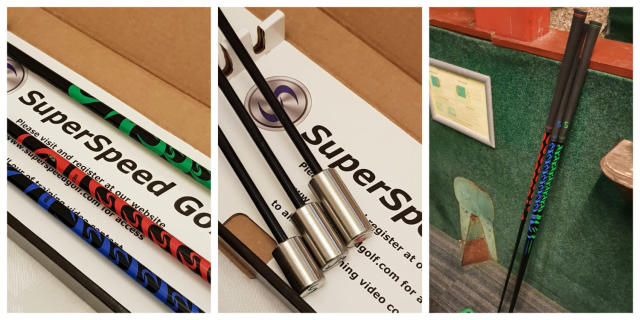 The first thing we did was take some base measurements on TrackMan. Based on an average of 20 shots I was seeing the following numbers.
Swing Speed Average – 93mph
Ball Speed - 141mph
Carry Average – 225.6 yards
Sam then introduced me to some of the drills with the SuperSpeed Golf. Starting with the lightest (green) weight he had me swinging, fairly aggressively, five times in quick succession, then to my amusement I had to switch hands (and grip!) and repeat but swinging left handed. The reason you have to swing both right and left handed is due to the fact that we are so used to 'loading' weight onto one side that swinging with your non dominant hand basically evens this out and helps in the swinging motion when you are transferring all that energy.
You then essentially repeat this process with the medium weight (blue) followed by the heaviest (red) weight. So at that point, for a first timer, not only was I feeling slightly worn out, but when I picked up my driver I had a sensation that I could barely feel it in my hands and instantly felt like I was swinging it faster but without going crazy. I was convinced this was some kind of placebo effect, but I took the SuperSpeed Golf home and committed to doing the above drill a couple of times in the garden as well as at the range in preparation for the next session the following week.
So I went away and did the above three times during the week, twice in the garden and once at the driving range – five swings right handed, five swings left handed with all three different weighted clubs – 30 swings in total.
Several weeks later, and after commiting to the process, I went back to see Sam for another session. I arrived at the range all proud of myself having done the drills and was eager to get back on the TrackMan to see what could be achieved by following the process devised by Sam. Again these numbers were based on an average of 20 shots.
Swing Speed Average – 105mph (12.9% gain)
Ball Speed - 155mph (10% gain)
Carry Average – 239 yards (5.9% gain)
To my surprise I had gained 12 mph club head speed, 14 mph ball speed and 14 yards of carry. At this point it is worth pointing out that due to the SuperSpeed training I also felt my swing had changed slightly – for the better – as the weighted stick meant for me personally I was performing a more 'fuller' swing and that would need a little work to get the most out of the increase in speed.
I have continued to use the SuperSpeed Golf doing a few other drills that are available through their website (the step through and swing drill is a personal favourite) and have seen some further gains and consistently carrying the 250 yards that we set out to achieve. As anything in golf as you make changes its inevitable that you may need to make one or two small changes as you go but I can honestly say that after using the SuperSpeed Golf it has helped me massively and the impact it has had for me off the tee has added so much to my game.
I have also seen some speed increases across the board with my irons and wedges too that will only benefit my game more.
SuperSpeed Golf is available for Mens, Ladies, Seniors, Juniors as well as long drive versions and there is a host of information and drills available via their website where you can purchase your own SuperSpeed Golf set.
It's a great product, presented well and has had a massive impact on my game and therefore I would highly recommend it to any golfer that is looking to increase swing speed. It's worth checking out any local professional that has a set and speak to them also and maybe have a session to get a good feel of what it's like but I don't think you'll look back.
The SuperSpeed Golf set starts at £199.99. For more information on SuperSpeed Golf visit: www.superspeedgolf.co.uk
---
What do you think? leave your comments below (Comments)
---
Tags: training aid Swing Speed review gear Driving Distance
---
comments powered by

Disqus