Why You Should Change Your Golf Ball in Winter
By: Golfshake Editor | Wed 13 Nov 2019 |
Comments
---
Playing golf during winter can take some adjusting to. Courses play differently, underfoot conditions are far removed from the (sometimes) dry and running fairways of summer, and wrapping up in various layers can affect your swing and feel, but this is all part of the experience to be embraced should your personal season run for 12 months a year.
But are there conscious additional alterations to your setup that are worth making? The golf ball is a much discussed topic. Is it worth switching to another model throughout the cooler months? Studies have shown that any drop in temperature shortens the distance that a ball travels through the air, impacted by the cold weather. Low compression golf balls have been noted to perform better in this climate, something that manufacturers have considered within their products in recent times.
The Views of Golfers
Polling the Golfshake Community, there is a split between golfers. On Facebook, 42% of respondents switched their choice of golf ball in winter, compared to 40% on Twitter, reflecting a consistency between the groups. While the majority of golfers don't make a change, it's a very sizeable proportion that do, making it a consideration for everyone.
Illustrating a cerebral approach to his game, Neil Taylor said: "I swap the Tour BX and XS around depending on course conditions throughout the year, not just in winter."
Paul McCall added: "Yes (I change) because putting and distance change so no need for a good ball."
Sharing a great tip that is worth trying, James Wilson stated that he places "a couple on the radiator overnight ready for the morning when I am playing in winter."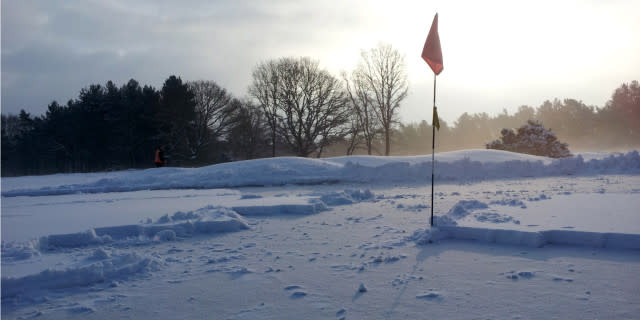 Ambassador Comments
Posing the question to our Golfshake Ambassadors, we received a range of comments back underlining different thoughts.
Andy Picken does make a change, saying: "I use the yellow Srixon AD333 as my primary ball in the autumn and winter. It is slightly harder and more longer lasting than the usual Pro V1x that I prefer during the summer months. The yellow stands out better against the grey autumnal sky and is easier to spot amongst fallen leaves.
"If the greens and fairways are frozen I will rethink as they react like rocks bouncing off a frozen green. The harder ball gives a little more run when the ground is very soft but it all depends on trajectory and ball flight. If I am using mats then may be better to stick with a softer premium ball as they react with more control. I carry both and make up my mind on the day."
Those softer balls are popular in winter and have scientific logic behind them. But with leaves and damp conditions making it easier to lose balls, Kevin Paver is also keen to ensure that he doesn't waste any of his good ones.
"In peak season (spring / summer etc), I use a Callaway Chrome Soft ball, which I'm a big fan of," he notes. "In winter, I prefer something that feels softer off the freezing cold clubhead, but also, that's cheaper. Nothing worse than hitting a fairway in winter and losing a nice premium ball under a leaf!"
Mel Davies is another golfer who makes a change. "I normally do switch balls during winter from Srixon SoftFeel to AD333. This year, however, I made a ball switch to Bridgestone Tour BX and will continue to use these all winter in competitions and matches. I will use any scuffed/old Bridgestones for practice rounds, but if I don't have any of those I will return to the AD333."
Nonetheless, as shown in our polling, the majority of golfers still don't see the need to make any adjustments. Rob Cross responded with: "I don't change my ball at all in the winter, I'm happy that my ball of choice performs all year round. I'd be very interested to see why others do change and if there are measurable benefits!
"What I do have in winter is adjusted carry distances!"
Finally, Matt Holbrook echoes that view. "Personally, I don't switch balls during the winter months. Mainly down to the fact that these days I don't lose that many. I also feel that a strength of my game is chipping and putting, so I need to have the same consistency with feel and touch all year round and not switching ball give me that."
Conclusion
It's clear that there isn't a definitive answer. The logic of switching to a softer ball in colder weather makes sense, as does playing with more expendable models in the conditions. That said, for those golfers who value consistency throughout the year, a change isn't an attractive prospect, electing to stick with what works.
But what about you, is a change something that is part of your golf in winter, or do you share the strategy of Rob and Matt? Let us know!
---
Related Articles
7 Reasons Why Winter Golf is Great
How to Get Ready for Winter Golf
Don't Let Winter Weather Defeat You
Why You Should Not Pack Away the Golf Clubs in Winter
Alternative Winter Golf Apparel Brands
---
What do you think? leave your comments below (Comments)
---
Tags: winter golf winter gear daily picks balls
---
comments powered by

Disqus