Toptracer: At The Open and Beyond
---
This year's Open stood out for many reasons. One of these was the amazing atmosphere and the unusually high engagement of in-person and TV technology. As "Big Shane" marched to victory in the rain and fog, shouts of "Shane-O" and "Go on Lowry" reverberated around the course. Yet one of the times when the atmosphere was most electrifying was actually on a practice ground earlier in the week, which, for many spectators, formed a crucial part of the Open experience and coverage. Toptracer technology was installed on Royal Portrush's driving range, which tracked players' shots and projected digital images of ball flights along with a number of key stats onto a giant screen. Through features such as long drive competitions and by asking spectators in the stands which players they would like to see, the tournament range provided a new level of interaction for the fans. By improving the spectator experience of professional golf, as well as, as I shall explain, making range sessions more fun for the golfer and non-golfer alike, Toptracer technology is now becoming pivotal in growing the game.

Toptracer is a camera-based ball tracking system, which follows the flight of golf balls, displays a virtual simulation of their path on a monitor, and provides detailed statistical feedback on stats such as ball carry distance and apex. The technology was created by Swedish entrepreneur and golf enthusiast Daniel Forsgren in 2006 (originally known as Protracer), with the aim of improving TV coverage of the sport. During the Open there were 5 systems in place with a total of 10 cameras set-up on the range and coordinated to track the movement of shots, deliverying live, realtime data to a large scoreboard controlled from the Toptracer operations center. As well as improving coverage, the technology has obvious benefits for golfers and professional players who wish to gain a better understanding of their strikes.

At this year's Open, however, the introduction of Toptracer also brought benefits for the spectator. Toptracer range technology has long been a fixture at golf's top events. The product is a presence at the Player's Championship, the PGA Championship, the US Open and the Open. The only major that it doesn't cover is the Masters, where innovation comes second to tradition. The use of Toptracer at this year's Open though, was particularly special, as it marked one of the first times that it has been used on the range and interfaced with fans. Toptracer has a history of being used to improve TV coverage and specific, extra-coverage features such as Sky's Sky Zone. The range has been a common site at major events since 2015.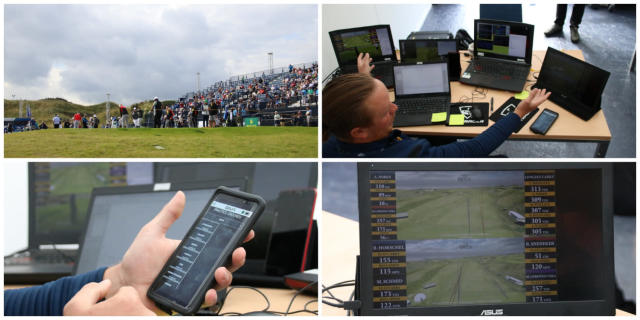 Courtesy of the tournament range, spectators could watch the shots of their favourite players and their stats projected onto a giant screen, transforming the, in many people's eyes, traditionally lacklustre range viewing experience into something more spectacular and exciting. This increased spectator engagement was further enhanced by a variety of special features such as the longest drive leaderboard. As the Toptracer team explains, the leaderboards which were fitted at Portrush not only allows viewers to follow the shots and statistics of individual players, but can also set them against each other, creating entertaining and previously unavailable competitions. One example of these is the longest drive feature which is standard to all public Toptracer ranges – and its tournament incarnation was a big hit at Royal Portrush. The team operated the competition throughout the day and projected a leaderboard onto the screen, encouraging the players to hit their longest drives.
World number one Brooks Koepka was particularly competitive. "Koepka was on the range hitting drives," one of the team told me, "and then I put the top 8 long drives leaderboard up there. He stayed for an extra 10 minutes until he'd hit long enough to get on the board, and then, as soon as he got there, he left!"
The team says that Lee Westwood also showcased a competitive streak – "there was always a cursory look to see his distance." Koepka was far from the only player to have found the long drive competition engaging. There was even an option for spectators to request which players' stats were shown on the screen, allowing players to be paired off against one another in a kind of informal top trumps competition. The Toptracer operators asked people in the stands who they wanted to see, adding a really interactive element to the display: "Yesterday afternoon I went up into the grandstands and went up to people. I saw them looking at the screen and asked them who they'd like to see up there. One of them was Ashton Turner, a local pro, and they put him against Louis Oosthuizen, just to see the data and compare stats."

The full longest drive leaderboard for the Open Tuesday (July 16th) is shown below:

Total shots for the day: 14,817

Longest drives of the day:
C. Kim 319.0
D. Johnson 314.9
K. Kisner 314.7
C. Shinkwin 312.9
M. Schmid 312.8
G. Woodland 312.0
A. Noren 308.7
M. Wallace 307.4
K. Kitayama 305.2
#J. Walker 304.9

Other players, such as Tommy Fleetwood, used the Toptracer to dial in their yardages. Tommy's caddy, Ian Finnis, specifically asked the guys to put Tommy's data up on the board so that he could get readings; it helped him fine tune his game in the wind. Toptracer is particularly useful in the bad weather conditions that challenged the players over the weekend. While other, radar-based launch monitoring equipment may break down in bad rain and significant fog, the Toptracer "works really well in the bad weather". "Radar sometimes doesn't extrapolate yardages when it's foggy," the team emphasise, "so today Toptracer's more useful than usual."
---
Toptracer on the tournament range at the 2019 Open
Justin Rose or Rafa Cabrera-Bello, who will post the lower score in Round 1?#TheOpen #Toptracer pic.twitter.com/9Lbzu2Rp5B

— Toptracer (@Toptracer) July 18, 2019
---
Improving the viewers' experience is something which the President of Toptracer, Ben Sharpe, is incredibly passionate about. However, an important part of the company's mission is also directed towards increasing participation more literally. Unlike some other technologies, Toptracer is fully available to amateurs, who are just as important to Sharpe as his professional clients. In 2012, Topgolf launched the first prototype Toprange, allowing the same high-tech measuring system that enhanced the Open to be used on everyday driving ranges. Take-up has been startling. Toptracer is already available at well over 150 driving range facilities worldwide, and this number is only expanding. There are over 50 in the UK alone. The scale of Topgolf's operation can be seen from the number of balls that pass through their monitors and are tracked by the company each month. To give you some idea of how vast this is, in June alone, Toptracer tracked over 42 million balls worldwide. To put that into perspective, that's roughly 82 swimming pools worth!

These devices have all the same features as those showcased at Royal Portrush and a few added extras besides. Toptracer want their technology to make golf more inclusive and connect people socially. Toptracer ranges offer a top-quality practice aid, but also aim to make practice more fun and, above all, more communal. The stereotype image of a range goer is of a bent-backed misanthrope, beating balls in a corner on his own, and ranges have traditionally been quite solemn places – a far cry from social hubs. Toptracer wants to change this. While the first three of its six settings are stats based (launch monitor (as its name suggests), what's in my bag (which measures and tracks yardages for every club in the bag) and a course simulator (which includes Pebble Beach and now, St Andrews' Old Course)), the final three are much more gaming and encourage players to have friendly competitions on the range. The nearest the pin and longest drive functions are self-explanatory, old golfing range staples given a contemporary technological twist. The Points Game is more enigmatic. I won't spill the details now, but the Golfshake team had a great time playing it. Some people might find it a bit gimmicky, but these features undoubtedly help create more of a upbeat vibe and social atmosphere on the range. These features make Toptracer as attractive to non-golfers out on a date night as the hardened range bunny.
---
What is Toptracer Range? The Golfshake Team Review
---
Longer term, the company hope that Toptracer will spearhead a resurgence in golf's popularity. "Golf for so long has been 'oh, participations down' and 'I've got no time', and we believe that this is a growth sport. Our company is growing very fast and the locations where we have installed the product are seeing huge increases in footfall. People are coming back more often and they're bringing their kids and their families. We believe that golf is a growth sport and we want everyone to talk positively because we've had 10 years of doom and gloom. It'd be nice for people to talk it up.", Sharpe added.

Last week's Open was greatly enlivened by the presence of Toptracer, improving TV coverage and fan interaction. Yet perhaps the most promising applications for the technology are in the amateur game. The same Toptracer technology that was on Royal Portrush's range may also be already available at your local golf centre and is being installed at more and more locations across the UK and the world. It's too early to tell for sure, but Toptracer may be the key to rejuvenating driving ranges and drawing more people to our beloved sport. Toptracer is making golf more entertaining to view, more enjoyable to practice at and, ultimately, more fun.

For more details about Toptracer and Toprange, please visit www.Toptracer.com/range

---
What do you think? leave your comments below (Comments)
---
---
PLAY MORE PLAY BETTER - LATEST TUITION TIPS
---
Leave your comments below
comments powered by

Disqus