Don't Blame the Golf Course Phil
---
THERE was something pretty joyless and depressing about Phil Mickelson's criticism of Le Golf National, the magnificent golf course upon which Europe's best golfers thrashed America's finest to regain the Ryder Cup.

Mickelson and his team came with more than 30 major victories to their credit, but they couldn't figure out the examination paper posed by the French golf course, so much so that Mickelson - a five-time major winner, lest we forget - announced: "I'm 48, I'm not going to play tournaments with rough like that anymore. It's a waste of my time. I'm going to play courses that are playable and that I can play the aggressive, attacking, make a lot of birdies style of golf I like to play."

In other words, Lefty only wants to play on courses with no rough, much as he does almost every single week on the PGA Tour. He is meant to be one of the best golfers in the world, and the fact that he has finished second at the US Open on six occasions would seem to indicate that when he puts his mind to it he does actually have the game to tackle courses that feature plenty of rough.

Yes, Le Golf National featured dense rough and relatively narrow fairways. It meant that the 24 players who teed it up at the Ryder Cup could not simply blast away and bring the place to its knees. It meant that a different skill was required, that tee shots had to be accurate and that approach shots had to be hit to the right spots on greens that were far slower than Mickelson and his teammates are used to. Have we really reached the point where power is everything in professional golf? Surely not. There must still be room for courses that need some thought, that call for finesse and accuracy.
And the bottom line is that Le Golf National didn't seem to be too difficult a test for the likes of Francesco Molinari, Tommy Fleetwood and Justin Rose. The Americans will point to the fact that the course was set up to favour the Europeans. Rubbish! It should be remembered that most of Thomas Bjorn's team spend the bulk of their time playing on the PGA Tour and yet they were able to adapt.
Mickelson was at least man enough to admit: "The Europeans did a great thing, they did the opposite of what we do when we have the Ryder Cup here. The fairways were 14 to 16 yards wide. Ben Hogan, who is the greatest ball-striker of all time, had a 5% margin of error. So if you hit the ball 300 yards, and we all hit it more than that, you need to have a 30-yard fairway to be able to hit it." Or else you could leave your driver in the bag and take a three wood or a long iron Phil.
Mickelson is effectively admitting that golf has become a sport that is all about hitting drives as far as possible and then trying to hit it close with wedges. He would have us believe that it is no longer about finesse and accuracy, but he is wrong, and the Europeans proved it. Francesco Molinari is one of the shorter hitters on either the PGA or European Tour but it didn't stop him from winning the BMW PGA Championship at Wentworth,
The Open Championship at Carnoustie
or enjoying his first victory on the PGA Tour. And he did so by finding fairways time and again, hitting it close with whatever club he was required to use and holing plenty of putts.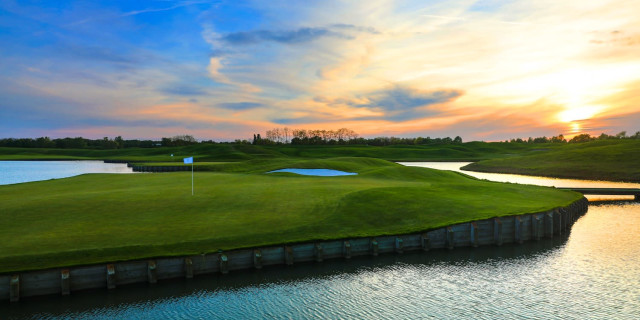 Augusta National, home of The Masters, may not feature much rough but it is a tournament that will only be won by golfers who are proper ball strikers, men who are capable of plotting their way round and who can put their approach shots in the right places on its treacherous greens. Would Mickelson never play there again? Would he never play in the US Open again? He can make the comments he did about Le Golf National because he knows that he is unlikely ever to play in the Ryder Cup again - he will be 50 years old when it is next played.

But he might serve the game better by simply holding up his hands and admitting that he played like a drain in France. His performance in partnership with Bryson DeChambeau in the Friday foursomes was shambolic and the reason that he didn't play again until the final-day singles.
The irony in all of this is that Lefty has won The Masters three times, so he know how to play tactical golf.


He say he wants 50 triumphs before he calls time on his stellar career, but from now on he will be only seeking to add to his tally at courses where he wants to compete. "Now I'm going to play in the tournaments that I like, that are best for me, even if it doesn't make sense or people have a problem with it," he said. "I'm going to have to start limiting the number of tournaments that I play so that I can play those at a higher level, because I'm getting a little bit more mental fatigue and not able to focus and see the shot as clearly as I'd like for so many weeks in a row."

Mickelson has had only one top 10 finish since winning the WGC-Mexico Championship in February on a golf course that called for accuracy. He was last at the Tour Championship and looked like a spent force at the Ryder Cup. Of course he has earned the right to say what he wants, but you do wish he would think before he opens his mouth. This, remember, is also the man who hit the ball while it was still moving during the 2018 US Open and said he would do it again before backing down after realising how much of a furore his actions and comments had caused.
---

The Ryder Cup is unlike any other tournament in golf and the atmosphere is something that every golf fan should experience. The experts at Golfbreaks.com can help with all aspects of your Ryder Cup experience, from accommodation and ticket packages to hospitality and travel and playing some of the fantastic nearby courses.
---
---
What do you think? leave your comments below (Comments)
---
Tags: ryder cup phil mickelson PGA Tour
---
PLAY MORE PLAY BETTER - LATEST TUITION TIPS
---
Leave your comments below
comments powered by

Disqus