Summer Weather Turns Golf Courses Brown
By: Golfshake Editor | Thu 19 Jul 2018 |
Comments
---
Much of the talk during the Open at Carnoustie has been about the colour of the fairways, which have been baked in the persistent warm and dry summer heat that we've experienced throughout the British Isles. The Championship Course in Angus has been transformed from green to brown within a couple of months - see Golfshake videos shot in May - and that trend has been replicated elsewhere with courses across the country presenting firm and fast conditions we have rarely seen.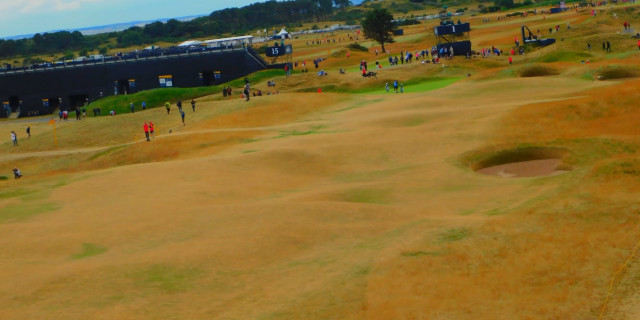 Check out The Old Course at St. Andrews, host of the Senior Open.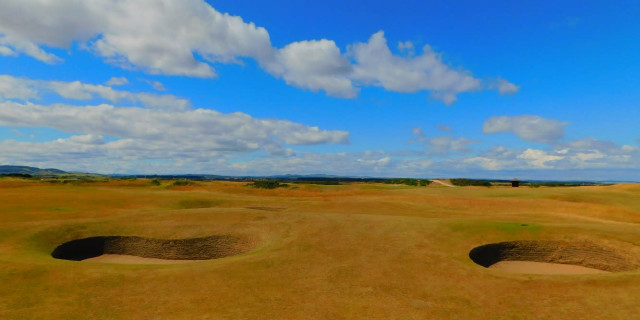 Welwyn Garden City Golf Club - former home of Sir Nick Faldo - showcased the incredible contrast that the weather has created.
What a difference!!! The 4th hole at @welwyngcgolf and no rain for 6 weeks #dry #fairway ???????????????? pic.twitter.com/LtDOKMn6Ot

— WelwynGCGolfClub (@welwyngcgolf) July 12, 2018
The #OldCourse #StAndrews finally turning into a true links golf course after years of rain & sprinklers forcing it parkland! #thesenioropen on the #oldcourse will be brilliant...FORE! pic.twitter.com/2kYAJOqBZg

— John Boyne (@caddiegolftours) July 3, 2018
You've heard Carnoustie is baked out, eh? Here's the 1st fairway. #BrownIsGood pic.twitter.com/iXaHVE6lJp

— Sean Zak (@Sean_Zak) July 16, 2018
Roll up, roll up! …23° and a gentle breeze. Golfing days don't get much better than this! Brown fairways, blue sky, green greens. Amazing!! #cornwall #links #golf pic.twitter.com/BUkTsB8480

— Newquay Golf Club (@NewquayGC) July 15, 2018
Back @carnoustiegolf for @TheOpen @padraig_h drove it in the burn on 18 again. This time the one in front of the green. Only the 457 yard drive! Fairways are a bit brown. pic.twitter.com/MQ5gPM017Y

— Ronan Flood (@FloodRonanflood) July 14, 2018
Have wanted to play @AberdoveyGC for a lot of years but finally got the chance with Jess. Strong wind, hard/dry fairways. Lots of fun. Will definitely play again. pic.twitter.com/bJ8FBcFqwK

— Chris Brown (@cibrown73) July 9, 2018
Number 3 at RCD pic.twitter.com/BMn2cezHYl

— kevin quinn (@kevquinny) June 28, 2018
@NoLayingUp Gleneagles King's Course was baked and pure this morning. A must in Scotland. pic.twitter.com/sMLdTVubJY

— Craig Walters (@craig_walters27) July 18, 2018
The 12th hole @WokingGolf A gem of a golf hole, the warm weather that the UK has seen recently means most golf courses are firm and fast. It is wonderful to play golf on a course this good when mother nature dictates the playing conditions. #nodriverneeded #firmandfast pic.twitter.com/ZQiaCHAfFi

— Marcus Haslam (@mhaslam23) July 18, 2018
Firm and fast @WokingGolf just now...proper heathland Golf at its best! pic.twitter.com/cUzSCBhXbo

— Woking Golf Club (@WokingGolf) July 17, 2018
Will it be this fast and firm in July 2020? pic.twitter.com/kq5BSEFWDB

— Tim Checketts (@CheckettsTim) July 15, 2018
Walton Heath Old was on point yesterday. Firm and fast conditions combined with a world class layout made for a day where I couldn't stop smiling and saying WOW. The scale of this GC is awe inspiring. Cheers to the greenskeepers of this gem and my awesome host. @waltonheath_gc pic.twitter.com/AXgYs11T9Z

— Graham Stevens (@SGrahamStevens) July 14, 2018
A couple more photos from the Heath @druidsglen - firm and fast. Greens immaculate. pic.twitter.com/f8yER7alhp

— Open Golf Ireland (O.G.I.) (@OpenGolfIreland) July 19, 2018
Excellent 1st Round of the Club Championships today, course very firm and fast but in great shape. All to play for tomorrow! #heathlandgolf #Dorset pic.twitter.com/KaDDQbbMv4

— Broadstone Golf Club (@broadstonegc) July 14, 2018
Preperation going well for the Gold Cross, a world ranking amateur tournament at the weekend,mother nature has given us true links conditions,going to be a firm,dry fast weekend!????????? pic.twitter.com/tCzn2GHLzb

— Royal St.David's GC (@royalstdavidsgc) June 27, 2018
Fairways were running faster than the greens, which were watered pic.twitter.com/nWf3v3Z9ch

— Stewart Armstrong (@FuzzyGolf) July 19, 2018
True Links conditions @FortroseGC1793 with the fairways running hard & fast. 2nd Hole image @EGTTOURS @Dest_golfguide @golfhighland @coastgolftravel @ScottishGolf @DempsterMartin @leadingcourses @GolfMonthly @BBCTomEnglish @PerryGolf @HavershamBaker @ewenmurray77 @yourgolftravel pic.twitter.com/93u2BOE0Dh

— Fortrose Golf Links (@FortroseGC1793) June 7, 2018
---
What do you think? leave your comments below (Comments)
---
---
PLAY MORE PLAY BETTER - LATEST TUITION TIPS
---
Leave your comments below
comments powered by

Disqus