Darts Lessons to be Learned for Golf
---
Sports journalist and Golfshake writer Derek Clements asks if Golf could learn anything from Darts?
THEY came in their thousands – they were dressed as Jesus (really!), they were dressed as Cruella de Ville, they were dressed as airline pilots, they were dressed as wrestlers. It could only be the PDC World Darts Championship at Alexandra Palace.


There are those who will tell you that darts is not a sport. That may or may not be true, but we are here to tell you that the PDC know how to put on a show. Twelve months ago we looked at what golf might be able to learn from the BDO World Darts Championship – that is the 'other' darts extravaganza, held at the Lakeside. It doesn't hold a candle to this tournament.

This is an entirely different ball game. Yes, alcohol is drunk in industrial amounts, but there is not a hint of trouble. There is no bad language, there is no aggro – just a bunch of men and women of all shapes, sizes and ages having the time of their lives. Before the action gets under way a fancy dress parade and competition takes place in the fans zone. And make no mistake – a huge amount of effort goes into it. On the night we visited, the competition was won by a group of 'wrestlers' from Gravesend Rugby Club, who arrived complete with referee and ring rope. After they had been proclaimed fancy-dress winners, out came the rope and they put on a hilarious show.

The fans zone has something for everybody. Score 100 or more with six darts for the chance to win one of the sponsors' T-shirts. Or want a chance to step up on stage with one dart in your hand for the opportunity to hit the bull and walk away with £25,000? The European Tour has done something similar at selected tournaments, with 'ordinary' weekend golfers hitting shots at par threes in front of paying spectators. It gives people the chance to get involved, properly involved – and it gives them a taste of what it is like to perform in a pressure-cooker atmosphere. Sadly, the two young men who climbed on to the stage at Alexandra Palace came nowhere close to hitting the bull. But they clearly loved the experience.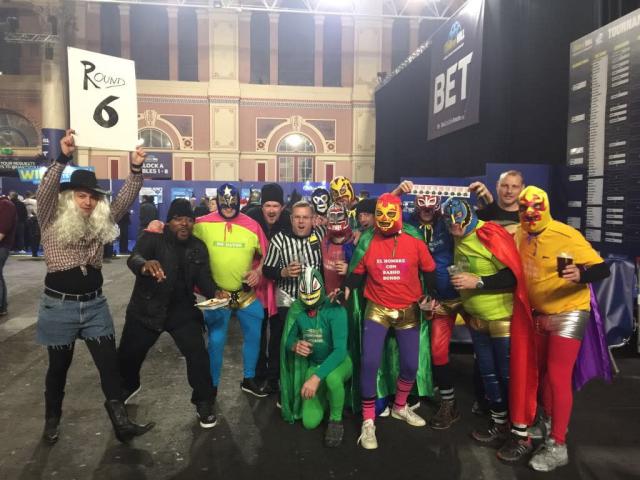 The atmosphere in the main arena has to be experienced to be believed. You will probably have watched the action unfold on Sky Sports but trust me when I tell you that you have to be there to get a true sense of what these people bring to the Aly Pally. The roar when a player hits a maximum or achieves a high check-out is deafening. "Stand up if you love the darts, stand up if you love the darts," they sang. And there was not a single person left sitting.

When the players perform their walk-on to their favourite songs, the fans clamber for a chance to touch their hands, and the players are all happy to oblige. They embrace the fans in a way that golf does not, and it means that special relationships are quickly built between players and spectators. It is easy to root for these guys as they stand up on stage and experience every emotion known to man. The ecstasy when they sink a maximum, the agony when they miss a straightforward double and then stand back and watch an opponent snatch the game away from them.

There are many striking features about this event, but the one that will live with me is the relationship between the players – they are trying to batter one another to defeat but when it is all over there is mutual respect and genuine friendship.

Keith Pelley, the chief executive of the European Tour, has been criticised in some quarters for dumbing down the game of golf. But he has brought fun to the sport and his approach has introduced the game to a whole new audience. Golf and darts may seem like strange bedfellows, but they have more in common than you may think.

Golf is a game that allows people to play at the top level into their forties and beyond – look at what the likes of Darren Clarke, Phil Mickelson, Vijay Singh and Bernhard Langer have achieved. Jack Nicklaus won The Masters when he was 46. Langer is currently the dominant force on the Champions Tour, and has been for the best part of a decade. He wins tournaments for fun and and seems to break records every time he plays. Langer is 60 and has won an astonishing 36 times since he turned 50.
And on this night in London came a blast from the past. Paul Lim is from Singapore. He was the first player to achieve a perfect nine-dart finish at what was then the Embassy World Darts Championship back in 1990. And here he was back on the stage at the age of 63. He came through a preliminary match and returned later in the evening to face 30th seed Mark Webster. He was cannon fodder, a lamb to the slaughter. Except that he wasn't. Incredibly, Lim brought the house down by beating Webster 3-2. And the crowd went wild.
When it was all over, we made our way to Alexandra Palace station and there were the wrestlers, still prepared to put on a show for us on the platform as we waited for our train. It turned out that they are as passionate about Gravesend Rugby Football Club as they are about darts. One of the gang, Clive Weston, explained how important it was for all of them to build for the future of the club. To that end, they work tirelessly to get youngsters involved in their club – dozens of them. You really should check out
gravesendrfc.co.uk
.
Darts, golf, rugby union – they may seem to have nothing at all in common, but that really isn't case at all. It is all about passion, involvement, fun and growing for the future.
---
What do you think? leave your comments below (Comments)
---
---
PLAY MORE PLAY BETTER - LATEST TUITION TIPS
---
Leave your comments below
comments powered by

Disqus