Nick Dougherty Talks Career, St Andrews, Sky, Niall Horan, and Growing Golf
---
"We need to make sure that we leave the game in better shape than it was when we started."
A decade ago, Nick Dougherty finished two shots ahead of Justin Rose to triumph in the lucrative Alfred Dunhill Links Championship at St. Andrews. It was the second of three European Tour victories for the popular Liverpudlian, whose playing career became a stark representation of both the satisfied joy and unrelenting cruelty that golf can inflict upon its protagonists. Having bowed out from the showpiece event last year – finally closing that competitive aspect of his life – the 35-year-old is relishing his role as a presenter on Sky Sports Golf and is seeking to more widely share the game and raise awareness of the benefits that it can make to the lives of people in need.
"Coming back this year for the first time as part of the Sky Sports Golf team, it does feel different, but it's easier though as well," Dougherty says in the historic town that has defined much of his life. "My week will involve no trip in the car to Carnoustie, and not playing Carnoustie, which is never a bad thing, especially when you're a man who has made a 13 on the last hole. One year. Not the year that I won, clearly. And I'll walk down the Scores, stand at my little studio, looking back at the R&A Clubhouse. I'm alright with that."
Admitting that he doesn't miss the tour-pro lifestyle, something that he occasionally feels guilty about, the Englishman feels most comfortable at the spiritual Home of Golf, which has been the stage of many indelible moments throughout both his personal and professional lives.
"St. Andrews has just been part of my life since growing up with my mum and dad, coming here for family holidays with my brother when the sheds on the 17th used to be the proper sheds. It was just a great time in my life. Obviously, Di and I got married here as well. It's such a special place in every way. You know, people say that it's a home away from home, but it really is a home away from home for me. We're here most Christmases, New Years quite often, that's when our wedding anniversary is, December 31st. And we just love it. The kids love it."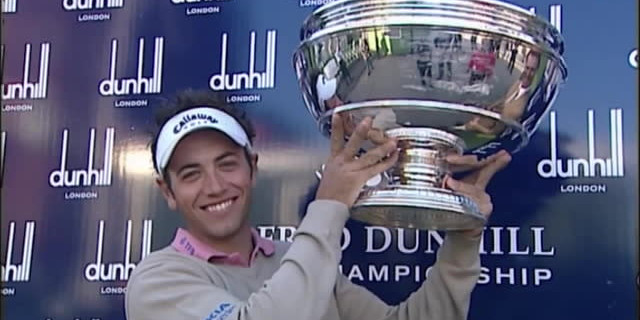 It's clear that Dougherty is now a man satisfied with the position he finds himself in. But it has been a journey. Having secured a trio of titles on the circuit, his subsequent struggles have been well documented. His BMW International Open win in 2009 was Nick's last top ten finish on the European Tour. The driver became an instrument of torment. Despair off the tee was his diagnosed affliction, something that has been terminal for many golfers. He missed 31 of 32 cuts in 2011.
"It was to the point that I was just fearful to go out onto the golf course," the former World Boys champion reflected. "I did some great work with my coach Stuart Cartwright, and that's what allowed me to go from the position where I was not even able to play social golf, because at that stage I'd be embarrassed teeing off in front of people just at the golf club, as I was scared that I would hit it off the charts with the driver. That was the problem. I had this thing in my head that I could run out of golf balls on the course. Which I did, at a tournament at Fancourt, I ran out of golf balls and had to be disqualified. So, that nightmare situation was actually a reality."
For any sportsman in the public eye, the scrutiny of forensic analysis can be paralysing. This was a young professional, still in his twenties, who felt the piercing glare of people watching on. Many of his long-standing friends, both players and coaches passed on well-intentioned advice to help, but that information overload simply complicated matters further on the ranges across the world.
"Because I had done decently as a pro, I felt expectation on me from outside, so I was uncomfortable in front of my peers, in front of the public. And it was public. Even though I wasn't as well-known as someone like Rory (McIlroy), people knew about my story. About how bad that it had got and how big the fall was, which meant that I faced it everywhere I went.
"I took advice from everybody and mentally I couldn't piece it back together. People used to say, 'oh come on, remember how you used to do it,' and I couldn't. I couldn't remember that bloke anymore. I remember it more now because I've stepped away. I almost can't remember how bad it got. Which is good and bad. You forget how painful it was to struggle. And it's important in my job now to understand. It's a sport that doesn't necessarily reward hard work."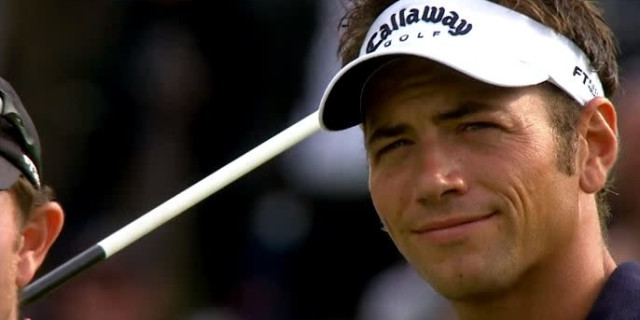 Continuing to play on the Challenge Tour – with several notable results recorded – Nick followed Di into the realm of broadcasting with Sky Sports. But he hadn't yet made the full commitment into a new field altogether. During the 2015 Dunhill Links, there were flashes of that forgotten bloke as the former champion rolled back the years to finish in a tie for 27th in just his fourth start of that season.
"That was awesome. Unless you were really in there with me and saw how bad it really was. It was mind-blowing to be able to do that. For me to go and do what I did there was sort of finishing. I will never know, but I don't think there was another win in me. It shouldn't have happened. But it made me think that I could do it again."
Having discussed longer-term plans with Sky and not possessing the desire to regularly play on the second-tier, Nick made the determination that last year's tournament would be his last. "It was the right time to make that decision." As chronicled in his Dunhill Diaries, Nick ultimately missed the cut by six shots despite being in control of his long game over the opening pair rounds at Kingsbarns and St. Andrews.
"The first two days I couldn't have played better, and scored worse. I played so well. And the reason I lost my game was because of the driver, but the short game was always there. Those first two days, I remember thinking that I was outplaying the guys I was playing alongside. I holed nothing, I wasn't hitting bad putts, I just holed nothing.
"On the last day at Carnoustie, I was really enjoying it as I was in control. I get onto the 15th tee – I started on the back nine – and I hit the shot that made me tip over the edge with my golf game. I hit one of them, and for the rest of the day I was grabbing so tight to the steering wheel. I ground it out in one-over, the putter was good, but it was scramble, scramble, scramble.
"Every tee shot, I was standing there fearful. It was understandable from where I had come from, as I had no confidence in the bank. I wasn't playing enough golf to have anything to use when it started going wrong. But I thoroughly enjoyed it. I was very emotional when I finished, very nice of Carnoustie they came and gave me the flag, which I've still got at home."
Nonetheless, it was quite a setting to conclude a career in the tournament that he became most associated with. Nick's early life had been geared towards competitive golf, but that chapter had come to a close. Despite being consumed psychologically by those darkest years on the course, and fearing that those days would define his legacy as a player, the more positive times are now free to be remembered.
"I see it (my career) as a whole now. When I was in it, I thought this has ruined all that came before. People will always ask 'whatever happened to Nick Dougherty?' You see it that way because I was in a negative place. But now when I look back, yes, that's true, but I think that's also part of my story. I did some great things, I won some big tournaments and beat big name players to do so. And winning here, it doesn't get any better.
"The bit at the end, I wouldn't want to go through that again. I wouldn't wish that on my worst enemy. Other people will feel it. They'll go through it. And it's tough. But it shapes you. It shaped me, not just as a golfer, but my career now, and the way I view it. I think it gives me great perspective when I'm talking to players. I get it. I know both sides of the game."
Removed from the pressure of the tour, Nick has been enjoying playing recreationally. Most recently teeing it up on extremely windy conditions on the Castle Course at St. Andrews with John E. Morgan, this former Walker Cup player still loves the rare opportunities he has to dust the clubs off for a round.
"Because my mind is clear, I go out to enjoy it like everyone else does. No expectations. And I'm always pleasantly surprised. It's generally really good. I played golf with my dad at Orlando when I was there for Bay Hill. I hadn't played in ages. I shot eight-under par. I did not miss a shot, and I could see my dad's face at the end. I wasn't playing any better than that when I won tournaments. I done zero work. It makes no sense. That is golf. And that is why it's wonderful, isn't it?"
Becoming a regular presenter on Sky Sports Golf during its coverage of the majors and tours on both sides of the Atlantic, Nick has played a starring role in the continued development and innovation with the style of the channel's comprehensive output. It's a position that has replaced the rush of contending on tour, as the emotions experienced are remarkably similar for Dougherty.
"The energy, the adrenaline surge of live TV is the same. I'm in contention every week on the show because I have that buzz when you see the cameras come on, and you feel all those same things you think as a golfer; the doubts, have I got it; but when that red light comes on I let go and can do this. Which is how I used to feel as a golfer. You feel those nerves, but then you let go of the reins. Which is what I stopped doing at the end. The highs of that are still there for me and I enjoy that.
"My relationship with the players is great, because I played with most of these guys. And I think there is a certain amount of trust, because they know that I get it and know what they're doing. Which is an advantage as an ex-player. I may not have a journalistic brain like David (Livingstone), but it's something I will learn as I'm going along. I won't always think of the right question at the right time, but I'll get better at that. It's honing new skills. It feels like my thing."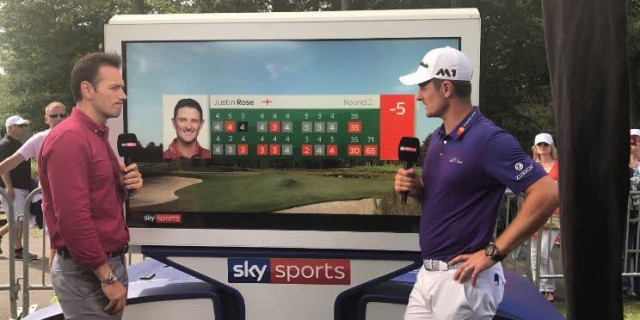 Taking ownership of that process is a challenge that Nick is clearly enthusiastic about, but he strikingly possesses a burning ambition to help bring the game to more people and communities, particularly those in need of support and rejuvenation. These are circumstances he feels that golf is uniquely placed to intervene with. Now carrying a profile in the media, he believes that he can positively contribute.
"My passion would be to find a piece of land in a rundown area, which needs help from the community," he revealed. "A six-hole golf course. The right setup. I think what golf can offer in terms of life skills is something that we don't play on enough. No one is listening. In terms of teaching, therapy for kids who have got difficulties, whether it be learning or social. It is therapy."
He has witnessed first-hand golf's ability to be a vehicle for meaningful change. "Muntham House (in West Sussex) is a school that I've done work with before. A school for children with learning difficulties and we use golf with them. And the difference it can make for their experience. It's just so soothing for them.
"I have seen children in very difficult situations, where golf has been therapy to change their lives from devastating circumstances to leading a socially functioning life where they can interact and enjoy life to a different level. I've been fortunate enough to be around it, but you can't really share it because these stories are private. But it is absolutely saving people's lives."
Citing the On Course Foundation – a wonderful organisation who use golf to support injured and sick service personnel – as being an example of how this ancient sport can reach people and aid recoveries from despair, Nick is an ardent believer in the unifying affect the game can play within towns and cities, recognising the need to have local authorities on board to make such endeavours a reality.
"The GolfSixes event that I was part of, the idea of six holes is that you can put that in a small space. I see that as a council project. A small piece of land, par threes, and it doesn't take too long. You will beat that cyclist and go round in 35 minutes.
"I think we just need people outside who make these decisions to understand the value of it being run as a project for the community, and the benefit it could have with assisting services for people with social problems, learning difficulties. The programmes that are in place can work with golf. We need to raise awareness. There are people out there who do that. They just haven't been heard yet. It's more than just a sport. It's everyday life."
Accessibility is a regular issue discussed throughout golf, whether it be at clubs or public courses, and Nick's ambition to open the game up for more people reflects his own background.
"I recognise the need for the game to be accessible like it was for me when I started. Living in Bootle and going to the municipal, I've played all the top courses, but some of the best times in my life were going around the municipal with my dad. On the first tee, at 6:30 in the morning, it was the busiest. There'd be a massive queue to get out. They loved to get out there and play all day long.
"There was little rundown hut and you used to have a cup of Foxtail soup. It was just amazing. You'd have all the little lads who climbed over the fence throwing shopping baskets into the pond, pulling up golf balls and generally selling the balls back that you had lost yourself. That's grassroots, isn't it."
Perhaps the most challenging obstacle for golf to overcome is perception. Establishing initiatives and offering the required support is just one part of the conundrum, but is rendered less effective when the message isn't spread effectively. Reaching young people is a naturally difficult bridge for the game to cross, but Nick believes that a certain former One Direction star with his cultural standing and monumental social media influence is ideally placed to help change opinions.
"Niall Horan is a perfect example. He's not here to play the Dunhill, he's here for his management group (Modest Golf) and he is actively speaking to (young Scottish pro) Connor Syme twice a week to help him, to guide him. He's passionate about the game, growing the game, he brought 45,000 people to Galgorm Castle on the Challenge Tour. He has that clout. On his own. If Niall Horan loves the game, it's alright for a 19, 20-year-old girl or boy. I think that's the way we need to go, and he's the sort of person that we need to allow a platform to talk about our game."
The 24-year-old Irishman flew into Scotland from Brazil amid an international tour. Syme is just one of three Modest Golf players in the field this week, in addition to Jack Singh Brar and Christiaan Bezuidenhout, with Horan joining Nick in the Sky Sports studio during their Dunhill Links coverage to discuss the admirably underplayed work that he's doing within the game and his passion for it.
Thanks to @NiallOfficial for coming in to chat golf and his new role in it on @SkySportsGolf #niallhoran #golf #skysports #standrews pic.twitter.com/36n7Xt8CUP

— Nick Dougherty (@NickDougherty5) October 5, 2017
"Teenagers in Bootle, Liverpool, where I was born have no idea who Rory McIlroy is," Nick continued. "But they do know who Niall Horan is. That's the difference. Rory is as powerful as anyone in the modern game, but he doesn't have that clout like Niall has. And we need that audience that aren't already golf fans. Golf is not our dirty little secret, it's there for everyone."
There is much to commend about Nick Dougherty's vision for the game and the positive influence it can play within the lives of individual people and the wider communities in which they inhabit. We could succinctly conclude that golf itself isn't the problem, but rather the way in which it has been widely marketed. The shattering impact that a star like Niall Horan could bring is not to be underestimated or brushed aside due to cynicism, but should be actively encouraged and facilitated.
"I've got fingers in a lot of pies to hopefully make a difference. And even if I get everything I want from it, it still won't be enough to repay golf," Nick says. "Because it gave me everything. My life is golf. From how I met my wife, to how I've made a living, to my upbringing with my family. To my future with my children. It will always be my life. And everyone deserves that opportunity."
From the rugged fairways of Bootle, to winning at the Old Course, and now mastering the Sky Cart, Nick Dougherty has already written quite a story within the game of golf. And the next chapter may just become the most meaningful of all.
---

Be part of the action with a selection of unique golf tournament experiences, from playing in a pro-am with the stars to watching the action at golf's most illustrious events. Whether it's the Masters or The Open, The Ryder Cup or WM Phoenix Open, build your own bespoke package with the experts at Golfbreaks.com.
---
What do you think? leave your comments below (Comments)
---
Tags: Nick Dougherty
---
PLAY MORE PLAY BETTER - LATEST TUITION TIPS
---
Leave your comments below
comments powered by

Disqus