Jordan & Rory and the Race for the Grand Slam
---
Golfers are immortalised and defined by their record in major championships. Yes, sustained success on the professional tours over years can often be the indication of a consistent and satisfying career, but we crucially judge players firstly on what they accomplished during four key weeks each season. Winning a major completes. That's what separates the great from the good. When Sergio Garcia – one of the finest talents of his generation – finally crossed that line in April at Augusta National, it was the crowning moment that validated all that had come before.
Rightly or wrongly, expectations are built around this quartet of events that have become the ultimately barometer of achievement. Major champions stand on a higher pedestal for life, even the ones that didn't record much else in their time. That doesn't matter. For one week, they had overcome their peers and the weight of history to enshrine their name within the annals of golf.
Gene Sarazen, Ben Hogan, Gary Player, Jack Nicklaus, and Tiger Woods are the only players who have won all four of the game's most important events. It forever sets them apart, the most elite of golf clubs, albeit the first two were essentially unaware of the greater significance of their title accumulating at a time when the game hadn't yet designated which tournaments mattered most.
Jordan Spieth, however, is fully conscious of the precipice that he now finds himself on. Rory McIlroy is just a Green Jacket away from submitting his application to the league of Grand Slam golfers. The U.S. Open remains tantalisingly on the fingertips of Phil Mickelson's grasp, just as it did for the legendary Sam Snead. The formidable Raymond Floyd was just a Claret Jug away. For both Arnold Palmer and Tom Watson, two icons of American sport, it was the PGA Championship that prevented them from the most fulfilled of resumes.
Having already won the Masters, U.S. Open, and Open Championships before the age of 24, the young Texan has remarkably placed himself on the verge of history at an accelerated rate. Coming into the 99th edition of the PGA – admittedly the least glamorous and prestigious of the majors – he will step onto the first tee of North Carolina's Quail Hollow Club with the first attempt at ticking off the last barrier that separates him from sporting immortality.
"Expectations, I really don't feel any," he said of the week. "This is a chance to complete the career Grand Slam; I'm here, so I'm going to go ahead and try. But I believe I'm going to have plenty of chances, and I'm young enough to believe in my abilities that it will happen at some point.
"Do I have to be the youngest? No, I don't feel that kind of pressure. Would it be really cool? Absolutely. And I don't come to a tournament unless I plan on giving it my all-in preparation to have a chance and to ultimately close a tournament out."
Woods fittingly completed his ascent to greatness on the grandest stage of them all – the Old Course at St. Andrews – and Spieth has been presented here with one opportunity to supersede the legendary Californian with a triumph in Charlotte. However, that solitary chance isn't something that is necessarily a motivating factor within the 24-year-old's mind over the coming days.
"There will be pressure. This is a major championship," he added. "I mean, this is one of the four pivotal weeks of the year that we focus on. So, there will certainly be pressure. I'm simply stating, there won't be added expectations or pressure.
"I just don't feel it. I just -- it's not a burning desire to have to be the youngest to do something, and that would be the only reason there would be added expectations. The more years you go on playing PGAs, and if I don't win one in the next ten years, then maybe there's added pressure then, and hopefully we don't have to have this conversation in ten years. But if we do, then it might be a different."
Whatever happens, Spieth has already joined the greats in winning three different major championships. Despite only playing in 19, he has additionally finished runner-up on three occasions – twice in the Masters and once at the PGA two years ago in Wisconsin. That doesn't even include narrowly missing out on the playoff at St. Andrews in 2015 by a shot. Experiencing both the high of success and the bitter taste of defeat, the world number two can look back on a complete education on the contrasting emotions of situations. Jack Nicklaus was a 19-time major runner-up.
"He has got that knack. I call it resilience," McIlroy said of his fellow Grand Slam chaser on Tuesday. "I don't know if there's a better word to describe what it is that he has. But he has got this resilience where he gets himself in positions in tournaments where you don't think he can come back from, and he does. It's awfully impressive."
The Northern Irishman's name has been etched twice on the striking Wanamaker Trophy, and we already have the pre-written narratives at both the PGA and Masters for the coming years until one or both seal that final leg on the journey to absolute greatness. We can only dream of the two battling together on the back-nine this Sunday, or in future. The game demands it.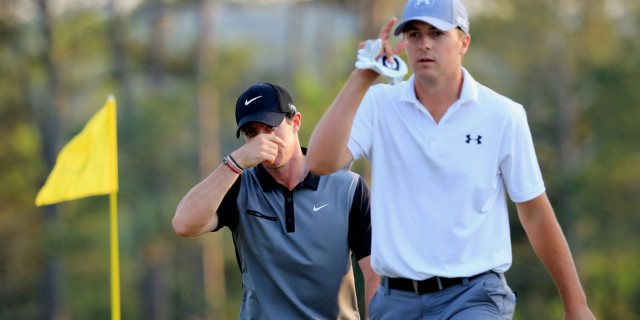 "If you're matched up on Sunday, and you get to choose somebody, you know, you obviously want to be able to play against somebody like Rory who has four major championships and is one of the top couple most accomplished players in this field," Spieth remarked. "But he is one to fear in that position because of what he's capable of doing and how he's going to do it."
Rory, the prodigious driver with the towering ball flight that can submit any golf course to a humbling. Jordan, the precise tactician with a brilliant touch and gift for timing. Two special players who have embarked on a trajectory towards that most exclusive of groups with different strengths. Both are effective and fittingly Grand. It's just going to be fun to see which of them gets there first.
---

Be part of the action with a selection of unique golf tournament experiences, from playing in a pro-am with the stars to watching the action at golf's most illustrious events. Whether it's the Masters or The Open, The Ryder Cup or WM Phoenix Open, build your own bespoke package with the experts at Golfbreaks.com.
---
What do you think? leave your comments below (Comments)
---
---
PLAY MORE PLAY BETTER - LATEST TUITION TIPS
---
Leave your comments below
comments powered by

Disqus