The Good, the Bad and the Ugly of the 2017 Open Championship
---
WE HAVE all had time to draw breath now, so just how special was The Open? Very special.
On the second day the rain came down in torrents. How many of the tens of thousands of spectators headed for home? Hardly any at all. Many of them arrived without waterproofs or umbrellas, but they refused to allow their spirits to be dampened, and continued to cheer the players (and each other) to the hilt. What a shame then that they were charged £17.50 for on-course fish and chips and £5 for flat beer served in plastic cups.
Something called The Shop was set up with the express purpose of relieving unsuspecting individuals of as much of their hard earned money as possible and there were plenty of takers for the polo tops that started at £70 and went all the way up to £95. Ball markers, balls, pitchmark repairers - you name it, it was overpriced.
And what an utter disgrace that there was a no readmission policy in place once again. In other words, if you turned up on day one and two to see the field tee off starting at 6.30am and you wanted to buy some food, you were only able to do so from the official merchandise stalls on site. If you left the course to buy a sandwich, pastie, coffee or fish and chips charged at a reasonable price from the many local shops who had all bought in extra stock then there was no way you were getting back into the course. This policy simply must change.
The funny thing is that when The Open is held at St Andrews, there is no problem with leaving the Old Course and then returning later. The Open is run by the Royal & Ancient. The R&A are based in St Andrews. Draw your own conclusions. They are to be applauded for allowing under-16s in for nothing and for providing cheap accommodation for youngsters, but the tens of thousands of spectators who pay a fortune to watch The Open must be treated with respect.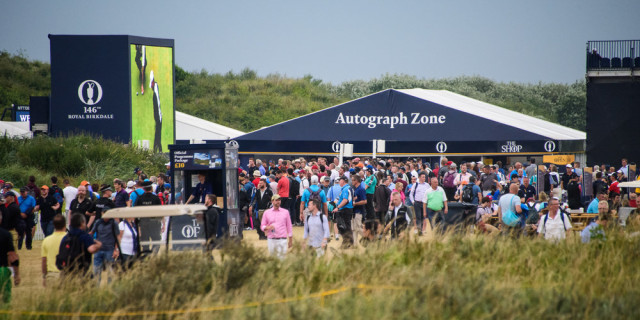 St Andrews is the home of golf. Yes, the hairs on the back of your neck stand on end when you enter the Auld Grey Toon. But the atmosphere? It doesn't hold a candle to Birkdale. Most of the gallery travelled from nearby Liverpool, where they are renowned for their sense of humour, and they brought something special to the 2017 Open Championship. They were noisy and they were enthusiastic, but when the players stood over the ball, you could hear a pin drop. Respect to each and every one of them.
Then there was Alfie Plant, the only amateur to make the cut. A Millwall supporter from Kent, Plant is not your typical golfer, and he brought dozens of fans with him, as well as his girlfriend, who happens to be called Daisy Meadows. When they get married, she will become Daisy Plant. Alfie was a joy, a young man who clearly loved every single moment of his experience at Birkkdale and who joined the fans in the beer tent after his round. He came with a small group of supporters, most of whom stayed at nearby Pontins. He left with an army of fans who will be watching his every move when he turns professional in September.
Martin Slumbers, the chief executive of the R&A, said that he was delighted with Sky TV's coverage. He caused a stir when he suggested that the BBC's coverage had become tired, and he was absolutely right. Sky's Open Zone was a delight, with most of the leading players happy to engage with Nick Dougherty, Claude Harmon et al and happily answer questions from the gallery.
Their cameramen actually manage to follow the ball through the air and their Shot Tracer technology means you know immediately whether a player has hit an arrow-straight shot, a hook or a slice. The commentary team is a class apart and on-course roving reporter Wayne Riley is a scream. Sadly, Sky somehow managed to drop the ball and lose the US PGA Championship, which is now one of the most hotly-anticipated majors of recent years given the form of Jordan Spieth and revival of Rory McIlroy. And that means we will have to watch the BBC's efforts to move into the 21st century. Don't hold your breath.
In the third round there was not a breath of wind and more than half the field broke 70, with Branden Grace covering the course in 62 blows, a record low score for any major. Rounds of 65 and 66 were commonplace, and it once again raised the whole question of whether something needs to be done in the professional game to restrict the effect and impact of technology. Jack Nicklaus has been saying for years that it is time to do something about the golf ball, and when you see players routinely driving the ball 350-plus yards and reaching par fives with a drive and a nine iron then you have to believe that the Golden Bear may have a point.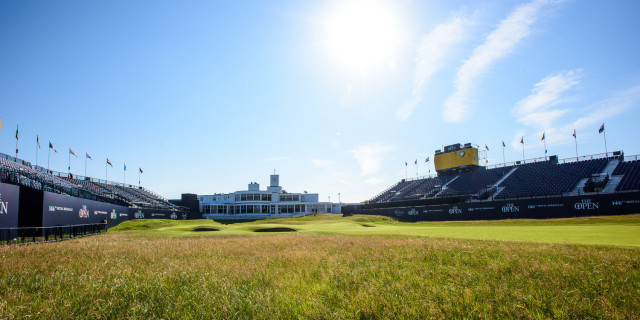 Like every other course on the Open rota, Birkdale's defence is the weather. Have we really reached the stage where the only time that players will struggle to break par is when the weather misbehaves for all four days? These classic links courses cannot be extended, so there is nowhere for the R&A to go in terms of making them more difficult.
Or here is another thought. Perhaps the USGA have got it all wrong when setting up golf courses for the US Open that are so difficult that they are set up with the express purpose of ensuring that the winning score is as close to par as possible. Maybe golf fans don't want to see drives disappearing into knee-high rough located just yards from the fairway. Maybe they don't want to see golfers putt balls off greens that are quicker than glass. Maybe what they actually want to see is the best golfers on the planet hitting shot after shot stone dead. Maybe they want to see players miss the fairway and still have a chance of finding the green. And maybe, just maybe, they actually do want to see half the field break 70.
On the third day of The Open at Birkdale the thing that stood out above all else was the roars that rang out around the course as approach shots disappeared into the hole and birdie putts dropped. The atmosphere was incredible, just as it was when Jordan Spieth was thrilling us all with that astonishing finish during the final round - birdie, eagle, birdie, birdie. It was mind boggling, and every single one of us who witnessed it just loved it.
Every year we think that The Open cannot possibly get any better than the year before, and every year the players turn up and set out to prove us all wrong. Lengthen the courses? No thank you. We all love it exactly as it is!
---
Image Credit: Kevin Diss Photography
---

The oldest & most prestigious major, a trip to The Open is a must for every golf fan. From tickets and transfers to hospitality & golf, Golfbreaks.com can build the perfect package to help you experience The Open in style.
---
---
What do you think? leave your comments below (Comments)
---
Tags: The Open
---
comments powered by

Disqus