Augusta National Goes on a Spending Spree
By: Golfshake Editor | Mon 23 Jan 2017 |
Comments
---
Post by Sports Writer Derek Clements
---
IT IS fair to say that Augusta National, home of The Masters, inhabits a rather different world to most golf clubs.
At a time when courses are closing, memberships are falling and owners are scratching their heads as they attempt to come up with novel new ways of raising extra income, Augusta has gone on a spending spree that shows little sign of ending any time soon.
Believe it or believe it, they have just bought a car repair centre. According to ABC News Channel 6, Pep Boys is the latest local business to sell up to Augusta National for a cool $6.9m. Back in October, Augusta paid $5.35m for Jay's Music Centre - this was a staggering eight times more than the business and land was actually worth. But hey, it's only money.
There are now only three businesses between Old Berckmans Road and New Berckmans Road off of Washington Road, which runs in front of the club, that they don't own. It is safe to say that the owners of these businesses must be rubbing their hands in delight at the prospect of the boys from Augusta National coming knocking on their doors.
You may remember that they asked John Daly to "move on" a few years ago after the double major champion parked his mobile home outside the course and started selling from his range of Loud Mouth golf clothing. They like to do things their own way, and don't encourage outsiders, even if those outsiders are former winners of The Open and the US PGA Championship.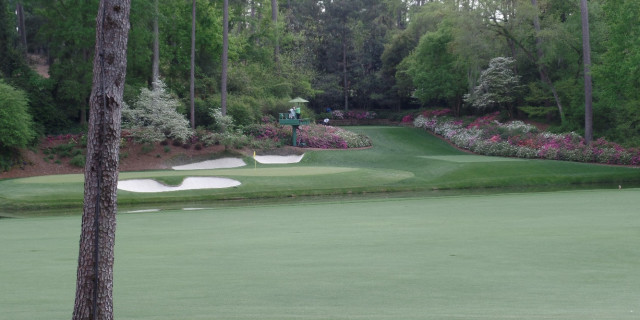 The club has already built a fabulous new media centre and state-of-the-art practice faciltiy, as well as more land for parking and hospitality. Remember that this is a golf course that stages just one major tournament, one week every year.
To put things into some kind of perspective, Augusta has around 300 members - that may not sound like very many, but they don't want any more. The average age is around 70 and members include Warren Buffet and Bill Gates. They are not desperately keen on women members, with former Secretary of State Condoleezza Rice and Darla Moore become the first in 2012, joined two years later by a third, Ginni Rometty.
Fees range from $25,000-$50,000. That may sound like a great deal of money but many private clubs in the United States charge six figures. Augusta's waiting list is about 300, all nominated by current members. Members are allowed up to four guests, and as long as the member is on the property, his guests can play without him.
There is one serious drawback to Augusta membership -the course is closed from mid-May to mid-October as constant updates and improvements take place.
---
What do you think? leave your comments below (Comments)
---
Tags: the masters Augusta National
---
PLAY MORE PLAY BETTER - LATEST TUITION TIPS
---
Leave your comments below
comments powered by

Disqus