Edel Golf to Exhibit Innovative Clubs at Woburn Short Game Fitting Session
By: Golfshake Editor | Fri 09 Sep 2016 |
Comments
---
David Edel, the founder of Edel Golf, is set to make an appearance at Woburn Golf Club later this month to demonstrate how continued developments with equipment can vastly improve short games and lower scores, with the manufacturer of innovative irons, wedges and putters also set to explain how the secret for most golfers lies in the dirt and their eyes.
Edel wedges were co-designed with 2016 PGA Teacher of the Year and Hall of Fame PGA instructor Mike Adams to have the proper bounce and sole configuration to match a golfer's swing. The role of bounce is to offset a golfer's forward shaft lean and the angle of attack at impact to minimize the effects of soil and turf conditions. Having the optimal bounce angle combined with the correct sole width on your wedge will result in less face twisting, more consistent clubhead speeds, increased spin, and consistent control of distances; drastically improving a golfer's short game. David Edel says that a simple fitting process can improve anyone's short game.
"For every golfer, the secret to wedge improvement lies in the dirt: our wedge fitting process involves examining a golfer's turf interaction to determine the specific weight, grind, bounce, sole-width, and trail relief needed to maximize their results. The dirt doesn't lie: a few shots will show what's needed to help a golfer achieve short game success."
For one British golfer, changing to Edel wedges has had an immediate impact. "I used to live in fear of bunkers. No matter what technique I was taught, I just couldn't guarantee I'd get out let alone get close to a pin", says 17 handicapper Jonathan Hawker. "I've tried every manufacturer's wedges and nothing helped, until I got fitted for Edel wedges. Now bunkers no longer hold any fear. It's just a question of how close I can go. And the benefits translate across the whole short game. These wedges are an eye-opener."
Aiming your putter is another issue preventing optimum scoring says David Edel. Many golfers buy a putter based on how it looks and how the ball feels off the face of the club. "What they don't check is the most important element in selecting a putter: can they line it up to their target? Generally, the answer is no."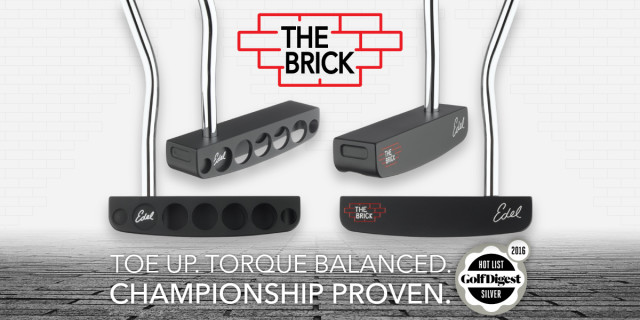 Image Credit EdelGolf.com
Edel putters are custom fitted to a golfer's eyesight and stroke, addressing the shape of a putter head, which lines can assist target acquisition, the optimal shaft angle to ensure square targeting and, finally, the weight of the club.
David Edel speaks about the triad of putting – Aim, Path and Speed, and in the middle of the triad is green reading. We all make a decision and choose what line and what weight to hit the putt, only by getting all four elements right can a putter hope to attain their true potential.
"Choosing a putter without knowing how you aim seems a strange way to go when choosing your most precise club in the bag. We don't rely on initial appearances and judgments that work in the short term but lead to many golfers changing putters far too regularly. We base our putter recommendations on a tried and tested process that golfers get a unique putter that works for their vision and stroke. We pride ourselves on creating the last putter you'll ever own because our range of torque balanced putters confirm you are aiming where you think you are and are weighted to permit a free-flowing stroke."
Jamie Donaldson, of AimPoint Europe, which teaches golfers how to determine on green targeting, says Edel putters are giving golfers far better results. "Precision is everything. There's little point in working out the correct break on a putt if a golfer cannot start the ball towards an aimpoint. Edel putter provide certainty over targeting and that is a revolutionary development for many golfers who currently have the wrong tool in the bag."
David Edel will hold a short game fitting session at Woburn Golf Club on September 19th at 10am.
---
What do you think? leave your comments below (Comments)
---
Tags: Woburn Jamie Donaldson Fitting Edel
---
PLAY MORE PLAY BETTER - LATEST TUITION TIPS
---
Leave your comments below
comments powered by

Disqus