Putting aid from the creator of the 2Thumb grip
---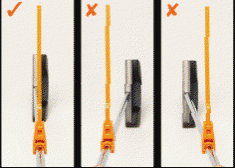 Wrist Brake simply clips on to the bottom of the putter shaft with the 2Thumb logo uppermost.
It is then secured simply by sliding it up to a wider section of the shaft.
The sighter arm should be aligned with, or parallel to, the putter face when you are in a putting position.
The sighter arm and the putter face should stay in line with each other throughout the complete putting stroke.
If, however, the putter face leads or trails - as shown above - it is due to wrist break.
You will find that the 2Thumb Wrist Brake immediately highlights shoulder and spine movement, or lack of it, helping you to achieve a flowing putting stroke rather than a 'hit'.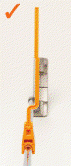 In short, Wrist Brake highlights excessive use of the wrist during the putting stroke.
Wrist Brake can be adapted to suit offset putter shafts by removing the sighter arm from shaft clip, rotating and re-inserting it to align with the putter face.
For more information visit www.2thumbgrip.com
From the inventor Phil Gazeley:
Philip H Gazeley is a professional putting coach who has worked extensively with over 100 members of the European Tour. Initially looking at the full swing, he gradually focussed more and more on putting and has developed several simple, innovative putting aids
---
Related Content:
---
---
Comments