6 golf swing analysers to help improve your game
---
Struggling with your game? Golfshake writer Josh Carr has given a helpful list of golf swing analysis technology to help improve your game.
---
Sometimes endless hours on the range trying to fix your swing doesn't work and you need a little bit of reassurance that you are getting your swing in the correct positions. This is why a lot of golfers now look to the world of technology in order to improve their golf swing. To make things easier for you, we've picked out some of the best golf swing analysis technologies currently on the market.
Duo Trac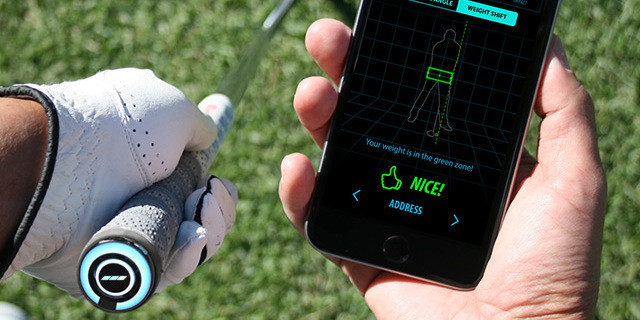 Duo Trac is the world's first 4D swing and weight shift analyser. The Duo Trac comes with four sensors that must be placed on the shaft and grip of your club and two on your hips to determine weight shift, as well as tracking the golfer's club face angle, transition and face angle at impact. The club path is a direct outcome of lateral hip movement and weight shift, therefore it is imperative that you take into account weight shift when analysing a swing, which is another reason why this technology is one of the market leaders.
Incorporating the measurement of additional reference points gives a complete statistical snapshot of your full swing plane and weight shift. The data is ran through an analytics model that computes where the swing is off and how to correct it, and doing so in a simple way. Best of all, you only need a Bluetooth connection to connect the device to your mobile smartphone.
Price: $129.00
Find out more about the Duo Trac here.
Epson M-Tracer Golf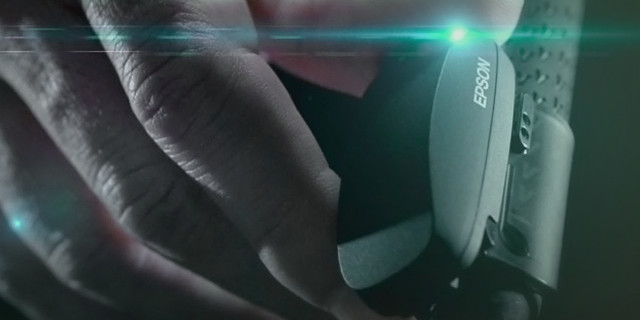 Now I know what you're thinking, don't Epson make printers, ink and paper? Well, yes they do, but they have also released this handy system, endorsed by David Leadbetter, to help you improve your golf game. The club-mounted M-Tracer golf swing analyser accurately captures the details of your swing and provides instant access to your swing data via a mobile app. This means you can make adjustments to your swing and analyse your performance without leaving the driving range.
The system features Epson's core sensing technology, designed for highly accurate golf swing analysis while still being lightweight and compact. The system is also highly accurate as it records data at 1000 samples per second and calibrates with each swing; accurate to one-tenth of a degree. Finally, the system provides a 360-degree, 3D view of your swing path and captures clubhead speed, attack angle, face angle, club path and more.
Price: $249.99
To learn more about the Epson M-Tracer, click here.
SkyPro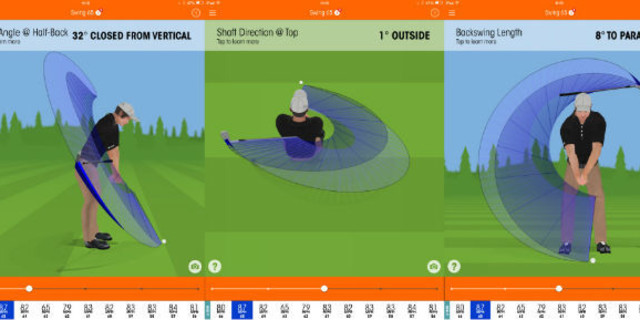 The SkyPro is one of the market leaders in terms of swing analysis technology and for good reasons. The SkyPro is a small sensor that fits imperceptibly below your grip and monitors you club's motion during a swing. This information is then transmitted wirelessly to your smartphone or tablet and provides instant feedback on key features of your swing and makes practice that little bit more meaningful.
The feedback you receive is accurate as it takes 3,600 measurements a second and has precise club calibration using the sensors in your iPhone. The device is easy to use as it transfers swing data to your smartphone via Bluetooth, no button pushes necessary. When analysing your swing you can get feedback on key points throughout your swing and SkyPro will even give you the feedback you need in order to grove a better swing at these key points.
Price: £144.99
You can find out more about the SkyPro by clicking here.
Swingbyte 2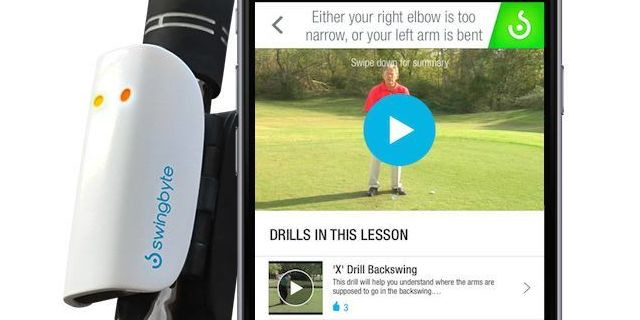 The Swingbyte 2 device works in the same way as the SkyPro. It fits easily to any club and pairs with your smartphone via Bluetooth. Once connected to the app, you can swing away knowing that the Swingbyte will automatically record individual swings for you to review in real-time or later on.
There are several helpful features that Swingbyte offer while analysing your swing such as the full 360-degree view of your swing. The device also measures club head speed and acceleration, as well as your club's true plane from address to impact. Other measurements include: club face angle relative to swing path, static and dynamic loft and lie at address and impact, angle of attack and swing tempo.
Price: £135.00
To learn more about the Swingbytre 2, click here.
Swing Profile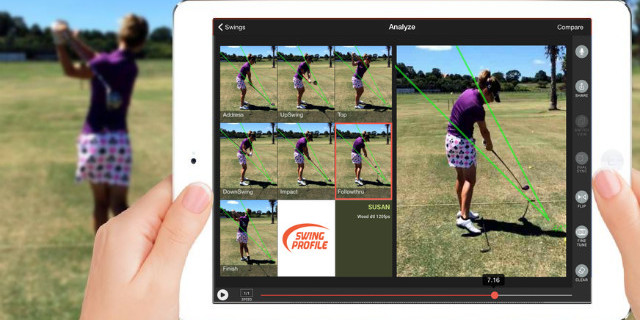 All you need to get started with Swing Profile is a smartphone as this app is all about recording your swing. Swing Profile automatically detects your golf swing and plays back your swing video in slow motion after every shot. From there you can diagnose and fix flaws in your swing. Unlike other video analysis software, Swing Profile captures and analyses multiple golf swings so you can check your consistency.
You don't have to manually track through a video in order to isolate key positions as Swing Profile automatically generates a Golf-Digest style swing sequence every time a swing is detected and captured. On top of the ability to compare swings, Swing Profile also automatically draws standard reference lines so you can immediately see whether you are swinging the club on plane.
Price: Free via the app store
Visit the app store to find out more.
Zepp Golf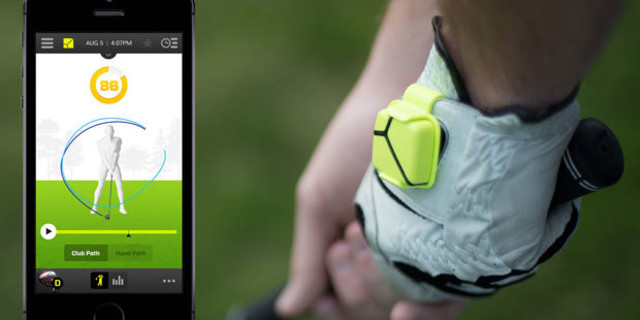 Zepp Golf's next generation Smart Coach training system will have you improving your swing in no time. All you have to do is attach the sensor to your glove, take a few swings and Zepp will instantly evaluate the areas where you can improve and offer you training programmes that are tailored to your swing.
On top of the 3D analysis, Zepp will offer data on club speed, club plane, hand plane, backswing position, tempo and hip rotation. You can get started free with Zepp by downloading the free app to get access to Zepp's Smart Coach training system, video analysis tools and professional swing library featuring Keegan Bradley and Michelle Wie.
Price: $149.99
Find out more about Zepp Golf here.
---
Related Content: golf tech
---