Orange Whip Training Aid Review
---
Post by Golf Journalist Josh Carr
---
There are so many training aids on the golfing market these days that it is often hard to distinguish between a good and a bad one, and which aids will genuinely improve your game. The Orange Whip is a training aid that will genuinely improve your game if used correctly.
Consistent use of this versatile, dynamic swing aid will improve your golf swing and provide an essential core-muscle workout. The counter-weighting system and flexible shaft work together to promote the natural golf swing motion. This is done in just a few simple steps.
A major problem with amateur golfers is the speed of their backswing. A lot of amateurs will bring the club back too quickly, immediately causing their swing to be out of time. The Orange Whip forces you to bring the club smoothly because if it isn't, the club will bend and it will be almost impossible to continue the swing.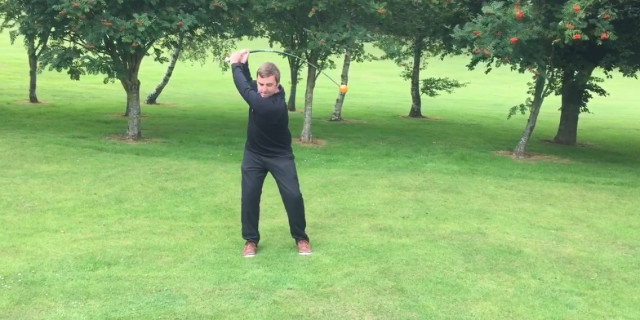 The Orange Whip also allows you to find the perfect plane on your backswing without the use of cameras with lines all over the screen that can be a struggle to make sense of. With this aid, if the swing is too flat, the club will push you forward and cause you to lose balance and in turn make it impossible to complete a proper, balanced downswing. If you are too steep at the top of swing, when you complete your downswing the orange whip will bounce off the ground.
At the top of the swing, you cannot rush the beginning of your downswing as the aid will bend too much and the uneven weight distribution will make it near on impossible to finish the swing. This means you have to swing smoothly and make sure the aid is on plane before beginning the downswing.
On the follow through, if you do not fully rotate and get through the ball, you will hit yourself with the aid as it will bend in the wrong place. Now, I purposely didn't get through the ball properly and I can confirm that you do not want to repetitively hit yourself with the end of this club.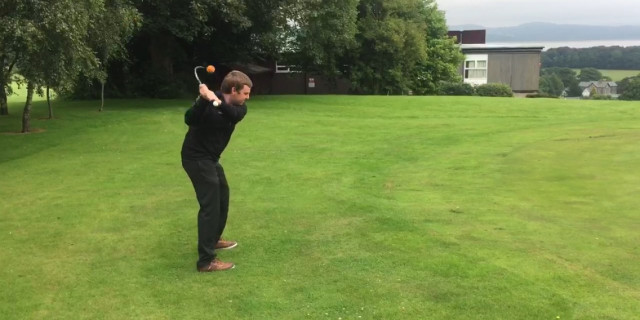 This training aid is used by the likes of Open Champion Henrik Stenson, former US Open Champion Graeme McDowell and many more. You will notice that both these players have great rhythm, balance, tempo and timing, which has excelled them to the top of the game and now you can achieve all of these with the use of the Orange Whip. This aid allows every golfer to find their best golf swing possible.
If you're looking to improve your swing, rhythm and balance then this is the aid for you. Alternatively, it can be a helpful aid for those who believe they already posses a well timed swing as, if you hit a bad patch in your season, you can always fall back on this aid to get you back on track.
The Orange Whip is available in the UK RRP £84.95 via PerfectMyGolf in various sizing options:
Orange Whip Trainer - This is the original unit built to simulate a Drive Swing
Orange Whip Midsize - Slightly shorter and lighter unit that simulates a 5 Iron swing and also popular with Ladies and Seniors with a slower swing speed.
Orange Whip Compact - Designed to have the same swing characteristics as the original but shorter at only 35.5" in length so ideal for indoor use and travel.
Orange Whip Junior - Designed specifically for Junior Golfers i.e. lighter and only 38" in length.
For more information and to buy online visit Perfectmygolf - www.perfectmygolf.co.uk/swing/tempo/orange-whip-swing-trainer.html
---
Related Content:
---