Herefordshire Golf Tour Hidden Delights in Rural Splendour
By: Golf Shake | Wed 30 Jul 2014 |
Comments
---
Golf trip feature from Rob Corcoran, Teeofftimes.co.uk Account Manager, who recently went on a golf trip to Herefordshire playing some of the courses in the area.
---
It may not be highly publicised as a golf tour destination, but the offering for golfers in Herefordshire is wonderfully unique and this makes it an incredibly attractive destination. As one of the most sparsely populated corners of England, one thing you can guarantee here is a leisurely round of golf with quiet fairways and beautiful views across the hills and orchards of this picturesque county.
Kington Golf Club
Boasting the title of the highest golf course in England, Kington Golf Club is currently ranked as the best in the county. This is a truly different golfing experience, which is set right on the Welsh border and you (hopefully) cross Offa's Dyke with your first tee shot.
Designed in 1925 it is an excellent example of how to use the land's natural contours to create challenging holes throughout the layout. Although it is hilly, it is no more difficult a walk on your standard undulating course as the majority of it is played around the summit of Bradnor Hill at 1284 feet which makes it the highest course in England. On a windy day there is little protection from the elements but with generous fairways and not a bunker in sight there is still the opportunity to score well.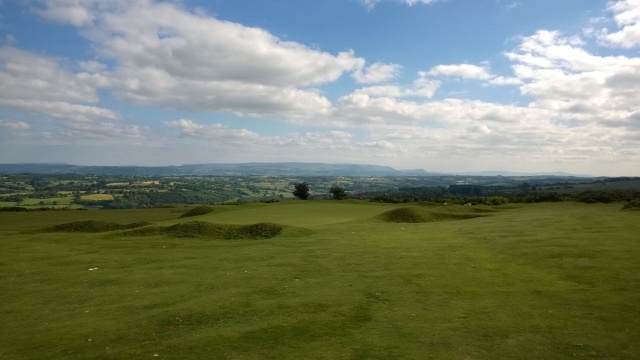 Predominantly a heathland course, there are many links-like elements here with dips and bumps in the fairways and slick greens in the summer that require deft use of the running game to trouble the pin with your approach. Spectacular views are the order of the day with magnificent vistas of the Brecon Beacons. It should be noted that this is a course that plays very well all year round offering roll on the tight turf of the fairways. The 18th is a gem to look forward to: a reachable, swinging downhill par 4 which requires the right club, the right line (the pro shop apparently), and a favourable bounce to reach the narrow green for a champagne finish.
Tee times available at Teeofftimes.co.uk - www.teeofftimes.co.uk/kington-golf-club
The Herefordshire Golf Club
Close behind in the county rankings, but surely only by personal taste, is the superb layout at Raven's Causeway as it is known locally. It seems the terrain here is made for the game and lends itself to large, sweeping fairways that give it a feeling of grandeur normally reserved for big name courses.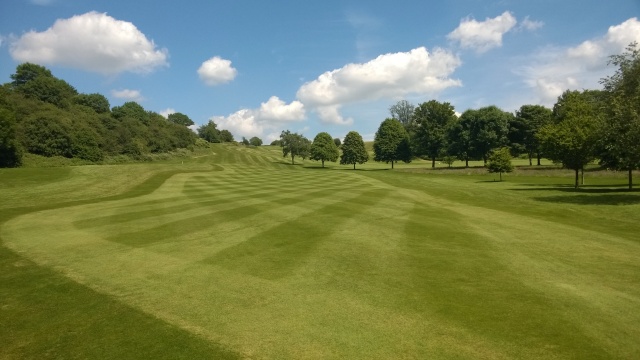 With hole after hole of character this is trademark James Braid and his masterful use of the terrain produces an exciting and aesthetically pleasing golf course. There is plenty of variety here with long par 4s such as the uphill 6th that require two strong blows to get yourself close, and some delightful par 3s like the 15th which is played over water from an elevated tee to a green surrounded by dense woodland. The rough can be punishing but the course isn't so long as to make it overly penal. There is enough space here to open the shoulders, and where there isn't then sensible course management is certainly prudent.
Take a course planner for the odd blind hole and it will enhance your enjoyment of one of the best kept secrets in the Marches.
Tee times available at Teeofftimes.co.uk - www.teeofftimes.co.uk/herefordshire-golf-club
Burghill Valley Golf Club
Recent host to the Jamega Tour, the course at Burghill Valley is a wonderful tonic to the more undulating offerings at the aforementioned venues. Just a stone's throw away from Herefordshire on the outskirts of the county town itself this is a more modern design but is wonderfully sympathetic to the glorious surrounding countryside. As with many courses in this region the comparatively low footfall ensures that the fairways and greens are in magnificent condition all year round.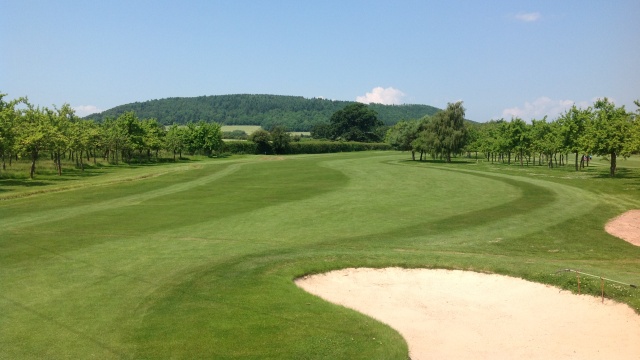 One of the charming features of this impressive club is the use of the orchards on the back nine to delineate some of the fairways and offer a constant reminder that you are deep in cider making country. There are some beautiful backdrops to a number of the holes with a forest covered hillside offering an idyllic canvas for the par 3 8th as its centrepiece in the foreground. Alongside some gentle par 4s there are some difficult holes that come in timely fashion to keep you on your toes and make this course a match for anyone. The dogleg 9th requires a courageous tee shot over water to a narrow fairway beyond before an approach to a well-protected green, and the tight 16th has a huge water hazard to swallow up any over ambitious drives.
The final hole is excellent with a sunken green that is peppered with sand traps. A classic risk/reward hole that could make or break you at the last and typical of a course where you need to keep your wits about you throughout.
Tee times available at Teeofftimes.co.uk - http://www.teeofftimes.co.uk/burghill-valley-golf-club
The county of Herefordshire has plenty to offer golfers who are willing to look beyond the beaten track and those that do will be pleasantly surprised by what is on offer here. The county motto is 'Pulchra terra Dei donum' (This fair land is the gift of God). Why not go and see for yourself on your next golfing break?
---
Related Articles
---
Related Content:
What do you think? leave your comments below (Comments)
---
Leave your comments below
comments powered by

Disqus
More Golf Course & Travel Features
Plan your next golf break with Golfbreaks.com
Travel Deals Newsletter
Save up to 50% on golf breaks & tee times!
Join Today »