Royal Winchester Golf Club Review
By: Melvyn Davies | Thu 27 Jul 2023 |
Comments
---
Designed by five-time Open champion J.H. Taylor and home to Hampshire's only Royal Club, Royal Winchester is located to the north west of the historic city of Winchester. The club was established in 1888 and boasts a remarkable history that you can read about here.
The course is laid out across typical Hampshire Downland, which drains incredibly well and offers all year round golf with excellent conditions.
The venue is easily accessible by road or rail, making it perfect for visitors and golf groups to experience.
Pre-Round Thoughts
This was a review I had been long looking forward to. I've never played a "Royal" course before, so this was a first. The drive along the road and into the car park already had me excited for what lay ahead.
I met Elliot, the Head Pro, in the shop and we had a look round and then went into the clubhouse for a coffee and to take in the wonderful clubhouse in its entirety. Very modern looking yet still with a golfing feel. Outside was a balcony that overlooked the chipping green, 18th hole, and you could also see up the first, making time spent here a joy to behold.
We then made our way to the nets and for a putt and this again was all on another level to most venues.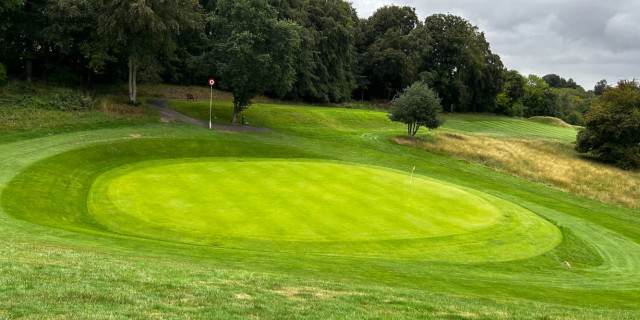 Front 9 Overview
The front nine starts with a gentle par 4 where accuracy over distance is the key, don't be fooled though as this green (as is the theme all round) packs a punch! Bunkering is really of the finest quality both in looks but also design that I think I've witnessed.
Another short par 4 follows, then a great par 3 protected by a large mound and bunkers again. Two more par 4s follow and the 6th is a par 5 off whites where the tee shot can be the deciding factor in how the hole pans out.
The 7th is a great par 3 and this hole is where you can ring up and place a food order for collection on the 10th - yet another great little addition.
This nine closes with a par 4 and a reachable par 5 with strategy again depending on your tee shot and which way the wind is blowing. All in all a tremendous opening nine holes that are playable for all golfers.
Back 9 Overview
The back nine starts off with an absolute top drawer par 5, a valley looking fairway awaits with once again A1 bunkering all leading to a green perched up above that is long but very very narrow, this for me one of the standouts in a great 18 holes.
You then head up to the top part of the course where you can see a good expanse of the course and the surrounding stunning views. A par 3 followed by four more par 4s of which the 14th is a real risk/reward hole, I have to say I do love these type of holes.
The last three holes start with a par 5 where avoiding the bunkers all the way down is the main aim and not easy.
A great little par 3 follows once more protected by bunkers and another tricky green. The final hole and, for most, probably the signature, brings an end to one of the most enjoyable rounds of golf I've ever played. Teeing up above the fairway with an exceptionally designed fairway bunker awaiting those going for the green, which itself has three tiers and a final two tricky bunkers offering protection. All I can say is AMAZING!
The 10th and 18th are the best of an outstanding 18 holes. The other 16 are 9.99 and these are 10/10. Just WOW...
It's so hard to highlight anything in particular as the course from tee to green on every hole is as good as I've had the pleasure to witness. The riveted bunkers are outstanding, teeing grounds immaculate and the greens are as good as you will find.
One of my playing partners added this: "Royal Winchester is a challenging and undulating golf course on the Hampshire downs that has fantastic views. There isn't one hole the same and the course has a superb mixture of par 3s, 4s and 5s that allow all playing abilities. The course condition was absolutely amazing from tee to green. The greens were immaculate and very quick. The bunkers are perfectly located on all the holes and they are some of the best kept bunkers I have seen for a long time. The 18th bomb hole bunker is just fantastic. The clubhouse is very modern and lovely with a decking balcony area that is just glorious with the surrounding views of the course."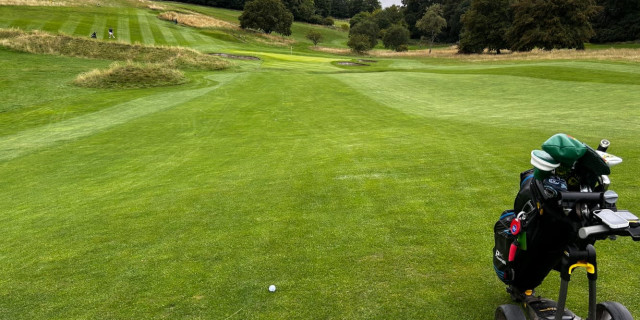 Post-Round Thoughts
There was a very friendly and relaxed atmosphere all round the club which as always is great to witness. Had some banter with a few out on the course and learned some history after the round from one very friendly member.
Food was great and very well priced. Wide selection of food and drink with staff all very friendly.
Paul Crowe, the GM, came out to introduce himself when we were playing which was a lovely gesture and the Club Captain also came over in the clubhouse to say hi.
Elliot (the Head Pro) was very welcoming and looks to be a great asset to the club.
Verdict
All I can say is AMAZING! Royal Winchester really is fit for royalty, from start to finish, shop to clubhouse - as good as it gets.
I for one really hope I get the chance to return as already I would say it is the best course I've had the pleasure to review for Golfshake.
Playable all year, views to die for, friendly, relaxed, challenging yet playable for all, what is not to be liked about that?
Thank you, Royal Winchester for providing me with a day I will remember for a long, long time.
Overall Rating - 10
Course (Conditions) - 10
Course (Hole Variety/Layout) - 9
Course (Green Condition) - 10
Course (Challenge/Difficulty) - 8
Club Facilities & Clubhouse - 10
Practice Facilities - 9
Friendliness/Hospitality - 10
Pace of Play - 10
Value For Money - 10
---
Related Content: travel review golfshake Golf Courses England Courses
What do you think? leave your comments below (Comments)
---
Leave your comments below
comments powered by

Disqus
Plan Your Next Round
Alton Golf Club
Hampshire
from £10.00
Save 22%
East Horton Golf Centre
Hampshire
from £15.00
Save 31%
East Horton Golf Centre
Hampshire
from £14.00
Save 28%
More Golf Course & Travel Features
Plan your next golf break with Golfbreaks.com