Is Gleneagles The Ultimate Golf Destination in The UK?
By: Liam Moore | Mon 10 Jan 2022 |
Comments
---
As British golfers, we've truly hit the jackpot. There are a plethora of world-class golf facilities littered across the isles that attract international visitors every year.
Whether you want to tackle the Twenty Ten Course at Celtic Manor or you fancy testing yourself against another iconic Ryder Cup venue in the Brabazon Course at The Belfry, Britain has it all.
With so many excellent destinations for either a one-off round or an elongated stay, it can be quite difficult to determine which one you should visit next.
Of course, for those who have been involved with golf for an extensive period of time, you may have experienced everything that Britain has to offer golfers.
If that's you, congratulations - we're all very jealous! If you don't belong to that category however, then there are virtually limitless options for your next stay and play.
Nevertheless, there is one revered location that continuously cropped up during our latest Golfshake Survey, and that venue was Gleneagles.
The Scottish resort ranked highly in almost every category, with the King's Course being named as one of the top three best courses played over the last year.
Furthermore, Gleneagles was voted the best place for a breakfast in the UK, the best halfway hut in the UK, top three of the best 19th holes in the UK, top three of the best UK accommodation options and that was further supported by placing in the top three best accommodation choices throughout the world.
It was a big winner in our recent feature Golf Survey Reveals The Best Golf Courses To Play & Visit.
Gleneagles
Gleneagles is situated in Scotland, in the historic county of Perthshire to be exact. Labelled 'The Glorious Playground', it is an accurate depiction as you experience one of the greatest tests of golf available on the planet.
What elevates this resort beyond the golf course is the collection of activities that visitors can partake in, whether you enjoy a gentle cycle or the ambiguity of off-road driving.
Again, from a golf resort perspective, Gleneagles is rarely rivalled, which has been achieved with a helpful hand from the sheer number of eateries that are located on-site. In total, there are ten hubs that serve food and drink.
Finally, the modern spa at Gleneagles has further augmented its appeal to visitors, where an array of treatments are available in addition to a fully-functioning gym and swimming pool.
Of course, for you to commit to a trip to this prestigious venue, you'll need more information than what's been currently provided and so, allow us to explore the majestic Gleneagles resort deeper.
Golf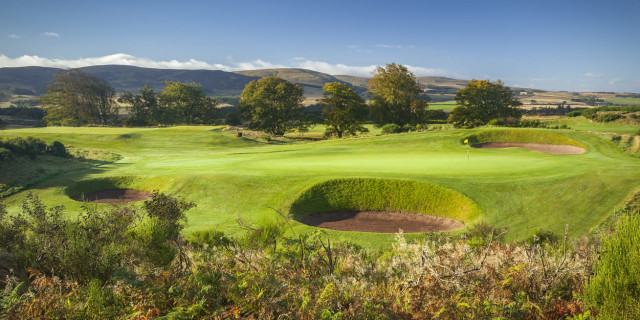 We'll start with the most pressing of features, the golf. With three championship-standard golf courses all located on-site, Gleneagles can proudly boast one of the best collections in the world.
Perhaps the most iconic of them all, the King's Course was voted highly by the Golfshake Community in the most recent survey, with many highlighting its tremendous test of golf in addition to the surreal vistas on offer.
James Braid was the mastermind behind this superb layout and it was officially opened for play in 1919. All 18 holes feature evocative and historic Scottish names, which further enhances the immersive feeling of playing one of Scotland's finest.
The Queen's Course places an emphasis on natural beauty and you'll seldom unearth more visually appealing loops than The Queen's. As the course threads its way through north and west of the estate, The Queen's masks its difficulty with exceptionally stunning scenery.
The PGA Centenary Course is another layout that is held in high regard, which was reflected in the survey with this loop receiving its fair share of votes. Jack Nicklaus once referred to this course as the "finest parcel of land in the world I've been given to work with" - and he certainly delivered with that statement.
Having hosted the 2014 Ryder Cup and the 2019 Solheim Cup, this fair yet drastically difficult course should be experienced by all. As is the standard at Gleneagles, magnificent panoramas are available from every tee but do not be fooled; in excess of 7,000 yards, the beautiful surroundings are there for a false sense of security, this course bites hard.
Lee Trevino, the 29-time PGA Tour winner as well as a six-time major champion, is fond of the quality of golf on offer at Gleneagles: "If heaven is as good as this, I sure hope they have some tee times left."
Accommodation
There are several varying rooms available at Gleneagles, which should appeal to all party sizes. The 5* Gleneagles Hotel oozes class and style, as each bedroom has been designed with a luxurious feeling - in addition to supplying everything you need for a short getaway.
If you're looking for something a touch more elegant, then the suites available are an upgrade on the aforementioned rooms. They include a sumptuous four-poster bed, vistas across Glendevon and Ochil Hills, a large bathroom, a dining room and a complimentary bar.
However, if you're seeking more privacy, then the luxury Glenmor Lodges provide a fantastic alternative to staying in the resort's hotel. The buildings are available to buy or rent, and they come equipped with an open-plan kitchen, dining room, living area and an outdoor terrace to ensure maximum privacy.
Additional Activities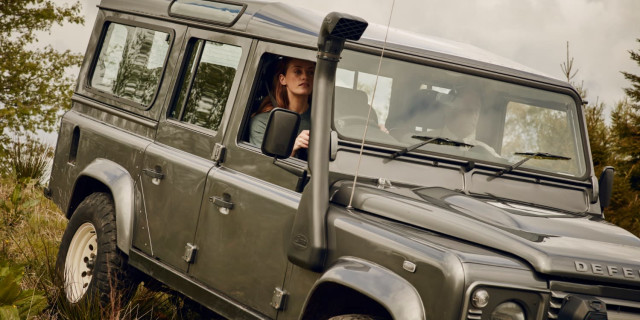 A visit to Gleneagles centres around one word: adventure. If you're looking for a day away from the golf course, the resort has multiple activities that can provide an exhilarating adrenaline rush or a calmful afternoon.
Both fishing and shooting are available on-site. You can cast your line for trout throughout the gardens or experience salmon fishing on the River Tay. Alternatively, air rifle and clay target shooting is available for an additional fee.
If you're planning your trip as a family, then children will enjoy the archery sessions that are conducted every day, helping to improve hand-eye coordination which will translate to more traditional sports.
Maybe you're looking for an unpredictable adventure? If so, then off-road driving should pique your interest. As you enter your vehicle, you'll be venturing through rugged trails and traversing rivers. Again, if children are accompanying you, then junior off-road driving is also available for booking.
Gleneagles also boast their own equestrian school, where visitors will be permitted to ride through the 50-acre equestrian centre. If you're looking to enhance your skills, then both indoor and outdoor coaching and riding lessons are available for purchase - from the age of four and beyond.
With such a tremendous environment encapsulating the estate, there is limitless scope for invigorating bike rides. Whether you opt for a guided tour or to hire your own bike and determine your own route, a vast landscape is waiting to be discovered.
Gastronomy
Considering the influx of visitors that walk through Gleneagles' door every year, it's important to be able to accommodate all. Thanks to a collection of ten restaurants that provide detailed and varied cuisines, there's always somewhere to eat at this award-winning resort.
From the Golfshake Survey, we asked participants an array of questions that centred around the best golf courses/resorts available to the amateur golfer. From a gastronomic perspective, Gleneagles excelled highly in both categories related to food - ranking as the best breakfast and the greatest halfway hut.
The Strathearn is one of the grandest eateries available at Gleneagles, and it's dipped in traditional Scottish culture. It is a classical Franco-Scottish restaurant with a real emphasis placed on romance.
Andrew Fairlie is the other luxurious restaurant located on-site, and it is commonly referred to as one of the best throughout Europe. Additionally, it is the only restaurant in Scotland to hold two Michelin Stars and the exemplary menu will entice you to return the following day.
However, if you're looking for a more casual approach to mealtime then why not trial The Dormy, which overlooks the superb greens and rugged hills. Its relaxed atmosphere has been received well from visitors and whether you're a golfer or part of a family, you'll enjoy the finely selected menu.
There are five bars located on the premises, which results in minimal wait times. The American Bar prides itself on cocktails and the 1920s American lounge offers a vastly different experience from the rest.
The Century Bar has been designed in a more contemporary fashion, boasting appealing furniture in a beautiful setting. Alternatively, The Garden Bar is located at the outdoor terrace, allowing you to unwind with a view of the evening's sky.
Spa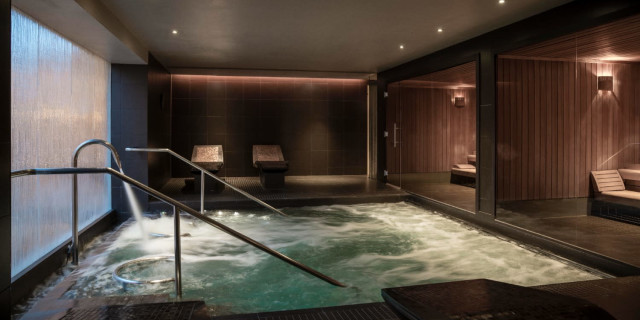 The spa is a modern introduction at Gleneagles, and like all its other features, it's exceptional. The Resident Spa is where you'll be able to enjoy one of many treatments available, ranging from restoration to rejuvenation sessions.
Finally, both a gym and swimming pool are located on-site, in fact there are two outdoor pools and one thermal pool - a popular hotspot for winter visitors. The gym features full equipment and with daily yoga and well-being classes being conducted alongside it, you'll soon find a place to burn off last night's lavish dinner.
While Gleneagles certainly created and enhanced their world-renown reputation through their golf facilities, the extra amenities has helped to augment it into the resort it currently is.
With a plethora of extra activities to keep you and the family entertained, are there truly any surprises to understand just how deeply the Golfshake Community regard this Scottish retreat?
For more information about Gleneagles and how to book your next golf trip, you can visit Golfbreaks.
---
Related Content: travel Scotland Perthshire Golf Courses Gleneagles Courses
What do you think? leave your comments below (Comments)
---
Leave your comments below
comments powered by

Disqus
Plan Your Next Round
Ardglass Golf Club
County Down
from £22.00
Save 50%
Castlerock Golf Club
County Londonderry
Galgorm Castle Golf Club
County Antrim
from £13.00
Save 23%
More Golf Course & Travel Features
Plan your next golf break with Golfbreaks.com