Childwall Golf Club Feature Review
By: Richard Moore | Wed 21 Jul 2021 |
Comments
---
Review by Golfshake Ambassador Richard Moore
---
Childwall Golf Club is a pristine parkland course, which moved from Childwall just a few miles east to its current location around 100 years ago. It is easily accessible from the junction of the M62 and M57 near Huyton, Merseyside. The entrance is via a secluded drive with a barrier adding to its privacy.
The fairways are all tree lined (so straight hitting is needed) and some are beautifully set amongst some mature trees, especially framing the greens - which were all maintained to a high standard.
The biggest thing I noticed straight away was the diversity of the age of golfers. I was delighted to see how many very young players (teenagers - both boys and girls) were playing and getting roared on by family members on the first tee. It was noticeable all the way round what a family-oriented course Childwall GC is!
Pre-Round Thoughts
One of the standout features of the course is the Art-Deco style bright white clubhouse (think Birkdale) that is reminiscent of Stoke Park (just without Daniel Craig or Sean Connery). Impressive as it is, it is really noticeable when out on the course and closing in on finishing your 9th and 18th holes right in front of it.
Met by an extremely friendly and knowledgeable head professional Carl Smith and his assistant pro Eloise. Carl mentioned that in the club's 100-year history there have only been five head professionals - their longevity being testament to the clubs success!
The fact the Lancashire amateurs had played there recently set up for a great day of golf!
Front 9 Overview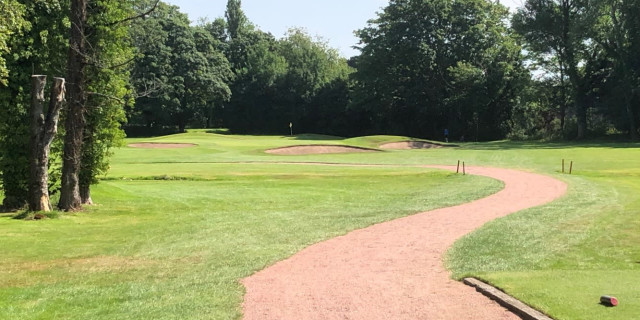 As soon as the round was underway, I could see it was very high quality from tee to green, including bunkers. I felt the course was very similar in that respect to another pristine parkland course I have played: Shirley (near Solihull). Lots of pleasant tree lined fairways. You are not overly punished for missing the fairways (unless caught behind a tree) as you could find a lie or a very favourable one on the adjacent fairway.
It was hard to judge the quality of all the tees which were very lush in places no doubt due to the fine weather we had for grass growth. But most of the tees I noticed were of exceptional quality with wood linings finishing the tees to a high standard. The cart paths (I believe made of MOT) would be a joy in the winter to minimise any mud on trolley wheels. The fairways were very firm, and I'd be surprised if they didn't drain well in winter too. Hardly noticed a single divot all day!
There are no noticeable water hazards on the front nine and the par 5s were pretty kind, but the par 3s were quite long to test your ball striking.
Back 9 Overview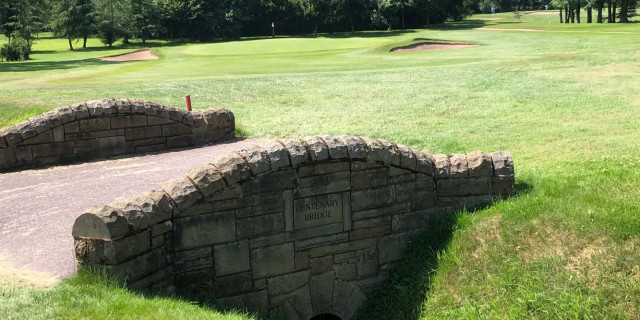 I liked the back nine better probably due to the maturity of the course in this half of the course. There are some really mature holes framed beautifully by trees like the green on 15. There was a bit more of a water hazard feature - a ditch crossing 14 which makes an easy looking par 5 a challenging approach, and then my favourite hole of the day being the 17th - a long par 4 finishing downhill over a bridge reminiscent of St Andrews (yes we stopped for photographs!).
The 18th finishes in front of the glorious clubhouse as it does in front of Stoke Park's own iconic clubhouse!
Around 12, 13, and 14, there is a practice area (a mere 250-yard walk from the clubhouse so when visiting do go before your round!) it is ideal at 150 yards for practicing your short/mid game. The assistant pro Eloise was using it for a lesson as we passed (you can see she is a +1 handicap!). It is an ideal practice area and if I was a member, I'd be on that range and using the practice bunker all the time.
Post-Round Thoughts
Childwall GC is a pristine parkland course and priced at £65-75 a round it will attract a good standard of golfer who appreciates that extra little bit of quality.
Verdict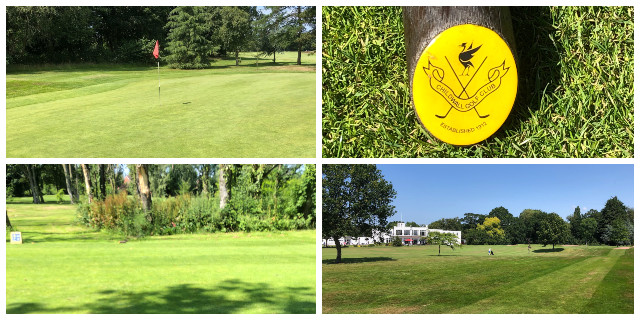 We played on an exceptionally hot day, but I think this will play well all year round. The greens are amazing, and I hardly saw a divot all day!
It was a busy day, every tee time taken, but we completed our two-ball comfortably within 3.5 hours.
I think families in the North West looking for a family oriented golf club to join would feel very welcome here. Equally those golfers travelling up from the south on a journey to the Golf Coast would be as well to stop and play at Childwall GC to hone their game ready for the challenge of the links that await them. A great way to work on finding those fairways.
Overall, the staff were amazingly friendly. The pros we met, and the catering staff were lovely. We ate post round in the clubhouse spike bar (no golf shoes in the main bar) and the prices were amazing. £3 a cold sandwich, £6 hot sandwich and £5 burger. You can't beat that!
Verdict - if you are visiting the North West, go play Childwall GC (just don't make a fool of yourself like I did...they pronounce it Chill-wall!)
Overall Rating - 8
Course (Conditions) - 9
Course (Hole Variety/Layout) - 8
Course (Green Condition) - 10
Course (Challenge/Difficulty) - 7
Club Facilities & 19th/Clubhouse - 10
Practice Facilities - 8
Friendliness/Hospitality - 10
Pace of Play - 10
Value for Money - 8
---
Related Content: travel review Golf Courses England Courses
What do you think? leave your comments below (Comments)
---
Leave your comments below
comments powered by

Disqus
Plan Your Next Round
High Legh Park Country Club
Cheshire
from £10.00
Save 40%
Aintree Golf Course
Merseyside
from £10.00
Save 13%
Allerton Manor Golf Club
Merseyside
from £10.00
Save 16%
More Golf Course & Travel Features
Plan your next golf break with Golfbreaks.com