10 Golf Courses You Must Play in Hampshire
By: Will Trinkwon | Tue 16 Jun 2020 |
Comments
---
What is the best course you have played in Hampshire? Will Trinkwon picks out ten of his favourites.
---
Hampshire is widely regarded as one of the finest places to stripe a five-iron in the UK. And, as this list of my top 10 courses in the county will show, with good reason. There's something for everyone in this justly celebrated golfing county. Links? It's got you covered with the wonderful and sly Hayling Island. If parkland is more your thing, fine tracks like Southwick Park and Waterlooville are as good a ones to play as any, and there are also attractive heathlands. The pick of the bunch in my view is North Hants, famously the home club of one Justin Rose.
In the spirit of positivity, I'll kick off this list with what is probably my favourite course in Hampshire – North Hants. There are so many reasons to play this course that I'm almost certain to forget some, but in no particular order... First, the aesthetics. Make no mistake about it, North Hants is a truly beautiful track which winds it's way through tall trees, gorse-flecked knolls and plenty of other picturesque features. Furthermore, it also has excellent greens, which are quick but true, and they're not only full of subtle burrows but crucially well-conditioned too. Third, the clubhouse, which serves an excellent lunch. Finally, those of you who are clued into golf history will know North Hants as the teething ground of Justin Rose. The ex US Open champion learned to play here, back when he was a precocious junior and there is a very fine shrine to North Hants's most famous ex member in the clubhouse. So the course has a nice bit of history behind it as well.
So, this entry begins with a confession: I haven't actually played Liphook. However, I am including it on this list nevertheless, because everyone I know who HAS played it says it's wonderful. The chief attraction here is the greens. These apparently get as slick as 14 on the stimp meter in summer and are regularly rated as among the finest and most challenging in Hampshire. Knowledgeable friends of the author also report a well-varied layout.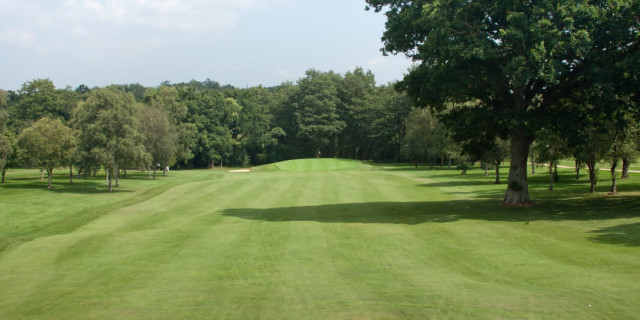 This is a very fine parkland track, which I would liken to a 'goldilocks' course. Waterlooville is one of those rare tracks that actually lives up the oft-claimed, scant-achieved label of 'a test for both beginners and experts alike'. Hence, it's a Goldilocks course – not too easy, but not too difficult either. Waterlooville also does a good job of staggering often hidden streams and brooks with wider, more inviting holes. But be warned: you don't have to stray far from the fairway to find wood, and the trees are densely packed enough that it's a brave man who tries anything more than a tame punch out if he finds their clutches.
Regularly rated as one of the top courses in the county, Hayling Island is next on our list. It's a links style test. So, it features all the trappings you would expect from a course positioned just a stone throw away from the ocean. Sea views and deep pot bunkers abound, but there are some downsides. The sparse links layout can seem a little bit empty at times because the sea doesn't actually feature all that prominently. That said, on the whole, it's a very nice track.
Picture the scene: you're lining up a putt, an important one. But then something flutters in the corner of your eye. You look up. And see a horse galloping towards you, pursued by a wild boar. This isn't the usual fare for a golf course, you'd say, and you'd be right: but Bramshaw isn't usual anything. There are two courses on the Bramshaw estate, the longer Manor and the shorter Forest course, but it's the Forest that is the reason you should give this a visit. It's unlike any course you will ever play, cut through acres of unbridled New Forest turf where horses whinny on greens and you're just as likely to find an errant shot lodged in a thicket as a herd of sheep.
A nice tidy parkland this, with good greens and enough variety in terms of holes to keep things interesting. The finish is especially strong. It begins with a testing par 3 to a raised green. Then, you'll face a long par 4 that requires two powerful swipes to reach the putting surface and another 'short' hole, but in name only, for anything less than a full-bore 3 wood, at least in winter, will see you fall short of the cup. There's also some very nice water holes, including a 160yd par 3 which asks you to carry an intimidating pond.
Short enough to lull you into a false sense of security, tricky enough to punish you for it. Like the rest of the courses on this list, Rowlands Castle is also always in great condition. The stand out hole is undoubtedly the par 4 13th. Though only 350 odd yards, the hole is extremely narrow, being flanked by two thick woods which encroach onto the fairway and leave even the most confident of drivers very little room for manoeuvre. If you punt one into the trees, you're staring a double bogey dead between the eye, but even if you find the fairway, there's still no guarantee of a par. This is because the green is in a dip and has a vicious tier, encapsulating the challenge of Rowlands Castle in a nutshell.
The clue is in the name here: Old Thorns. Old. Thorns. The great Seve Ballesteros once played a match here and having toured it. I'm not surprised, because Old Thorns sets up excellently for his swashbuckling style of play, with plenty of tree-lined holes and ones that reward a go-getting stroke while punishing an errant swing. The dominant aesthetic is ancient woods. In a word: brown. Oh, and there's a lot of ferns and gorse and plenty of bracken too for good measure.
This course is a mix between a parkland and a downland, but no less impressive for that. It's a gentle test, but a well-designed track with a nice variety of holes. In particular, there are some very fine par 3s, such as the 17th hole, which sees you fire down into a punchbowl green from atop a hill. It's probably the weakest track to make it onto this list, but that is as much a testament to the quality of the other courses as a mark against Petersfield.
Finally, we come to Blackmoor. This is situated within a short drive of North Hants and is a natural course to pair with the other track. They're both established venues, which have hosted prestigious tournaments, and they also both feature plenty of gorse and heathland-style knobbly fairways. Hard to say which one I like more, but I'm going to give the edge to North Hants. That rival track aside, however, Blackmoor is definitely one of the strongest courses on this list. It ties with Bramshaw for joint second.
---
Related Content: travel England Courses
What do you think? leave your comments below (Comments)
---
Leave your comments below
comments powered by

Disqus
More Golf Course & Travel Features
Plan your next golf break with Golfbreaks.com