Royal Mid Surrey Golf Club Feature Review
By: Will Trinkwon | Wed 18 Sep 2019 |
Comments
---
Review by Will Trinkwon, September 2019
---
It's difficult to believe that Royal Mid-Surrey (so named for its position on the Middlesex/Surrey border) Golf Club is in London. For many people, the capital is synonymous with pressed crowds, cramped streets and all the best and worst features of urban sprawl. Hardly the place for a golf course, it's natural to suppose. Since its foundation in 1892, however, Royal Mid-Surrey has been subverting such a pessimistic, though understandable, assumption. Carved into one of the most beautiful areas of parkland to be found anywhere in the South of England, Royal Mid-Surrey is an aesthetic gem that belies its close distance to the capital. How can such leafy beauty be only a 30-minute journey away from Victoria? Such is the mystery and majesty of Royal Mid-Surrey.
The course, as it's played today, was laid out by J.H. Taylor. I say 'course' singular, but really there are two loops on the property, both of which are excellent tracks. The 'inner' course, which zigzags around the centre of the golf club's estate, is the 'Pam Barton'. Named after one of Mid-Surrey's most decorated lady members, a three-time major champion if you go by contemporary counts, the Pam Barton is a mid-length challenge, which appeals to the whole range of golfers. Players who want more of a test can favour the 'outer' 'J.H. Taylor', the course that I had the pleasure of tackling during my visit and the longer and more difficult design.
The golfer from whom the second of these courses takes its name, J.H. Taylor, is just one of a rollcall of illustrious figures to have ties with Mid-Surrey. Taylor, who famously hauled five Open Championships, was the club's professional between 1899 and 1946, later to be replaced by Henry Cotton (Three Open Championships) and then the infamous golfing dandy Max Faulkner, winner of the Open at Royal Portrush in 1951. 30 years before Faulkner's victory, Car and Golf magazine had this to say about the club: "Where can we find turf, which is perfect, within 8 miles of Oxford Circus if not at Mid-Surrey?" High praise indeed, and a question whose answer is still 'nowhere'. Royal Mid-Surrey is up there with the very best that golf around the capital has to offer. Standing shoulder-to-shoulder with clubs like Royal Wimbledon, but arguably giving better value, Royal Mid-Surrey is a real golfing oasis and a premium experience all-round.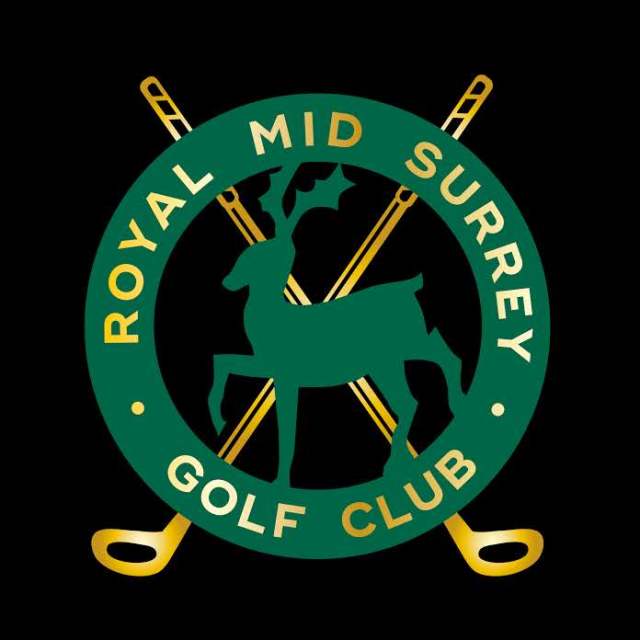 Pre-Round Thoughts
Arriving at Royal Mid-Surrey certainly feels like an event. The club's Royal credentials shine out at you as you swing in through intricately-wrought gates and progress down a stately bush- and tree-lined drive. If Augusta has magnolias, Royal Mid-Surrey has firs. The effect makes a statement before you've even checked in for your round.
Prior to going out, my partner and I did a quick tour of the club, before settling down to sample the food. The clubhouse is an impressive beast, which productively blends old and new. In the Pam Barton room, snug leather armchairs await for the weary brow, while the downstairs members' and spike bars are similarly attractively daubed; quaint and cosy, but with all the accoutrements you'd expect from a 21st century building. Sometimes, 'Royal' clubs can be snooty, but that's not the impression I got from Mid-Surrey. Members were smiling and joking, and the atmosphere felt light and fresh. Royal Mid-Surrey has achieved the impossible, marrying the best of a traditional club with an outlook that is forward-thinking and modern.
The club's commitment to freshness is reflected in its wider set-up. Unlike many clubs, where female members regrettably remain a minority, Royal Mid-Surrey's women's section is thriving. There's also fantastic practice facilities, but with a refreshingly 'modern' twist. Range balls, for members, are completely free; no sneaky £5-a-bucket fees to be caught out by here! Mid-Surrey's commitment to members over profit is palpable and makes a great change from the too-corporate overtones that are strangling many clubs. The practice pitching green, one of several on the property, was packed when I walked past it, filled with happy members flipping chip shots and deep in chat. You can gauge the health of a club by the state of its membership: tellingly, Royal Mid-Surrey is one of only a small percentage of clubs in the country with a waiting list.
After sampling the practice grounds, we decided to check out the restaurant, and once again, Royal Mid-Surrey didn't disappoint. A varied menu was excitingly plumbed, resulting in a luxury brioche burger for me, and a stilton, avocado and bacon with a citrusy dressing salad for my more health-conscious (!) partner. If I was really being picky, there was a bit of a wait for the food. But the small delay was more than made up for by the dishes' quality; both the burger and the salad were wolfed down with aplomb. It was some of the best grub I've had at a golf club all year. What's more, it was also reasonably-priced, even a steal given the generous portions. Both the burger and the salad clocked in at £8.99. For the quality, this was excellent value.
A quick dip into the pro-shop – large and very well-stocked – and we were ready to head out onto the course.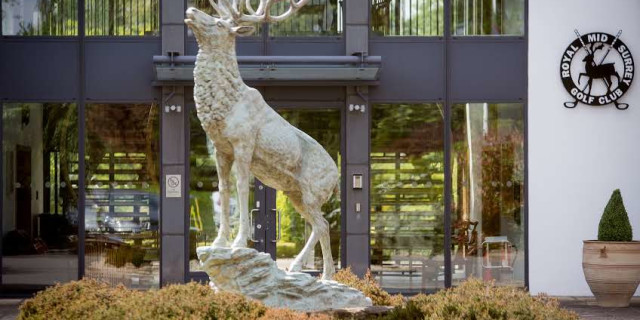 Front 9 Overview
As I've pointed out, Royal Mid-Surrey is a stunning track, visually top of the class. The start is a little slow – a 225 yard par 3 offers a test fresh out the gate, but is otherwise not an especially memorable first hole. This quickly changes, however, when you step onto the 2nd tee and regard its successor. A par 5 to make up for the par 3, the second hole showcases all that is best about this scenic and attractive course. The drive is narrow, peeling through ever-encroaching flanks of what appeared to be oaks and fir trees, and heralded by a landing strip of golden-flecked grass. It is a beautiful but intimidating vista, made even scarier by the presence of a large, deep bunker that bisects the fairway at around 290 yards. From there, you face an approach with a wood or a long iron (if you're going for the green in two) or a lay-up to a thin landing spot. The green is protected by mounds, nestled into a grass slope that though relatively gentle, feels steeper, a bit like a gull's nest cut into to a cliff. As you can tell from my purplish description, this is a really beautiful hole. Attractive and enticing in equal measure, the second is a microcosm of Royal Mid-Surrey as a whole.
The par 5 sets the tone for the rest of the opening 9. A flurry of variously short and treelined par 4s follow, where the onus is on accuracy over length. But don't think these holes are a pushover. One of the main calling cards of J.H. Taylor's design is a difficulty in judging distances; hidden swales and subtle changes in elevation make the pins tend to look closer than they actually are. This is particularly evident on the 6th hole, which also stood out on the 9. In truth, this is one of the longer par 4s on the property, but it still rewards straightness over brute force. Thick trees once again camber in from both sides and the fairway, though not oppressively so, is narrow enough to make you think twice about just bashing a driver. A good drive leaves a mid-iron approach to another raised green, which looks closer than it is due to being fronted by a large and imposing bunker. Underclubbing on your approach shot is easily done and it's a tough up and down if you go short.
Despite few real challenges of length, then, finding the greens on the front 9 is difficult. The greens themselves are not made of straw either; there are enough subtle borrows to keep you thinking on all your putts. Notably, they were in excellent condition, even though we played them at the end of the golfing season. The pro shop had them at 11 on the stimpmeter and they were certainly plenty fast and true. For September especially, these were some of the truest running greens that I've putted on all year.
Back 9 Overview
Strong as the front side is, Royal Mid-Surrey comes into its element around the turn. From the tee of the 10th hole, you can see the beautiful and historic King's Observatory (also visible from the green of the 9th and the fairways of the 12th, 13th and 14th). The building, commissioned by King George III in 1769, is an architectural treasure which stands like a lodestar at the heart of the course – it's worth visiting just to see it alone. The 10th hole itself is a worthy companion to the building; in golfing terms, the hole is a similarly impressive design. At 442 yards, the 10th is a long par 4 which is made even trickier by it being uphill. The real bite of this hole, however, comes on the green. Few holes in (the county of) Surrey can have as sharply-tiered a dancefloor as this one. Come even a yard short of the precipice and you're doomed to roll right off the front of the green. And even if you do find the uppermost tier, there's plenty of subtle turns to confuse. I really liked this hole, and would rank it among the best on the course.
The back 9's great beginning is continued on the 11th and 12th holes. The 11th is a gem of a par 3. Only 153 yards, it's easy to underestimate, but once you step on the tee and see it, you quickly reassess your opinion. A small green is guarded by a deep trap short, roughy mounds, and a thick bush long which will swallow anything more than a handful of yards off the back of the putting surface. With a swirling wind, club selection is a nightmare, as difficult to gauge as it is important. The 12th hole has a similarly tricky green and is also very long; a good par 4 for even the most confident and in-form ballstrikers.
The next few holes offer more of the same challenges: various humps and mounds to confound your perception of distance, tight drives and raised greens with wicked slopes. The par 5 14th is particularly excellent in this regard. Though it's a little wider fairway-wise than many of the other holes, things get interesting when you size up your approach. Like the other par 5 at Mid-Surrey, this isn't a long hole and length-wise is reachable in two. The question is not whether you can, however, but whether you should; for the green is accessible only through a narrow run-on, which is swarmed with deep bunkers on either side. Find one of these and you'll be facing a battle to make par, having to negotiate a 40 odd yard bunker shot over a swale and up a steeply sloped green. Here, there is risk and reward golf at its finest.
Like all great courses, Royal Mid-Surrey has a very strong finish; two pretty and interesting par 4s to round off the course. The 17th is another neatly defined, generously bunkered hole with a small green and a devilish false front. Par here is an exceptional score. The 18th is a little less treacherous, but don't think you can coast to the clubhouse. Swales lurk around the green to foil mishit approach shots; the fairway is narrow and uphill, adding distance to an already relatively long hole. As you putt out, the clubhouse looks invitingly from the right: time for a post-round drink!
Post-Round Thoughts
Though the kitchen was closed by the time we finished, the bar was there to welcome us with open arms. Drinks were well-priced and the staff were polite and friendly, proving the relaxed atmosphere I'd experienced before the round wasn't a one-off.
Verdict
All in all, then, Royal Mid-Surrey more than lives up to the stamp of Royal approval attested in its name. The club combines all the best parts of a traditional golfing experience – two ancient and distinguished courses, a grand history and plenty of pleasingly antique leather armchairs – with a sense of the new and the bold. I've played a few of the top London clubs in my time and Royal Mid-Surrey ranks right among the best of them, both in its courses and in its atmosphere. An excellent golfing day out.
Top Tips
Judging distance at Royal Mid-Surrey is key for a good score. Don't get sucked in by Taylor's mind games; trust the yardage markers rather than your eyes!
Even in September, Royal Mid-Surrey's greens are FAST. Avoid downhill putts at all costs if you want to keep a relatively clean card.
Many of the greens also have false fronts, some of them incredibly steep. As a rule of thumb, missing long is usually less damaging than coming up short. Club up to make sure you don't come unstuck.
Overall Rating – 9
Course (Conditions) – 9
Course (Hole Variety/Layout) – 9
Course (Green Conditions) – 9
Course (Challenge/Difficulty) – 8
Club Facilities & 19th/Clubhouse – 9
Practice Facilities – 8
Pace of Play – 8
Value for Money – 8
---
Related Content: travel review England Courses
What do you think? leave your comments below (Comments)
---
Leave your comments below
comments powered by

Disqus
Plan Your Next Round
Hampton Court Palace Golf Club
Surrey
from £15.00
Save 35%
Cherry Lodge Golf Club
Kent
from £20.00
Save 25%
Chelsfield Lakes Golf Club
Kent
More Golf Course & Travel Features
Plan your next golf break with Golfbreaks.com