FootJoy Unveils New BodiTrak Performance Fitting System
By: Golfshake Editor | Tue 31 May 2016 |
Comments
---
FootJoy has announced the introduction of a groundbreaking Performance Fitting system, the FJ Performance Fitting System, which is set to further the #1 Shoe in Golf's reputation as the leader in golf shoe fitting. Bringing together BodiTrak technology and proprietary algorithms, the FJ Performance Fitting System can determine with speed the type of golf footwear that will best harness the speed and power in a particular golfer's swing.
The FJ Performance Fitting System is a partnership between FJ and BodiTrak Sports, a sports technology company focused on the interaction between an athlete and the ground. The two leadership brands have conducted extensive research and testing to better understand the connection between footwear selection and golf performance.
Through thousands of swings and careful evaluation, FJ determined golfers 'respond' differently to different types of footwear – that there is a meaningful link between footwear selection and golf performance.
The key findings in the research were:
•
Three 'Performance Fit' types (Mobile, Dual, Structured)
•
Players saw performance increases of up to 3 mph. of club head speed when properly Performance Fit.
•
FJ & BodiTrak used this research to build algorithms to predict Performance Fit for any golfer.
•
Club head speed increases with proper Performance Fit were seen at all levels of the game and validated on the PGA Tour.
A BodiTrak pressure mat and iPad with FJ's custom mobile application make up the FJ Performance Fitting System. With as little as three swings, a Golf Professional can guide a player through a fitting to determine their Performance Fit and ultimately select footwear that best suits their swing.
---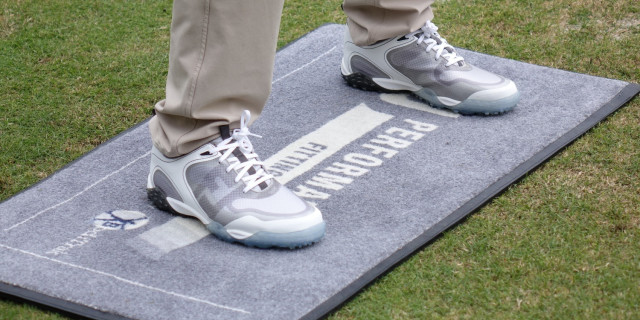 The FootJoy Performance Fitting System uses a BodiTrak Pressure Mat
---
"We've been making golf shoes for over 100 years and, with a singular focus on the game of golf, we've learned a lot about golfers and their footwear said Doug Robinson, FootJoy's VP Golf Footwear Worldwide.
"But this project allowed us to look at the link between golf footwear and performance in a totally different way.
Structured shoes, like ICON Black™ or DryJoys Tour™, are ideal for 30% of the golfing population, based on our testing," continued Robinson. "But there's another 30% that need something completely different – a shoe like Freestyle or D.N.A. that's mobile and creates movement and motion in order to unleash their speed."
Rob Kelley, VP, Brand Marketing, FootJoy said "At FJ, golf is all we do, and we have always seen footwear as equipment. With the PFS, we have unlocked the ability for golfers of all types to select footwear that fits their swing – and as Hunter Mahan said, FootJoy makes so many types of golf shoes because there are so many different types of golf swings."
---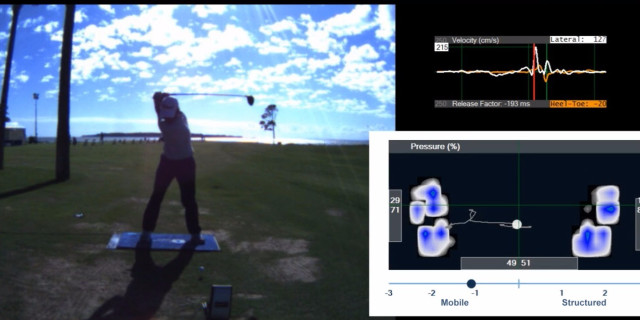 The FootJoy Performance Fitting System gives detailed feedback allowing for an increased level of fit.
---
Dr. Sasho MacKenzie, Sports Biomechanics Professor and BodiTrak Advisor, said "We found that the majority of golfers perform significantly better while wearing shoes that are fit to their swing style. The FJ PFS combines algorithms derived from thousands of golf swings, and swing information collected with the BodiTrak mat, to determine with a high probability, the best style of shoe for a particular golfer. Shoe fitting is important and made easy with the FJ PFS."
The FJ PFS is expected to be rolled out to selected golf shops across the UK in the upcoming months.
For more information please visit the FootJoy website -
Click here
---
What do you think? leave your comments below (Comments)
---
Tags: Footjoy
---
comments powered by

Disqus