PowaKaddy Launches Innovative & Stylish TOUCH Model
By: Golfshake Editor | Thu 31 Mar 2016 |
Comments
---
PowaKaddy has announced the launch of a stylish and easy-to-use model for this year, featuring innovative technology that automatically changes speed as golfers alter theirs - all through a simple touch on the handle whilst walking.
Based on its patented Touch 'n' GoTM Technology, the extremely simple and intuitive PowaKaddy TOUCH® model only requires the golfer to rest his or her hand on the comfortable, ambidextrous grip and start walking for the highly-intelligent trolley to begin moving at the same speed of its user. The TOUCH® continues to travel at the same speed even when the user's hand has been taken off the handle. To make the trolley come to a standstill, golfers just place their hand on the grip and stop walking.
A new Kinetic LED Power Display turns green when the trolley is moving and then goes red once it has stopped. The red activator button beneath the handle provides a discreet way to switch the trolley on and off.
"The TOUCH® takes trolley technology onto a whole new level and provides golfers with one of the easiest control functions ever seen," commented PowaKaddy R&D Manager Andy Thompson. "Golfers of all ages and abilities will love how simple and intuitive the TOUCH® is – it simplifies controlling the trolley's speed and allows them to concentrate fully on their game. Crucially, all the technology is out of sight and out of mind, so it really is as simple as Touch 'n' GoTM.
"It's an extremely intelligent technology and a significant amount of work has been undertaken by our R&D team to make sure it performs seamlessly across all sorts of terrain. That's important – you can have a lot of innovation and exciting features, but the trolley needs to perform perfectly," added Thompson.
Its stunning appearance is backed by stylish new Deluxe Sporty 11" quick-release low-profile wheels with yellow trim, while the crisp Polar White or Classic Black frame combines perfectly with eye-catching yellow finishes on the front and a stylish rear diffuser on the back of the trolley's PowaFrame®, plus handle.
In assuring the world-class performance that golfers have come to expect from a PowaKaddy trolley, the new TOUCH® model has gone through robust and extensive testing over the past two years to ensure its technology can handle a wide range of terrains in the most extreme weather conditions.
PowaKaddy's sleek and compact Plug'n'Play™ Lithium batteries perfectly compliment the TOUCH®, and golfers who opt for the 18-hole option will benefit from the thinnest battery on the market. Meanwhile the latest re-engineered lithium-ion battery technology ensures PowaKaddy Lithium delivers 20% more staying power based on its 18 hole Lithium Battery 260Wh and 36 hole Lithium Battery 388Wh. Both the 18 and 36 hole Lithium batteries combine with a powerful whisper-quiet 200 watt motor to offer the ultimate in reliability and performance.
A number of other PowaKaddy features that have proved particularly popular with trolley users in recent years continue with the brand's latest addition – notably the USB Charging Port for powering smartphones and a sleek high-performance PowaFrame® chassis with sealed underside. PowaKaddy bungee bag straps with integrated anti-pinch handles help secure the cart bag firmly to the trolley, while there is also the PowaKaddy Key Lock base that ensures greater stability on varying terrains.
PowaKaddy TOUCH®Key Features:
• Ambidextrous, soft-touch handle with Patented Touch 'n' GoTM Technology;
• New Deluxe 11" quick-release wheels with low-profile tyres create a sportier and more modern look;
• New Kinetic LED Power Display clearly shows whether the trolley is moving or stationary;
• Discreet Red Activator button switches the trolley on and off;
• High performance and lightweight PowaFrame® Chassis offers simple three-way folding mechanism;
• Integrated USB point charges smart phones and GPS devices;
• PowaKaddy Key-Lock Base and Bungee Bag Straps with Anti-Pinch handles restrict any bag movement;
• 18 hole (260Wh) and 36 hole (388Wh) Lithium batteries offer 20% more staying power, with the 18-hole version the thinnest on the market;
• Plug 'n' Play™ Battery System removes requirement for fiddly connectors by easily slotting into place;
• Powerful, efficient & whisper-quiet 200 watt motor.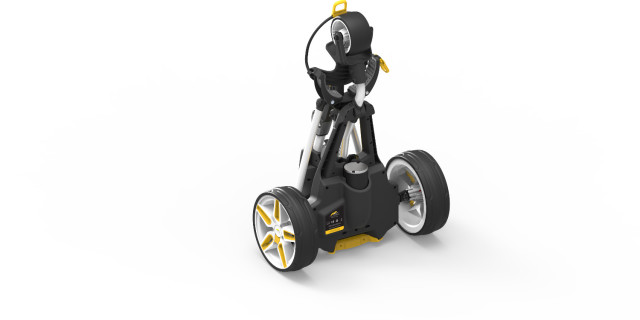 Available: The PowaKaddy TOUCH® will be available April 2016 and comes in a Polar White or Classic Black frame with yellow trim. Prices from £399.99 (standard battery), £549.99 (Lithium Battery) and £599.99 (Extended Range Lithium Battery).
For more information, or to find out about PowaKaddy's comprehensive range of electric trolleys and accessories, visit www.PowaKaddy.co.uk.
---
What do you think? leave your comments below (Comments)
---
Tags: powakaddy
---
comments powered by

Disqus