Please Just Get on With it Guys
By: Golf Shake | Wed 07 Oct 2015 |
Comments
---
Post from Sports writer Derek Clements
---
I make no apologies for returning to my favourite hobbyhorse, namely the issue of slow play.
Will somebody please explain to me how it is possible for a fourball to take almost SIX HOURS to play the Old Course at St Andrews? That is 360 minutes, or 20 minutes per hole. And we are not talking about a bunch of weekend hackers - we are talking about top European Tour players accompanied by a handful of amateurs.
Now this just might be understandable if the rain was tipping down and the wind was howling at 40mph. Instead, the weather was glorious, with the sun shining from start to finish and nothing more than a gentle breeze blowing across the links.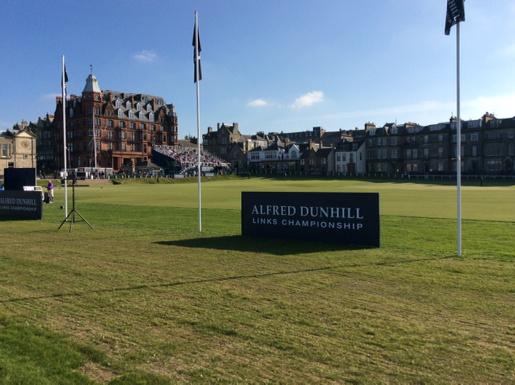 The sight of American surfer Kelly Slater asking for a ruling because one of his feet would be on a sprinkler was bad enough. He then used the plumb-line method to line up the putt - from fully 50 feet - and, having done so, rolled the putt 10 feet left of the hole. While all of this was going on, his three professional partners waited...and waited.
The same thing happens at Pebble Beach every year when the AT&T Pro-Am comes to town. The so-called celebrity amateurs spend forever lining up putts, deciding what club to hit from the middle of the fairway. And six hours later they stagger into the clubhouse,wondering why their playing partners may be a little terse and why so few spectators have come out for the day.
At the golf club where I am a member, we play 'ready golf'. If somebody gets to the tee first, they put their ball down and drive. I may have scored the best at the previous hole, but does it bother me even one little bit if somebody I am playing with is ready to play before I am and then goes ahead and hits his drive? Of course it doesn't. We do the same thing in the fairway. And we insist that anybody who hits a drive into thick rough or gorse bushes should hit a provisional ball, thus obviating the need for us to wait while he traipses all the way back to the tee after he can't find a lost drive.
It is common sense and it keeps things moving. Now I do understand that if the Tour pros adopted a similar strategy then anybody playing with Keegan Bradley would actually be finished their round while he was still in the middle of the 11th fairway, but there needs to be some change. Slow play is unattractive, it is frustrating and it is does nothing to attract new players to the game.
Surely a pro who is ready to hit his approach while his partner prevaricates should go ahead and play. And why oh why oh why are they never ready to putt?
While their rivals are going through their own routine, why don't other players get their putts lined up so that they can be ready to go when the other guy is finished.
And I am at a loss to understand why any golfer, playing on a perfectly-manicured golf course, would strike a putt to a few inches from the hole, mark it and give the ball to his caddie to clean. Bear in mind that said caddie cleaned the ball before the first putt. Just knock the ball into the hole and get on with it.
Image Credit: Twitter @welcometofife
---
Related Articles
---

Be part of the action with a selection of unique golf tournament experiences, from playing in a pro-am with the stars to watching the action at golf's most illustrious events. Whether it's the Masters or The Open, The Ryder Cup or WM Phoenix Open, build your own bespoke package with the experts at Golfbreaks.com.
---
What do you think? leave your comments below (Comments)
---
Tags: slow play dunhill links
---
PLAY MORE PLAY BETTER - LATEST TUITION TIPS
---
Leave your comments below
comments powered by

Disqus