Titleist launch 716 AP1 and AP2 irons
By: Golf Shake | Tue 22 Sep 2015 |
Comments
---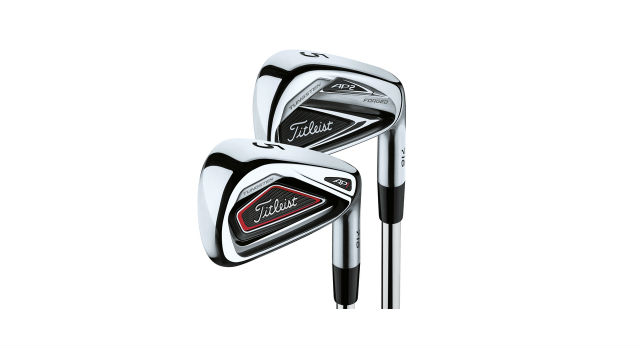 The next generation of Titleist AP1 and AP2 irons hit the shelves soon becoming available from 23rd October in golf shops across the world. The new 716 AP1 and AP2 models have been engineered with using large amounts of high density tungsten. This is to help Ttleist to deliver their best ever cobination of low CG and high MOI. This gives both the AP1 and AP2 increased stability, control and distance in their respective categories.
Titleist's Chris McGinley explained the benefits of both the AP1 and AP2 irons:
"AP1 and AP2 irons are designed for two distinct player profiles. AP1 is for players seeking maximum distance and forgiveness. AP2 is for players seeking distance and forgiveness in a tour-proven iron. Our R&D team has precisely engineered both models to create speed and launch for distance with maximum forgiveness to help all players improve their iron play."
Titleist 716 AP1 Irons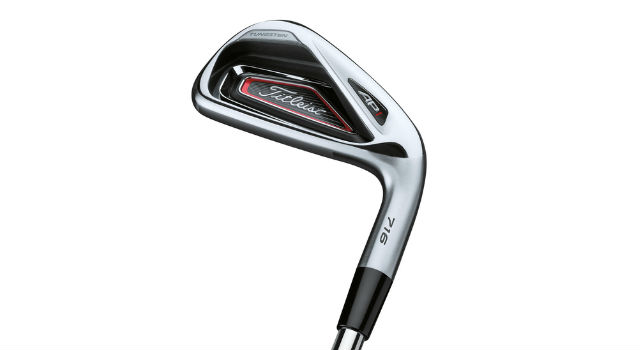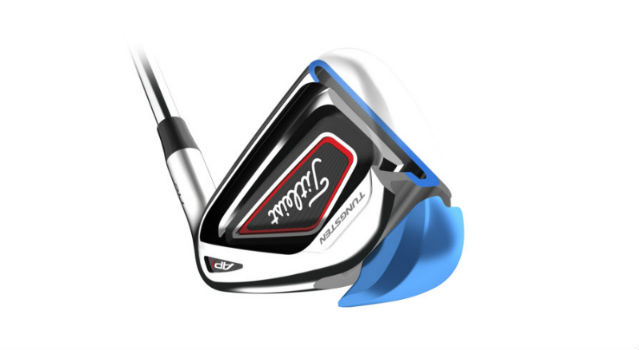 Titleist's new 716 AP1 is their longest, most forgiving iron ever. Quite a cliam, but a claim that is backed up by the AP1's extreme 360º undercut cavity design with a large, thin and crucially unsupported face which delivers speed and launch for more distance. The use while of high-density tungsten weighted in key areas provides a huge amount of forgiveness.
The 360º Undercut Cavity creates a Thin Fast Face that flexes more at impact. The face is constructed from specially heat-treated 17-4 stainless steel for strength, which increases both speed and launch for more distance.
The use of High Density Tungsten by Titleist has cleverly allowed them to precisely place weight low and in the toe of the long and mid irons. This produces a lower centre of gravity (CG) resulting in a higher launch angle. A higher launch has a kick on effect meaning that Titleist can strengthen lofts, a move that helps to increase speed for even more distance. Moving weight to the perimeter, increasing moment of inertia (MOI).
The AP1 boasts a massive increase in the use of tungsten weighting, in fact an average of 42.5 grams of tungsten per head has been used helping to maximise heel and toe stability without increasing AP1's preferred blade length, this significantly increases MOI, leading to a straighter and longer flight!
"Golfers are getting a double helping of distance with new AP1 without sacrificing trajectory," said Marni Ines, Director, Titleist Irons Development. "By carving more mass from the undercut and thinning the face, we get more launch and speed. On top of that, we've added a significant amount of tungsten, which lowers the CG and increases launch. We've taken that extra launch and used it to strengthen the lofts. Stronger loft means more speed. More speed means more distance. There are a lot of companies that chase distance mainly by strengthening lofts and lengthening shafts, but we think we're doing it the right way, with superior technology."
"Remember, when it comes to good iron play, distance is still just one part of the equation. Distance control and accuracy are just as important, and that's where forgiveness comes into play," said Dan Stone, Vice President, Golf Club R&D. "We are the only company in this category using high density tungsten. You can make a club more forgiving just by making the club head larger, but golfers don't always want that. Through our technology we have the best combination of low CG and high MOI in the game improvement category. What that means to the golfer is hitting the ball far enough to reach the green and stopping it close to the pin more often, and maintaining distance consistency and trajectory even when you hit it off centre."
Titleist 716 AP2 Irons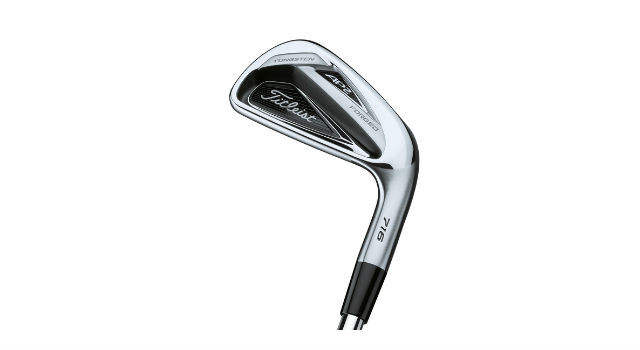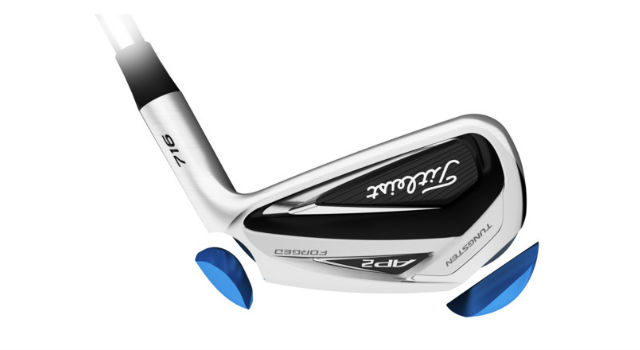 The 716 AP2 is undoubtedly Titleist's most advanced players iron that they have ever produced. Much like the AP1 the new AP2 irons uses a significant amount of high density tungsten weighting to position the centre of gravity low allowing for an increase of speed off the clubface. In addition an innovative co-forged construction places the tungsten low and towards the perimeter of the club resulting in an increased MOI.
"AP2 is the gold standard in the tour-played iron category," McGinley said. "It's been one of the most-played cavity back models on the PGA Tour and has been trusted over the years by players such as Jordan Spieth, Zach Johnson, Bill Haas and Jason Dufner. AP2 is also one of the best-selling tour played irons in the market. Our R&D team knows what tour players and dedicated golfers want when it comes to iron performance and have worked side by side with them over the last two years to make the new 716 AP2's even better."
Titleist's key technology in the all new AP1 is the High Density Tungsten weighting and the resulting Low CG impacting significantly to increase speed and distance. The tungsten weights are shaped to the perimeter and precisely placed low and out using a new and Advanced Co-Forging Process. This is a technology that has been pioneered for golf clubs by Titleist R&D.
The High-MOI design is clearly something that Totleist feels is key to the improvements seen with the new 716 AP1. There is an average of 56.2 grams of tungsten per head and this is a huge 25% more than the AP2 714 and results in higher ball speeds across the face for more consistent distance on off-centre. It also means that blade length is not impacted, this is important in maintaining workability and shot control. Compared to the previous generation, 716 AP2 has 8.5 percent higher MOI in the long irons and 5.5 percent for the full set.
New AP2's innovative construction combines a forged 1025 Carbon steel body with extreme perimeter tungsten weighting in the long and mid irons for an unparalleled combination of low CG and high MOI with Solid Forged Feel.
"New AP2 is a direct result of advancements in our co-forging process," Ines said. "When the development process began, I told my team to design the best club they could, put the tungsten where we wanted it and not worry about whether we could actually make it. We shaped the tungsten to the perimeter of the club and brought it right to the edge so, literally, it's part of the profile. Incredibly, our manufacturing team figured out how to make it. You can always make a golf club more forgiving by making it bigger, but a tour player doesn't want to play anything bigger than this. So we had to get more creative in order to boost our MOI. Really, the only way to get the weight further out now would be to pull it outside of the head."
"There isn't a tour-played iron with better technology than AP2," Stone said. "It's been the forgiveness leader by a substantial margin for years now and we just keep expanding on that. Our 712 series AP2, which we introduced in the fall of 2011, would still be a leader in the category in terms of combination of low CG and high MOI. And our construction has improved two times since then. Our tour players like ball speed on off-centre hits just like everyone else does. Consistent distance comes from consistent speed. The forgiveness of 716 AP2 is now on par with 714 AP1, and brings distance control in a players' club to an entirely new level."
Validated on tour:
Jordan Spieth: "The first time I looked down at the new AP2's they looked even cleaner. I thought they looked almost like a blade. As an amateur, you can now get the look of a tour blade while still having the consistency and forgiveness of a forged cavity. For a true golf lover that can't be beaten – and I'm really looking forward to getting dialed into my new set after the Presidents Cup.
"AP2 for me is about distance and forgiveness. Distance is always going to help. If you can hit a 7 iron a bit further, a 7 iron is a little easier to hit than a 6 iron, a 6 iron is a little easier to hit than a 5 iron. So the less club you can hit into greens, the higher probability you're going to score better.
"But we're also going to mishit shots. We're always faced with tough lies in fairways or the rough – the ball is above your feet, below your feet. And, even though we do it every day and it's our job, it's hard to strike the ball perfect every time. We're still going to find inconsistencies in our swing. Having the trust that the ball isn't going to end up too far off line and the distance dispersion is going to be pretty tight, means we still might have a birdie putt and it may not affect our score on the hole. As you approach holes with more trouble around the greens on the approach shots, if you know that you can stand over it and possibly mishit it and it's still going to be OK, it frees you up a bit."
Zach Johnson: "With the new AP irons, there's something for everybody. Bottom line is, you can get fitted and find something that, regardless of your handicap, is going to work. That's just the way the technology is in these golf clubs.
"The improvements are just that much more every generation. With the new AP2s, what I've seen during testing is a clean top line. It almost looks blade like but a little bit thicker, a little bit bigger and as a result a little more forgiving. But all that technology that you don't see is there. It's internal. It's on the back. It's the way it's weighted. It's where the weights are. But it's a beautiful golf club. It's a simple golf club."
Jason Dufner: "We don't make a perfect swing every time. The penalties we pay out here are extremely high for mishits and missed shots, so knowing in the back of your mind that maybe if I miss this one a little bit – maybe I catch it a little high or the club face rotates a little bit more than I want it to – we get that forgiveness. That's part of the reason why I play the AP2's – my mishits across the board are better than any other club that I could pick from."
"The club engineers at Titleist are always trying to find new ways to make things better, and because of that tungsten weighting you get more face stability and higher MOI. And that leads to higher performance on the golf course, whether you're a professional playing in majors or an amateur playing at a high level, or if you're just one of the guys that's playing with your buddies on Saturday – you're going to see a higher performance because of the innovation behind what they're doing at Titleist."
Bill Haas: "I think distance control, for us on tour, is the most important. Obviously I'd love a few extra yards here and there, but I don't think that matters as much as knowing exactly how far I'm going to hit the shot…. We'd all love to hit it perfect every time, but we don't. So, I feel like, when it comes to AP2, why not use something that can help you when you do mishit it? And that also certainly holds true for the amateur player that maybe mishits it a little more often."
Titleist 716 AP1 and P2 Pricing and Availability
The new Titleist 716 AP1 and AP2 irons will be available in golf shops worldwide from 23rd October 2015 with the below suggested retail prices:
Titleist 716 AP1
Steel: £93 per iron
Graphite: £107 per iron
Titleist 716 AP2
Steel: £117 per iron
Graphite: £133 per iron
Further information please visit the Titleist website - Click here
---
What do you think? leave your comments below (Comments)
---
Tags: Titleist
---
PLAY MORE PLAY BETTER - LATEST TUITION TIPS
---
Leave your comments below
comments powered by

Disqus