The future of the game is in great shape
By: Golf Shake | Mon 17 Aug 2015 |
Comments
---
Post by Sports Writer, Derek Clements
---
WITH the final major of the year over we have learnt that there has been a changing of the guard in world golf, with the top three players in the world now all in their twenties.
We have a new number one in Jordan Spieth, without the shadow of a doubt the player of the year. He has had the sort of season that Tiger Woods enjoyed in his prime - victory at The Masters and US Open, second at the US PGA Championship and fourth at The Open, one shot behind the winner, Zach Johnson.
It is still impossible to believe that Spieth is only 22 years old. He has already amassed more than $10m in prize money this year and goes from strength to strength. His performance at Augusta in April was simply breathtaking, and he won the US Open while not at his best - and that should be a serious concern for his rivals.
---
Spieth is now the World's no.1 golfer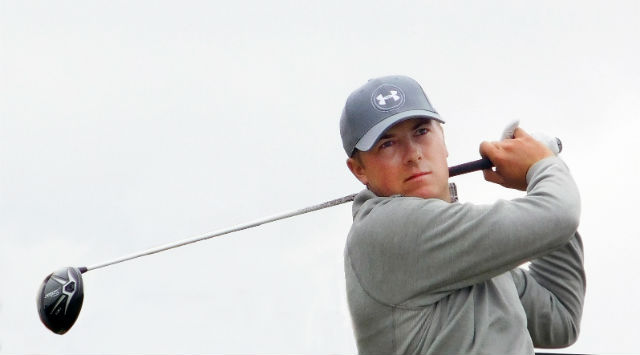 ---
There seems to be nothing this young man cannot do. Those who know about these things say that he cannot possibly keep holing putts the way he has been doing. Why not? Since day one on the PGA Tour, Spieth has been head and shoulders above everybody else on the greens. And it doesn't seem to matter what distance he is from the hole. He holes short putts like nobody since Woods in his prime, but it is his ability to drain the 20, 30 and 40-foot putts that lifts him head and shoulders above the rest.
He gets down on himself, of course he does. But he does so in a manner that brings a smile to everybody's face. There is no cursing, there is no swearing. Instead, we get a "Oh, my goodness", or a "Darn it", or a "That is snap-hookedness at its worst". He gives us a running commentary and he plays with a smile on his face.
He is the first to congratulate an opponent who beats him, he thanks the fans and he strolls down the fairway chatting to his fellow players as if they were out together for a friendly game. In other words, he has got the lot.
Jason Day, who landed his maiden major at the US PGA Championship, is from the same mould. Now up to third in the world rankings, the Australian is a joy to watch. He has overcome personal tragedy, illness and a heartbreaking string of near misses and through it all he has emerged with dignity. He doesn't feel sorry for himself when things go wrong and is a joy to watch when in full flight.
It says everything you need to know about him that when he beat Spieth at Whistling Straits, the reaction from a partisan American gallery was one of genuine warmth. Of course they wanted one of their own to win, but Day was the next best thing. They may have to get used to it because this definitely won't be his last major victory.
Day is another who accepts the rough with the smooth, who would never be heard swearing when he hits a bad shot. There is an inner strength within this remarkable young man that marks him out as being special.
Then, of course, we have Rory McIlroy, who will not remember 2015 with any great affection. The Masters still eludes him and he was some way short of his best in the US Open at Chambers Bay. Then he injured his ankle playing football and missed the defence of The Open at St Andrews, where he would surely have romped away with another title. Nobody expected to see him at Whistling Straits but he emerged more or less intact, broke par on all four days and played well enough to show us that it will not be long before he is back to his very best.
He has been replaced as world No1 by Spieth, and that should provide him with all the motivation he requires to knuckle down and attempt to put things right next year. Nobody in the game drives the ball better than McIlroy, but from time to time he still shows a worrying frailty on the greens. And with Spieth putting so well, so often, that is something the Northern Irishman is going to have to sort out.
McIlroy played the first two rounds at Whistling Straits with Spieth and it was refreshing to see them walking down the fairways together, laughing and joking and shooting the breeze.
The majors proved that Phil Mickelson's best days are behind him and that Tiger Woods, who will be 40 at the end of the year, will never again dominate the game. As things stand, it would be a huge surprise to see him ever again win any sort of tournament.
While it is sad to see the decline of two of the greatest players of all time, we should all rest easy in the knowledge that the future of the game is in safe hands.
We have mentioned Spieth, McIlroy and Day, but there are many, many others who can expect to be challenging for majors in the years ahead. Branden Grace, Tommy Fleetwood, Ben Martin, Justin Thomas, Romain Wattel, Alexander Levy, Daniel Berger, Victor Dubuisson...the list is endless. And what about Rickie Fowler, winner of The Players Championship in sensational style and the Scottish Open? He finished in the top five in all four majors in 2014 and although he didn't come close to winning one in 2015, his time will come.
How can you mention all of those potential stars without considering the merits of the best of them all? Shane Lowry came of age when he won the Bridgestone Invitational. Prepare to see him grow in stature now that he has proved to himself he can beat the best in the world.
And that is without the thirtysomethings such as Justin Rose, who had a terrific year in the majors without winning one, Dustin Johnson, who will surely land one soon, and Martin Kaymer. Will Adam Scott find a way to win without a broomhandle putter? Have we really seen the last of Jason Dufner? Can Robert Streb kick on? Will the impressive Jimmy Walker reproduce his best form in a major? Why can't Ian Poulter put together four good rounds when it really matters? Will we ever again see the best of Graeme McDowell?
Zach Johnson proved that you don't have to hit the ball 320 yards to win majors, Jim Furyk continues to show us that there is life after 40 and Miguel Angel Jimenez that you can still compete at the highest level after you turn 50.
Sadly, we have to wait until April before The Masters kicks off another year of majors. It is too long. Surely the time has come to consider a fifth major, to be played in South Africa or Australia in December or January?
Golf? We love it!
---

The oldest & most prestigious major, a trip to The Open is a must for every golf fan. From tickets and transfers to hospitality & golf, Golfbreaks.com can build the perfect package to help you experience The Open in style.
---
---
What do you think? leave your comments below (Comments)
---
Tags: rory mcilroy Jordan Spieth jason day
---
PLAY MORE PLAY BETTER - LATEST TUITION TIPS
---
Leave your comments below
comments powered by

Disqus