FootJoy announce shoe fitting program for 2015
By: Golf Shake | Thu 30 Apr 2015 |
Comments
---
Following a highly successful campaign, which saw almost 3,500 golfers fitted into some of the best footwear availibe in 2015, FootJoy, has commenced its year-round Shoe Fitting Programme.
Over the course of the year, FJ's expert Fitting and Sales Representatives, James Bradford, Lewis G Mackle and Sam Allen, will visit golfing venues across the country to take golfers through the process of finding the correct size and best-suited FJ shoe model.
FJ has identified that around 70% of golfers are wearing the wrong size shoes and, as such, aims to educate the golfing public on the benefits that come from having the correct fitting shoes. Research at FJ has proven that the wrong size shoes can lead to a loss of up to 28% of the power generated during the swing. The right fit also means that shoes last considerably longer compared to pairs that are too big.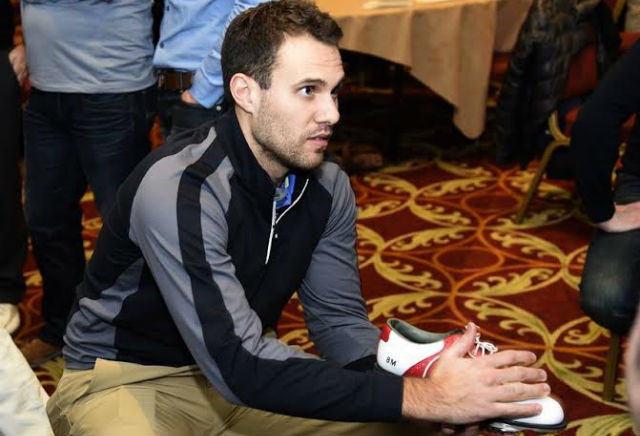 Already underway, York Golf Club was one of the first this year to have benefitted from a visit from FJ's Fitting and Sales Reps. Following the Yorkshire club's fitting day, Club Professional, Mark Rogers, remarked: "Being a pro-active Club Professional, I regularly have demo or custom fit days and, when I had the opportunity to stage a shoe fitting day, I jumped at the chance as I appreciated this was something my members and customers would enjoy.
"The day itself was a huge success; my customers thoroughly enjoyed their experience and, without exception, expressed their gratitude in how fantastic they found their first FJ shoe fitting. I have been immensely impressed with how professional and organised our FJ Fitting and Sales Representative has been."
These comments were echoed by Moortown Club Professional, Martin Heggie, who said: "We had a fitting day at Moortown with 23 fittings taking place, after which we received orders for more than 25 pairs of shoes.
"Our FJ fitter was a model professional and displayed incredible knowledge of every aspect of every FJ shoe. He was a credit to the company and was the key to the success of our shoe fitting day."
Allowing FJ's fitters to find the most suitable footwear for every golfer they encounter is the strength of the brand's industry-leading shoe line, which offers an abundance of performance-driven styles and more sizes and widths than any other manufacturer. FJ shoes are available in sizes ranging from 3 to 16 and widths from extra narrow to extra extra wide.
Further customisation is offered through FJ's exclusive MyJoys programme, which gives consumers in the UK in the region of 8 million design combinations, including the option of choosing differently sized left and right shoes.
"We are excited about the commencement of our Shoe Fitting Programme, which will continue throughout the UK on year-round basis," said FJ Marketing Executive, Paul O'Hagan.
"Golfers are becoming more aware of the benefits of being fitted for all 14 clubs in their bag, but as the only point of contact between themselves and the ground, finding the best-performing shoes for their swing is just as important.
"With aspects such as balance, stability and, as our tests have shown, even power being positively influenced by wearing the correct size and style of shoes, FJ would encourage all golfers to take part in one of our shoe fitting days at a club near them before they purchase their next pair."
To learn when an FJ Fitting and Sales Representative will be visiting a golf club or facility near you, view the full 2015 Shoe Fitting Programme schedule at www.footjoy.co.uk and follow the brand on twitter at @FootJoyEurope.
---
What do you think? leave your comments below (Comments)
---
Tags: Footjoy
---
comments powered by

Disqus