GolfBuddy introduce the BB5 GPS Band
By: Golf Shake | Wed 25 Mar 2015 |
Comments
---
GolfBuddy has launched the world's first golf GPS band. The company's new BB5 GPS band which has a recommended RRP of £199.95 is significantly slimmer and lighter than a watch and delivers accurate yardages via a 'tickertape-style' LED dot display.
The first BB5 will be available in Europe next month (April) as part of a global launch programme of a product seen as a genuine major development in the way golfers receive distances on the course.
BB5 gives precise distances to the front, middle and back of the green on over 37,700 global golf courses. Golfers can also measure their shot distances, record the number of steps they take and tell the time.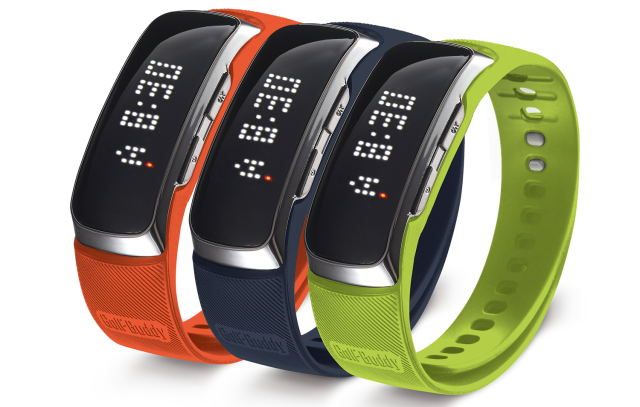 BB5 weighs just 1 ¼ ounces, is water resistant to IP65 rating and has a rechargeable lithium battery giving up to 13 hours in golf mode. It comes supplied with two sizes of band S/M and L/Xl, with six different colour bands available as accessories.
Said GolfBuddy's John Ennis: "The global rise of the fitness band has firmly established 'wearable tech' and the launch of the BB5 positions GolfBuddy once again at the forefront of bringing the latest mainstream consumer trends to golf.
"The BB5 delivers outstanding distance measuring accuracy to the front, middle and back of over 500,000 worldwide golf course greens and also provides shot distance measurement, so golfers can record how far they hit each club.
"It's very slim and light when compared to GPS watches, so appeals to golfers who don't currently like to wear a watch when they play, or lady and junior golfers looking for a lighter or more comfortable GPS option.
"BB5 tells the time and has a pedometer for those who want the additional benefit of owning a 'fitness tracker'."
BB5 was designed by GolfBuddy as fitness bands such as Fitbit, Bowflex and Razer - which help users track aspects of their life such as exercise, diet and heart-rate - have helped the 'wearable tech' sector of consumer electronics reach record sales levels.
It means GolfBuddy is the only Distance Measuring Device (DMD) brand which offers products to suit all golfers, however they want to receive distance information - laser rangefinder (LR4), GPS handheld devices (PT4), GPS watches (WT5, WT4), compact audio GPS (VS4) and now wearable tech GPS (BB5).
GolfBuddy is also the only company that focuses 100% on golf, maps courses on foot for added accuracy and provides completely fee-free access to its extensive worldwide database of courses.
Unlike some other brands*, premium features like Dynamic Green View, distances to targets, hazards and round stats analysis are also completely fee-free, forever, with all products.
GolfBuddy is based in La Palma, Ca, with product development and course data management centres in Korea, one of the world's leading suppliers of high-quality electronic products.
GolfBuddy is a Corporate Partner with the PGAs of Europe as its 'official handheld GPS rangefinder'. For more information about GolfBuddy BB5 visit www.golfbuddybb5.eu.
---
What do you think? leave your comments below (Comments)
---
Tags: golfbuddy
---
PLAY MORE PLAY BETTER - LATEST TUITION TIPS
---
Leave your comments below
comments powered by

Disqus