By: Golf Shake | Fri 13 Feb 2015 |
Comments
---
Post by Sports Writer, Derek Clements
---
WHEN I wrote that Peter Dawson would be remembered as the man who sold The Open to satellite television, the main point was to mourn the fact that live golf coverage would be lost to millions of people.

It was never meant to be a defence of the BBC's coverage of a sport that I love with a passion. How can you defend the idefensible? The Beeb has allowed coverage of golf to wither and die, and, as has been said elsewhere, it has failed to move with the times.

It is no longer enough to follow a little white ball through the sky (and they even struggle with that now) and listen to the words of an error-prone curmudgeonly eightysomething who used to be the best in the business but is now hopelessly out of touch.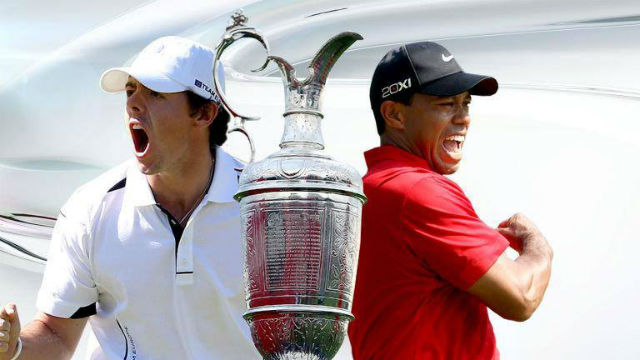 I am delighted that my article whipped up such a terrific response, all the more so because so many of you took me to task - and that is just as it should be. I was even branded as an old git by at least one person. While that may be true, even old gits have some bright ideas about how the game of golf can, should and must move forward. I hate the "well we've always done it that way" brigade, and I grow increasingly frustrated by the fact that so many people of influence within golf refuse to listen to others who many actually know better than they do.

There is a consensus that something needs to be done. There are lots of bright ideas out there, but nobody seems to be prepared to bite the bullet.

I noticed that one person who responded to my article said that cricket is thriving despite the doomsayers predicting its demise when coverage moved to Sky. There is a crucial difference between golf and cricket - for reasons that I fail to understand, the national media gives cricket a lot of coverage. Additionally, the England cricket team has enjoyed huge success in recent years, guaranteeing plenty of exposure for its star players.

I don't know what it will take to persuade newspaper editors to approach golf in the same way but if Rory McIlroy can win two majors, the BMW PGA and play a leading role in winning the Ryder Cup for Europe and still not win BBC Sports Personality of the Year, there is clearly work to be done.
Let's return to TV coverage of golf. My defence of keeping The Open on mainstream television was so passionate simply because I want as many people as possible to have access to golf. I subscribe to Sky, and I make no apologies for admitting that I do so simply because of its golf coverage. Apart from seemingly never-ending stream of ad breaks, Sky's golf coverage is superb, but that can't get us away from the fact that millions of people choose not to subscribe.
How about we take a brief look at just some of the incredible innovations that Sky has brought tour enjoyment and understanding of the game?
Shot centre:
One of the ways Sky has come up to deal with the interminable ad breaks from its feed of the PGA Tour is to return to the studio for a player or leading coach to demonstrate a shot that has just been played, or to examine the swing of somebody who is in contention. By doing this, they are able to show changes that occur as the pressure gets cranked up.

Shot centre is also able to provide perfect graphics of each and every hole, highlighting problems players will face in the run-in
Pro-tracer
I just love this one. They say that the simple are ideas are the best ones and this proves the point. On certain holes, a red line follows the precise flight of the ball as players strike crucial drives. Once again, with the help of Shot Centre, we can go back to the studio and see why a specific drive was hooked or sliced.
Skycart
A recent innovation, and one of the best. Tim Barter stands beside a high-tech cart. He can interview players after their rounds and then, by touching the score they have made at a specific hole, they see how they played it and can talk us through it. It means that Sky have found a way of properly engaging with pros, rather simply asking them the usual questions and receiving answers designed to cure insomnia. The guys get animated when they see themselves draining a long putt or putting an approach to three feet. Barter can also preview individuals holes on this bit of kit. The rumour is that you can buy hot dogs or ice cream from him too
Coaches
If you want to know why somebody's game has gone awry, what better than to have somebody like Denis Pugh or Simon Holmes to talk us through it. Pugh is a TV natural, who has worked with some of the world's very best golfers, and Holmes is finally beginning to relax in front of the camera. We have also seen the likes of Butch Harmon perform this role.
Current players
If you want to know what makes players tick, speak to people who know them, people who have been there and done it. People like Colin Montgomerie, Gary Christian, Andrew Coltart, John E Morgan, Jean Van de Velde - these are men who have a unique insight, given that two of them have played extensively on the PGA Tour and the others are European Tour winners.
Debate
In the run-up to the Ryder Cup, Sky assembled studio audiences and gave them the opportunity to voice their views about the teams, the course and the event. It was a touch of genius.
Presenters, commentators and course analysts
Sky is, quite simply, in a class by itself. The Beeb has the likes of Hazel Irvine Peter Alliss, Ken Brown, Wayne Grady, Sam Torrance and Mark James. It also thought it was a good idea to send former England cricket captain Michael Vaughan to Augusta to interview players after their rounds at Augusta - he famously miscounted the number of times Times Woods had won the Green Jacket. Tiger was not amused - and neither was I. It was a schoolboy error
Sky has (take a deep breath), the estimable David Livingstone as their frontman, Butch Harmon, Kelly Stirk, Robert Lee, Ewen Murray, Bruce Critchley, Howard Clark, Colin Montgomerie, Rich Beem, broken leg, Tony Johnstone, Nick Dougherty, Tim Barter and Wayne Riley. It is an all-star cast with not a single weakness.
---

The oldest & most prestigious major, a trip to The Open is a must for every golf fan. From tickets and transfers to hospitality & golf, Golfbreaks.com can build the perfect package to help you experience The Open in style.
---
---
What do you think? leave your comments below (Comments)
---
---
PLAY MORE PLAY BETTER - LATEST TUITION TIPS
---
Leave your comments below
comments powered by

Disqus