Interview - ETIQUS - Distinctive Timepieces for Golfers
By: Golf Shake | Fri 07 Nov 2014 |
Comments
---
Golfshake's Adam Smith talks to ETIQUS Timepieces founder, Gary Butler
---
ETIQUS – derived from the spirit of which the game of golf is universally known – etiquette, respecting the written and unwritten rules of the game.
With that tag line it's easy to see why these new and unique timepieces are the hottest new golf product on the market - an intricately designed British brand of distinction combined with Swiss made movements.
At this time (no pun intended) the ETIQUS collection consists of 24 timepieces, 17 for men and seven for women each of which contains their own subtle details and features that will be recognised and appreciated by golfers alike.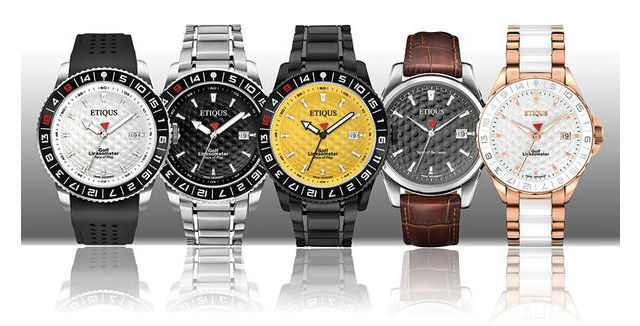 ETIQUS is the 12 year journey of entrepreneur Gary Butler who combined his love for golf with his vast business experience to create what is a high quality range of timepieces specifically aimed at golfers.
For golfers, by a golfer
The ETIQUS design means every watch has a golfing feel to it from the dimple patterned face that gives the 3D effect of a golf ball to the unique bezel which was inspired by the Pace of Play guidelines published by the R&A.
Gary's journey started out when he was on a family holiday in the Algarve; he was wearing what was unbeknown to him at the time a divers watch. He was complimented on his watch and it was only his reply 'I'm not a diver, I'm a golfer', that Gary started his quest to invent the golfer's watch.
"It's been quite a journey so far", Gary said. "There was no credible, affordable timepiece that evokes the spirit of the game of golf and so I realised that when I was asked the question all those years ago that I could be an aviator, a racing driver, a yachtsman all by wearing a specific watch but not a golfer.
"I realised that most sports watches have a theme that is defined by the bezel, so I knew I needed a characteristic that would specifically relate time and golf. I joined a golf committee, read the rules book cover to cover and discovered rule 6.7 the R&A Pace of Play guidelines and there and then was my eureka moment - I had the theme.
"I have a degree in engineering where mathematics is a key skill and so was able to very quickly work out the mathematical algorithm and an inventive step for a pace of play bezel and I quickly applied for a patent".
The launch
There have been a few stumbling blocks along the way for Gary, but then again what major brand hasn't? But it hasn't stopped him from following the dream of launching ETIQUS into the market place.
"I spent two years talking to major global watch brands to license the idea but was hit with some resistance due to the fact in the countries where these brands were based, watch manufacturing is huge but golf isn't. Swiss watchmakers are the masters of their art but can you name me a famous Swiss golfer?"
In 2011 Gary then secured a UK patent and IPR protection throughout the main golfing countries and a year later met a UK based online retailer.
"Unfortunately he didn't really understand golf but I did understand his business model so it was at that time that I knew I had to go it alone.
"I decided to make watches for golfers and sell them online and via PGA professionals as affiliates and during the weekend of The Open Championship this year ETIQUS was born".
The Golf Foundation
Speaking to Gary it's plain to see that there is clear passion to give something back to the game he loves. ETIQUS donates £5 from each purchase, and supports other charitable events, to raise money for The Golf Foundation, which gives children and young people the opportunity to experience golf and the life skills it has to offer.
You'll quickly realise when you read more and more into ETIQUS that no stone has been left unturned. Everything from the casing, the quality Swiss soul, the quartz movement, the waterproof design and the watch straps have been eloquently thought through down to its minute detail.
Both men's and women's watches are now available via www.etiqus.co.uk and via accredited affiliates. The website is sleek and simple to use and ordering a watch online is (and I can vouch) so simple along with being swift on delivery. The quality, intricacy and detail of my watch is breath taking and would make an ideal Christmas gift for the golfer in your family or just as a treat for yourself.
Prices start at £179.
---
What do you think? leave your comments below (Comments)
---
Tags: interview
---
PLAY MORE PLAY BETTER - LATEST TUITION TIPS
---
Leave your comments below
comments powered by

Disqus