David Leadbetter talks to Golfshake about The Swing, Tech and Tiger
---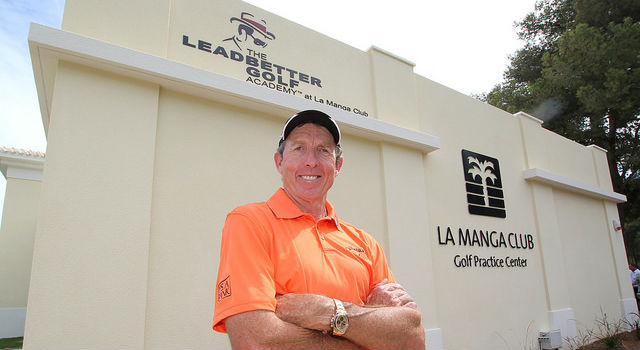 Ahead of the opening of his brand new Academy at La Manga Club, Spain.David Leadbetter, coach of Michelle Wie and former coach of Nick Faldo, Ernie Els and Nick Price spents ome time with Golfshake's Owen Davies to talk all things golf.
Why Spain, why La Manga for the latest David Leadbetter Academy?
We have been in the academy business for over 20 years now and we have had them all over the globe, previously we had one in La Cala, Spain. La Manga Club have done a amazing job in the refurbishment and investing in the facility. La Manga is over 40 years old now, I remember, going way back when Seve had La Manga Club on his bag as did Gary Player, it has a great history.
The current ownership have done a great job bringing it back to it's glory days. They have three good golf courses and one of the elements they wanted to incorporate is Golf Instruction and not only are they looking at golf, but other sports, whether that be tennis, cricket or football. They are looking at it from a stand point of their guests, but also from a standpoint of juniors and teams. For instance in the past, England and some of the Scandinavian teams have come across to La Manga. They see that as the future.
With the practice facility they have built, it is one of the best I have seen anywhere, it really is. It is still fairly new and has a little growing to do, but the basics are all in place, it is a beautiful facility.
The owners felt that with our track record in the industry and with our network of academies, headed up by myself and with a strict certification process that all facilities go through, we would be a good match.
You mention that you have been doing these Academies for 20 years, back then did you envision where it was going to go and how big it was going to get?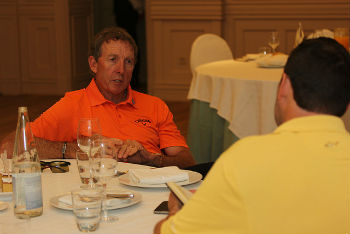 No, not really! In fact it is probably over 20 years, more like 25 years. No really I had no idea at all that it would grow to this level. I co-run one with IMG, who I am associated with. In fact we run one in the States together where we teach over 200 kids from all over the world.
I had no idea that golf instruction would progress to where it is today. Back in the day when I was teaching Sir Nick Faldo, who knew what it was going to turn into? It has been a great ride, sometimes I have to pinch myself and think wow! I was just a failed tour pro who enjoyed teaching and it has turned into this big industry.
One thing that has changed over the last 20 years and I have noticed this with the new academy is the amount of technology that you are using in the coaching now, such as Trackman and SAM putting labs, you have obviously embraced it. How, from your point of view does this enhance the way you coach and as result the pupils experince?
Well, Instruction has many facets to it and one thing that is important is that somebody has a clear understanding of what is taking place. I mean the technology are tools of the trade, for instance when video first came out, in the early days it was quite crude. You couldn't slow it down you could not see the club and now video is very common, I don't know any teaching pro that does not at least have video. Now it has advanced to things like Trackman which is a very sophisticated way of showing what is actually taking place at the point of contact. It gives you guidelines and the biggest thing for me is that it quantifies things. Otherwise it is all subjective. In the past you might have said you are not coming as much from the outside, but now we can say you have improved you swing direction by 6 degrees.
These bits of technology are great as long as they are used correctly. The danger is that a lot of people can use these tools thinking they are the be all and end all. You go in one end and use all the tech and come out the other end as a great golfer. That is not the case. It is how it is used that is important. You need to use it in a judicious way. You need to look at it as a tool to help the instructor. The biggest thing as I said is that you can actually quantify improvement.
If you were going to give one piece of advice to amateur golfers what would it be?
There are a lot of things that people misinterpret, but I think the one thing that I see, and remember it is called a golf swing, you look at the No.1 player in the world, Rory and you notice how much 'swing' he creates in his swing.
The biggest single issue for most people is tension. The ability to get the club swing, to get your arms relaxed where the club can actually move is vital. We are playing a sport where we the ball is stationary, we are not playing tennis,cricket or football. The ball is still, stationary, so the tendency, human nature is to over think in order to create some sort of motion when it has to be a flowing, instinctive, reactive type of thing, so to me I would say the biggest fault is tension and that comes about via the grip.
Most golfers insist and this is mainly through ignorance, that they grip the club in the palm of the hand. Any time you grip it in the palm you can be rest assured that you have way, way too much tension. So the key is to get the club down towards the fingers where you can actually feel the club head because then as you move, the club can then swing around you. Often golfers have so much tension that they grip it so hard that it actually wears out their glove and they have a hole in it.
When you have that going you have to remember that hitting the golf ball is all about creating energy and passing energy into the club head. If you grip the club like a sledgehammer the energy cannot flow and so you cut all that energy off. So that in my opinion is the biggest fault in golf. Learn to grip it in the fingers and relax the arms and then you can get the club swinging.
Sound advice! Moving on, there has been a lot of stats and reports that the game is shrinking in developed nations. Do you see an issue and if so, what would you do to make it easier for people to take up the game?
Yeah, I think it is a problem and it is shrinking, it is certainly not growing. For the average golfer time is the biggest issue. With all the technology we have in our lives. It was all brought in to save us time, but we use it so much that we don't have any time do anything else! It has to be looked at from a standpoint and this is where I fully agree with Jack Nicklaus that golf should not have to be an 18 hole deal. I think that promoting the fact that you can play 6 or 9 holes which counts as a game of golf and you can get round in 2 hrs. If we do that people are more likely to play.
People have families and golf is an all day event. The old school game where you play 2 1/2 hours or play foursomes no longer exists. Rules need to be relaxed, it is nice to have the traditions of the game, but people don't want to go to a golf course and dress up and have rules thrown at them. We need to do what we can to make it easier for people to get out there.
The game also needs to be promoted far more to families. If you can get the wife and kids involved, it is a great sport to grow up with. Similar to ski trips, it something that keeps the family together.
The game of golf also needs to be more affordable. It is still way out of a lot of peoples reach. There is not one thing that is going to change It. There needs to be a whole mindset change. It is a great sport to play, you can play it your whole life, the handicap system works, but the bottom line is that it takes too long.
If Tiger called you today would it be a yes or no?
It is sort of a no win situation. I have put the offer out, but I don't think Tiger needs a full time coach. I think he just needs someone he can consult with. If Tiger has not got the knowledge about his own swing and all the things he has gone through, I mean it's crazy. In the old days Jack Nicklaus, all he had was Jack Grout who he would see once a year basically. He would go through his fundamentals and he would then just go and play.
I think Tiger has been over coached I really do. I have my ideas of what he could do and what he hasn't been doing and what he should do to alleviate his back problems which I think he is going to have some issues with unless he is going to make some changes, but I personally don't think Tiger needs somebody to tell him how to grip it or take it back, you would think he is beyond that now having won 14 majors. I am sure he has some sort of clue what he is doing.
What about Rory is his swing physically sustainable?
He has beautiful flow, he has got bigger and stronger, you can see that, but the one thing with him is that you can see he moves so well! Tiger in his early years used to move well. His build has now changed substantially since his early years. If you look at him when he won the Masters in 1997 he was a stick and his movement and acceleration was great. Now his swing looks almost stilted, there is not that flow. If you look at Rory's swing it has a continuous flow from start to finish. I think he has the body that is going to keep that. If you look at players historically, Gary Player, Nicklaus for the most part they kept their body type.
Europe or USA for the Ryder Cup?
Europe (He clearly knows his stuff!)
---
About the new Leadbetter Academy, La Manga Club
The world's number one golf instructor and coach to countless PGA Tour, European Tour, LPGA Tour and Champions Tour players, David Leadbetter – and the academy he founded – is known across the globe for innovative and creative teaching techniques. His coaching has spanned three decades and he has often been recognised as the "man who invented the golf instruction industry". During the past 30 years, The Leadbetter Golf Academy tour players have amassed more than a dozen major championship titles and in excess of 100 individual worldwide tournament victories. His current stable of students includes Rafael Cabrera Bello, Suzann Pettersen and Fredrik Jacobsen to name but three.
The academies' coaching philosophies are simple, and suitable for both beginners and professionals alike. The philosophies are based around core fundamentals, cause and effect and, ultimately, coaching the individual, as we are all different in many aspects.
Academies are staffed by a hand-picked team of the world's best golfing instructors. To become certified, Leadbetter instructors must complete successfully a rigorous one-year training programme. Supervised under the personal guidance of David Leadbetter and senior staff, trainee instructors must pass a series of tests to meet LGA's exacting standards.
For more information please visit the David Leadbetter La Manga Club website - Click Here
---

Be part of the action with a selection of unique golf tournament experiences, from playing in a pro-am with the stars to watching the action at golf's most illustrious events. Whether it's the Masters or The Open, The Ryder Cup or WM Phoenix Open, build your own bespoke package with the experts at Golfbreaks.com.
---
What do you think? leave your comments below (Comments)
---
Tags: interview David Leadbetter
---
PLAY MORE PLAY BETTER - LATEST TUITION TIPS
---
Leave your comments below
comments powered by

Disqus