Is Adam Scott bad for golf?
---
Post by Sports Writer Derek Clements
At the risk of upsetting a lot of people out there, I believe that Adam Scott reaching the top of the world rankings is bad for golf.
You will argue that he possesses a beautiful golf swing, that he hits the ball a mile, that he is one of the best long-iron players in the game. You will tell me he plays the game without any drama, that he has a wondrous touch around the greens, and you will probably add that he has found a way to get the ball in the hole.
And I can't argue with any of the above. You could also throw in the fact that his on-course behaviour is impeccable and that his matinee idol looks attract lots of women to the game. That is also beyond dispute.
But let's take a closer look at what it takes to be a number one.
Scott has twice thrown away chances to win The Open. He took it in his stride on both occasions. After losing The Open to Ernie Els at Lytham, Scott bounced back in 2013 to land The Masters. That was all well and good, and while there can be no denying that he deserved that victory and played wonderfully well to achieve it, I can't help wondering if his Lytham collapse hurt enough.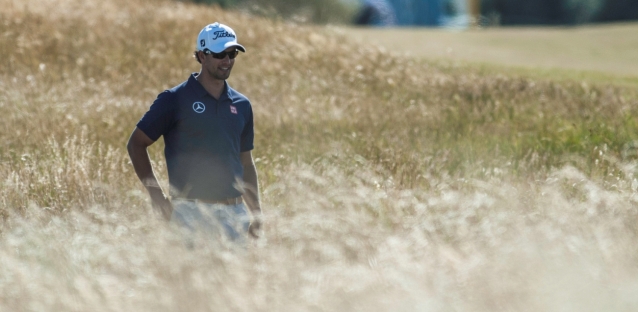 Can you ever imagine the likes of Seve Ballesteros, Tiger Woods or Nick Faldo taking such a crushing defeat in their stride? No, you can't. They would have been devastated, and it would have shown in their demeanour and in any press interviews at the end of the round. In fact, it would be no surprise had they stormed away without talking to the media. Not Scott.
And how would Rory McIlroy react in similar circumstances? With his heart on his sleeve. And we would love him for it. And we do love him for it.
With McIlroy, you know that he leaves nothing on the course. Whether he shoots a 60 or an 80, you can be sure that it is the very best he could have achieved that day.
The Northern Irishman is precisely what the game of golf needs right now. Woods will never again be the player who dominated the game at the turn of the century. He may win another major or two, but it is surely beyond him to beat Jack Nicklaus' record of 18. When he does get back in contention, almost all of us will be rooting for him, willing him over the finishing line because we will know he has given everything to do it.
McIlroy is the same. His brand of play is all or nothing and when everything is in sync there is no better sight in sport - any sport. Drives split the fairway and travel 325 years, fairway woods soar into the air, carrying bunkers, lakes and rough, landing softly 10 feet from the flag. Putts disappear into the hole at speed. Or they run six feet past and he misses the return. But then he will hole a 50-footer for par on the very next hole.
We love McIlroy because we never know what's coming next. Scott simply plods his way round - and then he gets to the green and pulls out that awful abomination that is the broomhandle putter. Maybe I will feel differently towards him when he has no choice but to use a short putter again and we watch him suffer on the greens.
The great news for golf is that Jordan Spieth looks certain to be the real deal. Five years younger than Rory, he is already a proven winner at 20. Like McIlroy, you only need to watch his body language to know what sort of shot he has hit. And if that doesn't tell you, his commentary certainly does. He is a sensation, in much the way McIlroy was at the same age.
Sergio Garcia was also a young phenomenon. From the off, he, too, wore his heart on his sleeve. Aged 19, he dared to look Tiger in the eye at the 1999 US PGA Championship and defy the American to beat him. Woods did, of course, come out on top and, all these years later, Garcia is still looking for his first major.
There have been times when Garcia's behaviour on the golf courses of the world has been nothing short of disgraceful. He attacks bunkers, he curses, he bemoans his "bad luck", but he comes back for more, and we want him to win.
Answer me this: would you prefer to watch Vijay Singh, Bernhard Langer and Adam Scott in their prime? Or McIlroy, Woods and Garcia?
We should rejoice at the return to form of McIlroy. We should hope he wins the US Open at PInehurst. We should thank the golfing gods when he returns to his rightful place at the summit of the rankings.
We should relish the battles the lie ahead between him and Spieth.
Image credit- Kevin Diss / www.kevindiss.com
---
Derek Clements is a sports journalist with a particular passion for golf with over 12 years of experience covering golf and other sports including Chief Sub-Editor on the sports desk of The Sunday Times. To contact Derek email direct via [email protected]
---
---

Be part of the action with a selection of unique golf tournament experiences, from playing in a pro-am with the stars to watching the action at golf's most illustrious events. Whether it's the Masters or The Open, The Ryder Cup or WM Phoenix Open, build your own bespoke package with the experts at Golfbreaks.com.
---
What do you think? leave your comments below (Comments)
---
Tags: adam scott
---
PLAY MORE PLAY BETTER - LATEST TUITION TIPS
---
Leave your comments below
comments powered by

Disqus