Rory hurting, but vows to do his best at Wentworth
---
Post by Sports Writer Derek Clements
---
ONE day it will all be about the golf again for Rory McIlroy. And that day can't come soon enough for the 25-year-old two-time major champion.
It took some guts to front up to the press at the BMW PGA Championship at Wentworth and admit that his relationship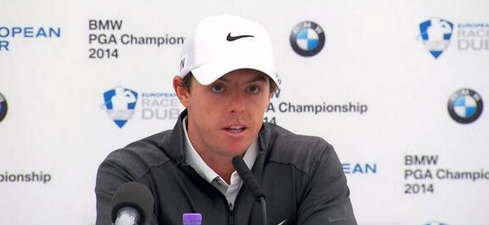 with Caroline Wozniacki was over. This was a relationship that had been played out in the full glare of publicity, a relationship between a sportsman and woman who had both reached number one in the world rankings.
McIlroy got cold feet when the wedding invitations were sent out last weekend and presented a beaten, deflated figure at Wentworth. In truth, there have been too many distractions - walking off the course at the Honda Classic, where he was the defending champion, legal battles with his former agent, a loss of form after signing a bumper contract with Nike and a performance at The Open last year that he will not wish to repeat, when he admitted that his head was all over the place and he was unable to think straight.
McIlroy is not the first golfer to end a high-profile relationship. Tiger Woods survived the furore surrounding his serial adultery, but Woods is American, and the US press is different.
Rory will know that the British media will be following his every move. Indeed, one paper published a list of possible future girlfriends for him. How peurile. He will also know that photographs of unguarded moments will appear in British tabloids. It is not fair, but, sadly, it is the price of fame in this country.
It says much about the man he is that McIlroy chose to announce the break-up of his relationship on the eve of the biggest tournament in Europe, other than The Open; and it says even more that he refused to take the easy option and withdraw.
"I'm not going to lie. When I get inside the ropes I'm going to concentrate on the shot at hand, but it's obviously going to be very difficult," he said.
McIlroy and Wozniacki were due to get married in New York in the week after the Ryder Cup. But, in a dramatic and totally unforeseen turn of events, McIlroy issued a statement on Wednesday, saying he couldn't go through with it.
"The problem is mine. The wedding invitations issued at the weekend made me realise that I wasn't ready for all that marriage entails," he said. "I wish Caroline all the happiness she deserves and thank her for the great times we had. It was mutual and amicable and we both thought it was the best for us, the best for both of us. Time to move on."
McIlroy said that he hadn't given any thought to pulling out of the event. "There's no good time to end a relationship and I made a commitment to be here," he said. "It's the flagship event on the European Tour and I'm very proud to be a member. I thought it was my duty to come back and play in this event.
"Once I gave my word that I would, I wasn't going to go back on it. I'm here to try to concentrate on this week and answer questions about golf and that's what I'm going to do."
There have been signs this year that McIlroy is very close to his best. Let's hope he can move on. Let's hope, too, that the tabloids give him a break.
---
Derek Clements is a sports journalist with a particular passion for golf with over 12 years of experience covering golf and other sports including Chief Sub-Editor on the sports desk of The Sunday Times. To contact Derek email direct via [email protected]
---
Related Articles
---

Be part of the action with a selection of unique golf tournament experiences, from playing in a pro-am with the stars to watching the action at golf's most illustrious events. Whether it's the Masters or The Open, The Ryder Cup or WM Phoenix Open, build your own bespoke package with the experts at Golfbreaks.com.
---
What do you think? leave your comments below (Comments)
---
Tags: rory mcilroy
---
PLAY MORE PLAY BETTER - LATEST TUITION TIPS
---
Leave your comments below
comments powered by

Disqus